Horizon Services for Multi-Cloud finally shows the future of VMware's broker strategy
Horizon 7 and Horizon Cloud will be under the new control plane. We also look at Horizon and WVD, and Horizon DaaS on VMware Cloud on AWS.
The dust has settled from VMworld 2019, so it's time to start digging into more details.
Today, I'm going to look at updates to VMware Horizon, including Horizon Services for Multi-Cloud, Horizon DaaS on VMware Cloud on AWS, and Horizon's support for Windows Virtual Desktop.
For the rest of the show news, head to the VMworld 2019 edition of the Friday Notebook.
The road to Horizon Services for Multi-Cloud
Ever since VMware bought Desktone back in 2013, they have essentially had two virtual desktop brokers—Horizon 7 and Horizon Cloud. Way, way back in the day, Brian predicted that we'd just end up with one, and last year at VMworld, we discussed the idea of merging them on the BrianMadden.com Podcast. Combining Horizon 7 and Horizon Cloud was always going to be an involved process, since they have different architectures that make them suitable for different scenarios.
VMware has been laying the groundwork for a while. Over the last several years, they've aligned the functionality of both platforms, which of course also use the same clients and protocols. Last year, VMware announced the Horizon Universal License, which entitles customers to whichever version (7 or Cloud) they need. Then, in November, they announced a new cloud-based monitoring service for Horizon 7.
Now VMware's goal is to go even further using the new Horizon Services for Multi-Cloud. This control plane will sit on top of Horizon 7 and Horizon Cloud, essentially turning them (eventually) into middleware. As Gabe, now the Horizon Cloud product marketing manager, said on our VMworld 2019 podcast, why have two different places to manage everything?
VMware outlined Horizon Services for Multi-Cloud in a blog post, which included the following diagram. As you can see, there are several new terms floating around. Apparently, the final name might still be up in the air, so stay tuned on this one.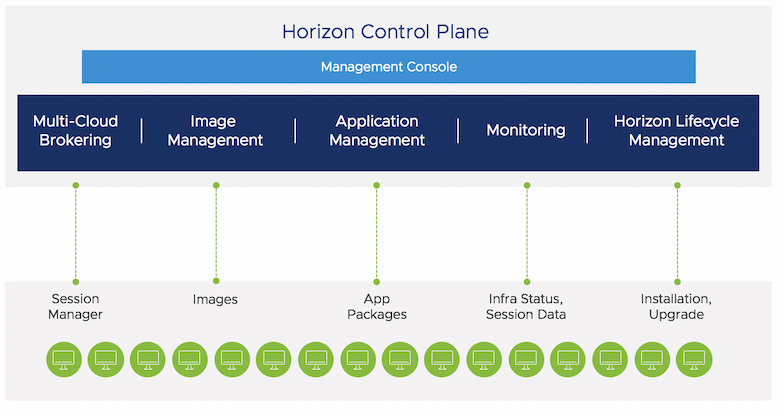 This new control plane will eventually take care of everything, so it makes sense to have it all centralized. Here's the rundown:
Monitoring: As noted, we have this part already, and it covers Horizon 7 and Horizon Cloud.

Multi-cloud brokering: This was emphasized the most at the show. At first it will cover Horizon 7 on premises and on VMware Cloud on AWS; soon it will expand to Horizon Cloud on Azure.

Image and app management: The idea is to have a single repository for all your images and apps, so that you only have to upload apps or make changes once, and can then push them out wherever they need to go. For now, this will support Horizon 7 and Horizon 7 on VMC on AWS.

Lifecycle management: The control plane will be able to install and update Horizon 7 on AWS automatically.
Other components have to be closer to workloads, or specialized for the infrastructure (e.g., vSphere / VMC / public cloud) that you're using. So, the Horizon 7 and Horizon Cloud bits for these components will remain in place. In a VMworld session, Shikha Mittal called this the deployment plane. This isn't an official product name or anything, but it's a good description of the future role.
Bharath Rangarajan told me that the bulk of Horizon R&D work is going into Horizon Services for Multi-Cloud, which makes sense considering the roadmap.
With this, VMware's plan for rationalizing their two desktop virtualization products is finally clear. And from what I can tell, going forward, we'll be hearing less about Horizon 7 and Horizon Cloud and more about just "Horizon."
Horizon DaaS on VMware Cloud on AWS
Before VMworld, we noticed a session covering a new DaaS service on VMC on AWS, which was referred to as the Managed Desktops Solution.
In the Day Two VMworld keynote, they called this Horizon Desktop-as-a-Service on VMware Cloud on AWS. With this offering, VMware will manage the Horizon 7 infrastructure for you. (Note that this is different from Horizon DaaS, which is a version of Horizon Cloud that service providers can buy.)
In a demo (44 minutes into the keynote if you want to look watch it), VMware showed how customers will be able to simply log into the management console for Horizon and specify the number of desktops they need (with a minimum of 300 "units"). Here's what it looked like: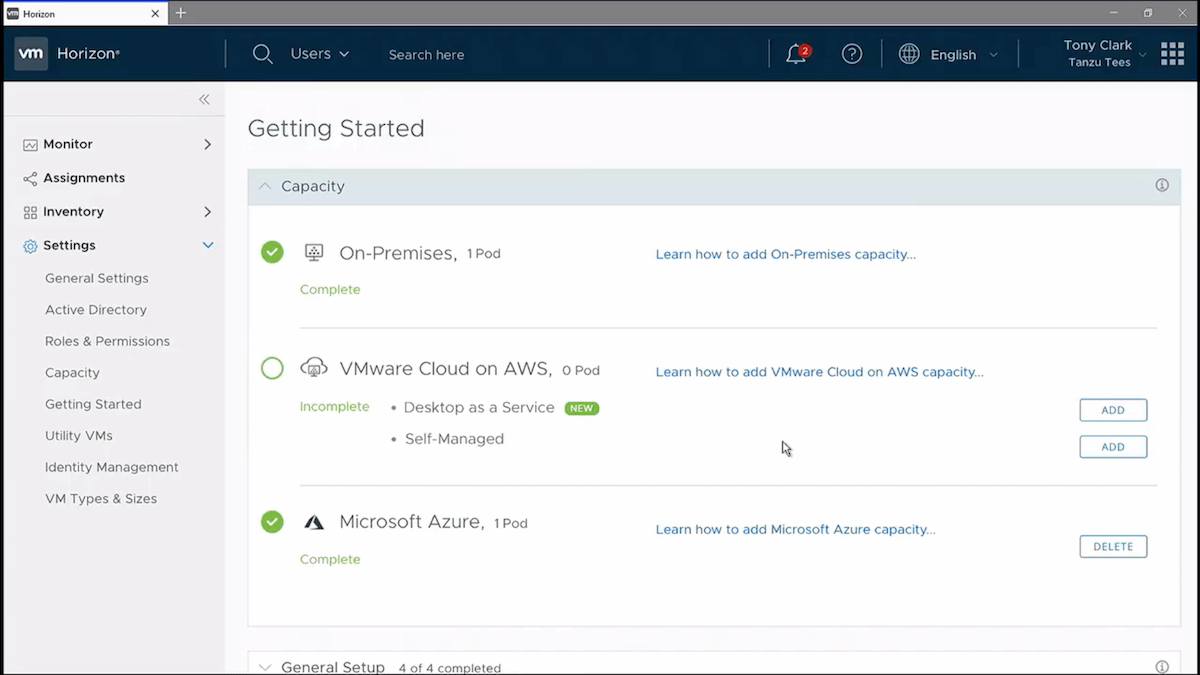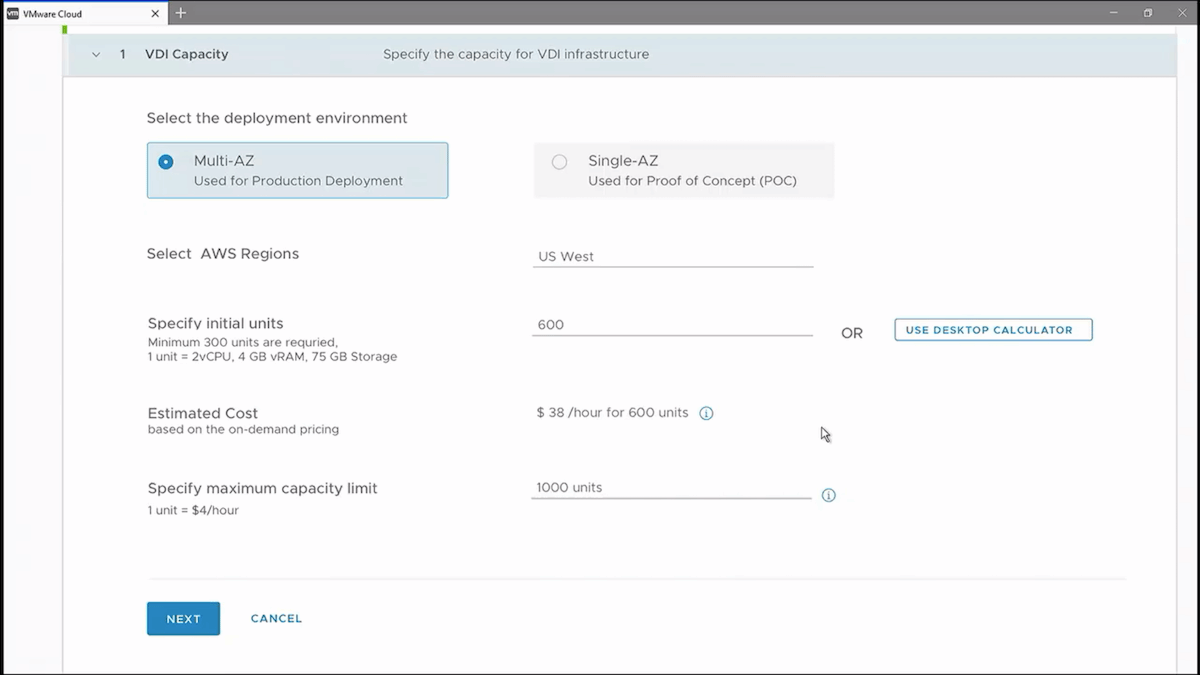 There's no official timeline for this yet. As a public company, they have to be careful about these things, but VMware said to stay tuned for more information.
Windows Virtual Desktop and Horizon
As I mentioned in my post right after VMworld, it's important to remember that Windows Virtual Desktop really refers to two things. It's the entitlement to use Windows 10 Enterprise Multi-Session and Windows 7 Extended Security Updates in Azure, and it's also a new cloud-based virtual desktop broker (formerly known as RDmi).
If you're paying for Horizon, you already have a broker, as well as plenty of other features that WVD doesn't have yet. So, all you probably care about are the Windows licensing entitlements. Horizon Cloud on Azure customers simply have a new desktop OS option they can choose, courtesy of WVD. In some ways, it's just the 2019 cloud-era version of choosing between pure Microsoft RDS and third-party virtual desktop brokers.
VMware is planning a Tech Preview of their Windows Virtual Desktop support soon.
Final thoughts
The high-level Horizon strategy is now clear. VMware has a pretty decent chunk of work ahead to get everything they want up into the new control plane. Then, there's also the question of which other cloud platform options customers will want to use to host virtual desktop workloads, especially now that Azure VMware Solutions is around. There's going to be a lot to follow here!