ra2 studio - Fotolia
How to use Samsung DeX for remote desktop clients
Organizations can harness the capabilities of Samsung DeX and Windows Virtual Desktop to transform mobile devices into thin clients. Discover how to get started with the process.
IT admins can now use Samsung DeX in conjunction with Microsoft's Windows Virtual Desktop to transform mobile devices into a thin client for VDI.
Samsung and Microsoft have been working closely together to prepare for the upcoming general availability of Windows Virtual Desktop. Their goal is to optimize DeX for Windows Virtual Desktop-based environments using the new Microsoft Remote Desktop Client for Android. First, it's important to understand the benefits of using Samsung DeX with the remote desktop, as well as its limitations.
Benefits of Samsung DeX with remote desktops
Samsung released DeX to accompany its fleet of flagship Galaxy and Note devices. DeX stands for Desktop eXperience, and it's essentially a feature that enables users to bring a desktop experience to Samsung mobile devices by connecting it to a computer screen, mouse and keyboard.
Initially, supported devices required a DeX docking station, which bridged the mobile device to the monitor and other peripherals. Users can now directly connect devices such as the Note 9 and 10 to a monitor using a USB-C to HDMI cable. With the Note 10, Samsung introduced a new feature that allows the device to connect to a Windows or Mac and access all of the users' mobile apps from the desktop.
The main feature of DeX, however, enables users to turn their own mobile devices into thin or lightweight clients by allowing them to run most of the Android-based applications on a full-size computer screen together with keyboard and mouse.
Not all Android applications are optimized to run properly in full-screen mode on a computer screen, however, but Samsung will likely expand the ecosystem to include mobile applications that are fully compatible with DeX. DeX also works with Samsung's security program, Knox, which allows IT to isolate and protect applications and data within the device.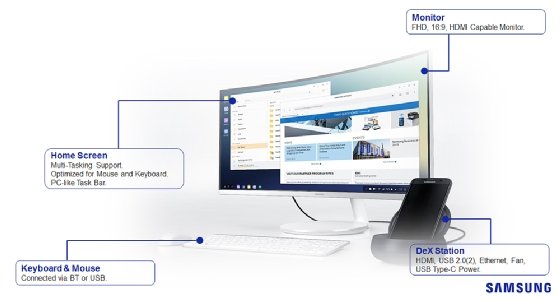 How to use Windows Virtual Desktop to run Samsung DeX with remote desktops
Another limit of DeX is it can only run Android and web-based applications.
To get started with Samsung DeX, users first need an adapter or bridge, depending on the type of Samsung device they own. When users connect their mobile devices to a DeX product, Samsung DeX Settings are added to the Settings list. To access it, select Settings from the Home screen, and then select Samsung DeX.
Once users have DeX up and running, they need to install the Remote Desktop Client from the Google Play Store, which enables access to a Windows Virtual Desktop-based environment. If users already have the client installed, they should ensure it is version 8.1.66 or higher.
Windows Virtual Desktop will soon enter public preview, however. When that happens, Google will likely release newer versions of the client that have even better support and functionality with DeX.
Limitations of Samsung DeX 'remote desktops'
Before IT admins convince themselves that DeX is a good replacement of a thin client or a regular computer, they should know some of the limitations it currently has. Unlike a regular desktop, there might be some limited peripherals support, because it is only a mobile client.
Another limit of DeX is it can only run Android and web-based applications. For many businesses, end users are still dependent on using Windows-based applications and need a way to securely access them.
Dig Deeper on Virtual desktop delivery tools