Why Linux on Samsung DeX creates challenges for IT
Using DeX, users can create a Linux desktop with their Samsung smartphones. But IT should be aware of the challenges with its deployment and management.
Samsung DeX combines the portability of mobile devices with the compute power of desktops, but users that want...
Continue Reading This Article
Enjoy this article as well as all of our content, including E-Guides, news, tips and more.
to use Linux on Samsung DeX can create a few challenges for IT.
Samsung DeX -- which works with the Samsung Galaxy S8/S8+, Note8, S9/S9+, Note9 and Tab S4 -- combines the compute power of the device and its Qualcomm Snapdragon chip in an emulation mode with a dock or cable to create a hardware connection for peripherals. Using a Citrix or VMware virtual desktop, users can plug in a large monitor, keyboard and mouse to achieve a desktop experience on a monitor from their mobile devices. This approach is attractive to users who occasionally need the full PC experience but are highly reliant on their smartphones for day-to-day work.
DeX is available for both Windows and Linux OSes, but using Linux on Samsung DeX requires IT and users to jump through a few extra hoops. Although Google Android is based on a Linux kernel, it's possible but not common to run Linux on a Galaxy smartphone. Still, there are many users who want to use their smartphones with Linux.
Challenges of running Linux on a smartphone
Many Linux apps simply won't run on the ARM 64-bit chips that power smartphones. IT must compile apps for a specific processor, and many apps are only available for x86 deployments. This prevents many Linux apps from running natively on mobile devices. In addition, not all Linux distributions are optimized for smartphone hardware.
DeX is available for both Windows and Linux OSes, but using Linux on Samsung DeX requires IT and users to jump through a few extra hoops.
Finally, running Linux on a smartphone bypasses all the security work that Google and Android OEMs do to secure the devices. Users that run Linux on a smartphone can make the device susceptible to data breaches and malware attacks.
Linux is a relatively small percentage of the market, however, so the OS experiences fewer malware attacks than Android or Apple iOS.
Challenges with Linux on Samsung DeX
Samsung partnered with Canonical to make an optimized version of Ubuntu's Linux distribution available on DeX, which is currently the only Linux distribution available for DeX. IT can load a modified Ubuntu OS into a special DeX container that enables DeX-supported Galaxy smartphones or tablets to run Linux. This is a beta program, however, so neither Samsung nor Canonical can guarantee the robustness of this approach.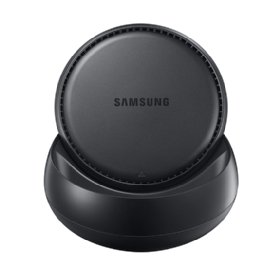 There are a number of issues with deploying Linux on Samsung DeX. Since Linux operates in emulation mode, the OS can't fully exploit the horsepower of the mobile device. IT or the user must modify the DeX software to enable the deployment of Linux on Samsung DeX. Once the user removes the mobile device from the dock or cable, the device reverts back to running the standard Galaxy OS, so users must have Android and Linux versions of their apps if they also want to work in mobile mode.
Linux on DeX requires a large download and installation; Samsung recommends at least 15 GB of storage and 4 GB of RAM to operate. IT management of the Linux DeX deployment is different, and corporate tools, such as enterprise mobility management, may not be able to manage Linux on Samsung DeX.
Use cases for Linux on Samsung DeX
Developers, IT staff that support Linux servers and systems, and specialty app users would benefit from running Linux on Samsung DeX. But, in general, this is a small portion of any organization, and therefore, IT might want to support them only as an exception.
Linux on DeX is not a Linux distribution that powers the smartphone itself -- there are other tools for that that require IT to root the Android device. Rather, it is a way to temporarily create a Linux desktop from a smartphone. Organizations that deploy Linux on Samsung DeX should be aware of the limitations and the fact that it is still a beta program rather than a stable, robust enterprise deployment, like other mature Linux tools. As a result, IT pros should use Linux on Samsung DeX on a limited basis until they can prove it works.
Dig Deeper on Mobile operating systems and devices