Samsung's 1 TB internal phone storage means headaches for IT
Samsung's new embedded Universal Flash Storage brings 1 TB of potential problems for IT.
Heads up, IT: You could soon be managing devices with a whopping 1 TB internal phone storage, thanks to Samsung's new embedded Universal Flash Storage 2.1. The capacity breakthrough comes just four years after Samsung's 128 GB eUFS, and it could debut with the flagship Samsung Galaxy S10 later this month.
This increased internal storage could result in increased security headaches, according to Mike Matchett, principal IT industry analyst at Small World Big Data.
"The IT enterprise administrator is going to be faced with more and more mobile devices and edge devices that have greater amounts of storage on them, which means more applications and data that they would have to govern and protect," he said.
For context, Samsung claims its 1 TB eUFS can store 2,600 minutes of 4K ultrahigh-definition video.
Measuring 11.5 mm by 13 mm -- the same size as its 512 GB predecessor -- the 1 TB eUFS features 16 layers of Samsung's 512 Gb V-NAND flash memory.
According to Samsung, the 1 TB eUFS features "exceptional speed," running at 1,000 MBps, which is around twice the read speed of a 2.5-inch SATA solid-state drive and 10 times the speed of a micro SD card. The 1 TB internal phone storage technology clocks in at up to 58,000 IOPS in random read speed and 50,000 IOPS in random write speeds, a 38% increase in random read speed from the 512 GB version.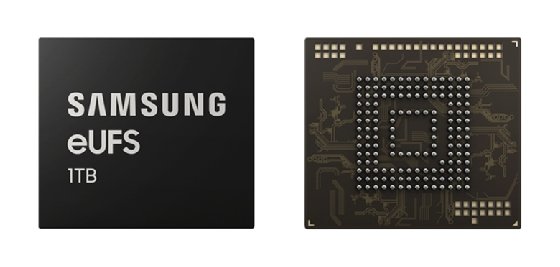 Cheol Choi, executive vice president of memory sales and marketing at Samsung, announced the new 1 TB internal phone storage technology "is expected to play a critical role in bringing a more notebook-like user experience to the next generation of mobile devices."
Choi also reported that the release of the eUFS supports the "timely launches of upcoming flagship smartphones in accelerating growth of the global mobile market."