Samsung Galaxy S10 phones coming with 5G, Wi-Fi 6 and more
Here's what you need to know about the new line of Samsung Galaxy S10 phones, including the S10, S10+, S10e and S10 5G.
Samsung calls them the "next generation" of mobile devices -- four distinct models sporting a mix of 5G, Wi-Fi 6, 1 TB of internal storage, Dynamic AMOLED Infinity-O displays and new wireless charging features. Marking 10 years since the original Galaxy S release, the new Samsung Galaxy S10 phones include the Galaxy S10, S10e, S10+ and the S10 5G.
The U.S. version of the S10 smartphones will feature a Qualcomm Snapdragon 855 processor, providing compatibility with Wi-Fi 6, while international versions will ship with a Samsung Exynos 9820. In addition to a faster and more powerful processor than previous Galaxy smartphones, the S10 models feature Samsung's Dynamic AMOLED screen and Infinity-O displays. Eschewing the notch popularized by recent iPhones, the S10 displays feature razor-thin bezels, with a small punch hole in the upper left corner for the front-facing camera lens.
As an HDR10+-certified display by the Video Electronics Standards Association, Samsung claims a "brilliant, realistic picture" for its new phones. The S10 display resolution measures 3040 x 1440 pixels, and 550 pixels per inch.
The S10+ has the same resolution, but 522 pixels per inch due to its larger size. The S10e has a 2280 x 1080 display, and 438 pixels per inch. While the other Galaxy S10 phones have curved displays covered in Gorilla Glass 6, the S10e display is flat and covered with Gorilla Glass 5.
Samsung claimed its new Galaxy S10 phones have new intelligent AI software that learns the user's behavior to boost the phone's performance, including battery and temperature optimizations. For security, the S10 also introduces the industry's first in-screen fingerprint reader, called the Ultrasonic Fingerprint Sensor. The phones also come with face ID authentication. Unfortunately, like the curved display, the S10e also sacrifices the ultrasonic sensor for a power button sensor.
With Wireless PowerShare, users can turn their S10 into a charging pad by placing Qi-supported phones and wearables on its back. The feature must be switched on in the settings menu for it to be activated. While users can charge other phones with Wireless PowerShare, the function is most useful for charging wearables like a smartwatch or wireless earbuds.
Samsung also bumps up end-user security with its Intelligent Wi-Fi AI. This software warns users before connecting to risky networks and supports the Wi-Fi 6 standard. Samsung also updated Bixby, its virtual assistant, with automated routines and daily recommendations. The Samsung Galaxy S10 phones will ship with Android 9 Pie with Samsung's One UI overlay.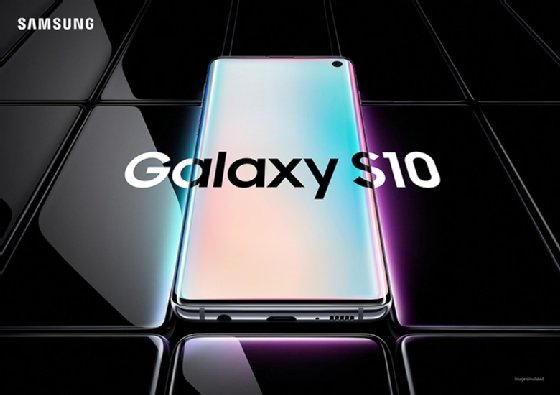 The base Samsung Galaxy S10 model sizes up to 2.9 x 5.9 x 0.3 inches (WDH), and it features a 6.1-inch display corner to corner. It features 8 GB of RAM (LPDDR4X) and either 128 GB or 512 GB of internal storage. Additionally, the device supports an external storage with a microSD slot, up to 512 GB. It also features a 3,400 mAh battery.
The S10+ measures 2.9 x 6.2 x 0.3 inches, and it has a 6.4-inch display. It comes with either 8 GB or 12 GB of RAM (LPDDR4X) and 128 GB, 512 GB or 1 TB of internal storage. It also has a 4,100 mAh battery.
The Galaxy S10 Essential, or S10e, is the more affordable of the Galaxy S10 phones. The S10E is the same size as the 2018 Samsung Galaxy S9, with a display measuring 5.8 inches and dimensions measuring 2.75 x 5.6 x 0.3 inches. The device features 6 GB or 8 GB of RAM and 128 GB or 256 GB of internal storage. It has a 3,100 mAh battery.
Samsung is also releasing its first 5G phone, with a Galaxy S10 variant. Samsung made the S10 5G the largest of the lineup, measuring 3.04 x 6.4 x 0.31 inches, along with a 6.7-inch display. According to its press release, this phone comes with 8 GB of RAM and 256 GB of internal storage available, with no details on additional customizations. Additionally, this S10 model is the only phone that sacrifices the microSD card.
The new Galaxy S10 phones will be available in store starting March 8. The S10 starts at $899 for the base model, and it ranges up to $1,149 for the 512 GB version. The S10e starts at $749 and goes up to $849 for 256 GB. The S10+ starts at $999 and can be upgraded up to 1 TB for $1,599. There is no official release date or price for the Galaxy S10 5G version, but more information is to come in the "next few months."
Dig Deeper on Mobile operating systems and devices