Samsung Unpacked brings Note10 and 10+, DeX improvements
At Samsung Unpacked 2019, the newest Galaxy note models were revealed, along with DeX updates, a hybrid laptop, smartwatch updates and more.
The new Note is here, and there are two of them. At Samsung Unpacked 2019, the Galaxy maker announced the much anticipated successors to its Galaxy Note9: the Galaxy Note10 and Galaxy Note10+, boasting a plethora of new features and capabilities. Samsung also announced updates and releases for DeX, S Pen, Galaxy Book S and Galaxy Watch Active2.
Galaxy Note10 and Galaxy Note10+
The 6.3-inch Galaxy Note10 and 6.8-inch Note10+ both feature Cinematic Infinity Displays with near-invisible bezels and just a hole-punch-size front-facing camera, smaller than the Note9's, taking advantage of screen real estate. The Note10 is Samsung's narrowest Note, while the Note10+ touts Samsung's biggest screen yet; both form factors are less than 8 mm thick.
The Note's AMOLED (Active-Matrix Organic Light-Emitting Diode) display promises 98% color and brightness uniformity and reduces blue light to minimize eye strain. The screen is also embedded with a fingerprint sensor toward the bottom of the glass to reduce screen design interruptions and the need for buttons -- the Note10 features just two physical buttons.
With the introduction of the Note10, Samsung also extended its DeX capabilities to ensure a more seamless connection with smartphones. DeX, Samsung's software that enables users to use their phone like a PC, previously required a keyboard, mouse and monitor docking station to view mobile content. Now, the Note10 can be connected to a laptop -- PC or Mac -- with a USB-C connection to drag and drop files between devices and use smartphone apps, including access to recent texts and photos.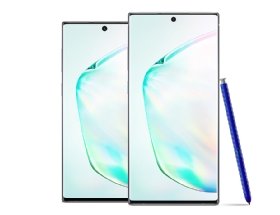 Unfortunately, this new DeX capability is not compatible with the Galaxy S10. Note10 users can still utilize DeX in its original docking station configuration with a USB-C-to-HDMI cable. In the future, Samsung hopes to incorporate phone call capabilities within the DeX experience.
The Note10 and 10+ feature upgraded cameras and lenses for landscape, portrait and close-up photography in any lighting, but the most impressive camera upgrades concern the Note's video capabilities. This release brings the following:
Live Focus Video enables users to adjust depth of field while recording.
Three Audio Zoom microphones enables users to zoom in on sound as they zoom in on the video to capture sound specifically where they're recording.
Footage stabilization detects speed and shakiness and predicts camera movements to reduce bumps and shakes with action filming.
A complete video editing suite on the device enables instant and on-the-go editing and sharing of videos.
3D Scanner -- exclusively on the Note10+ -- enables users to scan objects to animate and turn them into movable 3D renderings with DepthVision.
The Samsung Note10 and Note10+ have 3,500 milliampere hour and 4,300 milliampere hour batteries, respectively, which promise to provide hours of charge from just a few minutes of charging, thanks to Super Fast Charging. Samsung's intelligent battery uses an algorithm to decide how to optimize power for each specific user.
With this release, Samsung also nixed its 3.5 mm headphone port on the Note, as it did with Galaxy A8s, to create a slimmer, lighter form factor. Apple was the first to kill the headphone jack in 2016 with the release of iPhone 7, and prior to this unveiling, the Note10 was rumored to be Samsung's last device that still had the port.
While two form factors were released, Verizon is also offering a 5G version of the Note10+ for a limited time. The 5G model will sell with T-Mobile, AT&T and Sprint at a later date.
The Note10 comes with 8 GB RAM and 256 GB of storage, while the Note10+ LTE and 5G models come with 12 GB RAM and either 256 or 512 GB of storage. The Note10+ features a microSD slot for up to 1 TB of memory expansion.
The Note10 is available in five colors and the Note10+ in four, both including Samsung's iridescent Aura Glow. The Note10 starts at $949.99, the Note10+ at $1,099.99 and the Note10+ 5G at $1,299, available for preorder now and generally available beginning Aug. 23, 2019.
S Pen
Samsung also upgraded its S Pen, what it calls a "remote control for your device," to include air gesturing. The S Pen -- which received Bluetooth support last year -- features a six-axis motion sensor that detects direction and acceleration of movements to enable users to control their device with air gestures. The pen -- stored and charged inside the device -- enables users to take remote photos, switch between lenses, translate handwriting to text, change music tracks or presentation slides, and create and edit with precision.
With the S Pen and new camera capabilities, the Note10 also introduced AR Doodle, which lets users draw in the air with their S Pen to create live, 3D illustrations on video that move with the subject or face in frame. The S Pen can also be used for video editing, annotating Screen Recorder video and personalizing photos.
The S Pen and Note10 family is also compatible with Galaxy Tab S6, which Samsung announced last week. Samsung Notes in the Note10 sync with the Tab S6, and the S Pen can be used to zoom, highlight or mark up existing notes.
Samsung has also opened up the Air actions SDK, meaning developers can create customized air gestures for games and applications.
Galaxy Book S
Samsung's Galaxy Book S is a laptop that intends to combine smartphone and PC functionality for both connectivity and productivity. The 13-inch touchscreen notebook operates on the Qualcomm Snapdragon 8cx 7 nm compute platform with Gigabit LTE connectivity, enabling users to connect to the internet and cloud without relying on Wi-Fi or Ethernet cords.
Samsung claims the Galaxy Book S has 40% more CPU power, 80% greater graphics performance and more memory bandwidth than the Galaxy Book 2. The hybrid notebook is compatible with the Note10 charger and lasts 23 hours on one charge.
The Galaxy Book S comes in two colors and will be generally available in September, starting at $999.
Galaxy Watch Active2
Samsung introduced updates to its smartwatch, as well as a limited edition Under Armour model.
Just a few days before Unpacked 2019, Samsung introduced Galaxy Watch Active2 to its line of smartwatches. Notably, the new addition comes in two sizes -- 44 mm and 40 mm diameters -- as well as the choice of aluminum or solid stainless steel styles.
The Galaxy Watch Active2 comes with LTE connectivity so that the watch can operate freely from a phone, enabling users to receive calls or use apps. Also new to the Watch Active2 is a digital, rotating touch bezel, upgraded One UI, new health sensors, stress-level tracking through Samsung Health and enhanced sleep analysis algorithms.
The Samsung Galaxy Watch Active2 Under Armour Edition is a limited edition of Samsung's watch designed specifically for runners. The Under Armour watch brings capabilities that help runners train and track their progress, such as MapMyRun integration and connectivity with HOVR shoes to measure stride and form.
The 40 mm Galaxy Watch Active2 starts at $279.99 and the 44mm watch at $299.99, available beginning Sept. 27, 2019. The Under Armour edition watch will be available in fall 2019.
Dig Deeper on Mobile operating systems and devices