Getty Images/iStockphoto
Samsung ditches Note, brings S Pen to flagship S series
The Galaxy S22 Ultra combines the Note's writing utensil and size with the S series' camera. The new smartphone has a starting price of $1,200.
Samsung has done away with the Note series tablet-phone hybrid and brought its S Pen and a larger screen to the latest flagship smartphone, the Galaxy S22 series. Also, Samsung has extended update support for many of its devices.
The Galaxy S22 series, which Samsung announced at its Unpacked event today, includes the 6.8-inch Galaxy S22 Ultra, which starts at $1,200 and includes both the S Pen and a nest for it in the device. Rounding out the series is the 6.6-inch Galaxy S22+, starting at $1,000, and the 6.1-inch Galaxy S22, at $800.
Samsung declined to say whether the Note, which has been around since 2011, was gone for good. But the company did confirm that it is spreading the phablet's features across its other lines.
"To make our most powerful Ultra model ever, we tapped into our Galaxy Note DNA," said Stephanie Choi, executive vice president at Samsung. "Galaxy S22 Ultra combines the power and productivity of Galaxy Note with the camera legacy of the S series."
More than half of U.S. adults use iPhones, compared with 29% using Samsung devices, according to Forrester Research. Samsung lags behind Apple, despite having significantly more smartphone models.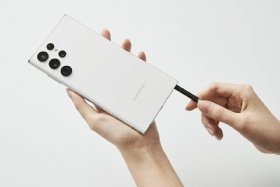 The latest S Pen, which has lower latency to provide more seamless writing, could entice some iPhone users to look at the Galaxy S22 series, said Jack Gold, principal analyst at J. Gold Associates. "Pens, for a lot of users out there, are important for checklists, annotation [and] note-taking."
Also, Samsung is making its updated high-end smartphone available now, while Apple won't release its latest iPhones until the end of the third quarter.
"Samsung has a couple of months to establish leadership in the high-end market," Forrester Research analyst Thomas Husson said.
All of the new S22s will include four years of Android updates. That's more than the three years Google offers for the Pixel but less than the six years Apple offers for the iPhone. The following devices will also get four years of support:
The S Series' Galaxy S21, S21+, S21 Ultra, S21 FE and all future S series devices.
The Z Series' Galaxy Z Fold3, Galaxy Z Flip3 and upcoming Z series devices.
The A Series' upcoming select A series devices.
The Tab series' Galaxy Tab S8, S8+, S8 Ultra and future Tab S series tablets.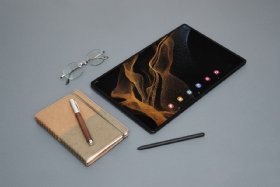 Also, at Unpack, Samsung introduced its latest crop of Galaxy tablets with larger screens than previous models and tighter integration with Microsoft Windows. Analysts said the tablets might better compete with Apple's iPad, which accounts for approximately 40% of the U.S. business tablet market, according to IDC. All Android tablets from Samsung and other manufacturers account for 49% of the market.
The Galaxy Tab S8 series includes the 11-inch Tab S8 for $700, the 12.4-inch Tab S8+ for $900 and, for the first time, a 14.6-inch Ultra model that costs $1,100.
The larger screens will benefit employees who need to multitask on their handheld devices and attend video conferences as part of their jobs, the company said.
"When the screen is bigger, video calls feel more real," said Danielle Moten, tablet product manager at Samsung. "You can see and do more simultaneously with multiple windows."
The Tab S8 series will pair with Windows PCs in the same way that Apple's iPad and iMac pair using Apple's Universal Control. The pairing will let people use the Tab as a second monitor or perform tasks like dragging documents from a PC to sign them with the S-Pen.
Samsung's latest tablets come with a 4 nm processor and up to 16 GB of RAM and 1 TB storage. Its battery can support up to 15 hours of continuous video playing and charges to 100% in less than 80 minutes, according to Samsung.
The latest Galaxy Tabs are the slimmest yet, at 6.3 mm. The Tab S8 is the first Galaxy tablet to support Wi-Fi 6E.
Google partnered with Samsung to let Galaxy S22 and Tab S8 users watch videos and interact with online whiteboards together in Google's video conferencing app Duo. The function supports Samsung's Notes and Gallery apps and Google's Jamboard, Maps and YouTube. Google also made it possible to preview and watch videos without leaving Messages on Samsung devices.
The Galaxy S22 series and Tab S8 series are available for preorder now, and will be generally available starting Feb. 26. The S-Pen comes standard with all Tabs, unlike Apple's equivalent Apple Pencil, which costs $130.
The plastic in Samsung's new devices is made of repurposed fishing nets to make the devices more sustainable, the company said.
"Today, most consumers have no clue how damaging it is for the planet to regularly renew their smartphone hardware," Husson said. "Once they realize, sustainability will become a key way to differentiate between premium smartphone brands."
Maxim Tamarov is a news writer covering mobile and end-user computing. He previously wrote for The Daily News in Jacksonville, N.C., and the Sun Transcript in Winthrop, Mass. He can be found on Twitter at @MaximTamarov.
Dig Deeper on Mobile operating systems and devices