Samsung Galaxy Chromebook, Galaxy Book Flex Alpha hands-on
The Samsung Galaxy Chromebook revealed at CES promises more power and performance than competitors, while the Galaxy Book Flex Alpha is an affordable option to its predecessor.
Samsung Galaxy Chromebook
Who said Chromebooks had to be inexpensive and underpowered? Certainly not Samsung, as the Galaxy maker unveiled its latest and greatest Chromebook at CES 2020, fittingly named the Samsung Galaxy Chromebook.
Looking at the spec sheet, you'd think this was a premium Windows 10 two-in-one, like those launched by Dell and HP at this same event. The Samsung Galaxy Chromebook has a stunning 13.3-inch 3840 x 2160 4K AMOLED display, powered by a 10th-generation Intel Core i5 processor, 8GB RAM and a 256GB SSD, coupled with a fingerprint reader and Wi-Fi 6 support. Samsung offers upgrades to 16GB RAM and a 1TB SSD.
It's fanless, with an aluminum chassis that feels great and cool to the touch, and durable too. It comes in what Samsung calls Fiesta Red and Mercury Gray. It's thin and light, measuring .55 inches thick, and weighing 2.27 pounds. Ports include two USB-C inputs that double for charging, a microSD card slot and 3.5 mm audio jack.
Business users might scoff at the dearth of ports. But again, this runs Chrome OS, not Windows 10. It's designed for mobility and working on the road. In fact, Samsung claims it meets the standards of Intel's Project Athena, meaning instant on, extended battery life and fast charging.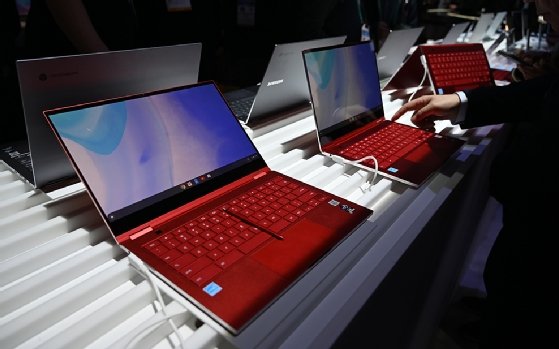 The Samsung Galaxy Chromebook ships with an active pen for note-taking, which docks neatly in the device. This is not the same S Pen found on the Samsung Galaxy Note series of smartphones. It's much more limited, used only for writing and drawing, and it does not support any of the hover actions or shortcuts found on recent Samsung pen-toting devices.
Is the Samsung Galaxy Chromebook overkill? With a $999 starting price, perhaps. Samsung is stepping on Google's turf, as Google offers the premium Google Pixelbook and Pixelbook Go with similar price tags. But a device with these specs running this operating system, which supports Google Android apps, is also as future-proof as any laptop on the market. Chrome OS currently doesn't necessitate much power to run smoothly. And when we are staring at 15th-generation Intel chips, the Galaxy Chromebook should still be humming right along.
No word on a specific release date. Samsung claims the Galaxy Chromebook will ship in the first quarter of 2020.
Samsung Galaxy Book Flex Alpha
If a $999 Chromebook is too much, how about a premium Windows 10 two-in-one for $830? That's the Samsung Galaxy Book Flex Alpha.
Think of the Galaxy Book Flex Alpha as a scaled-down version of the Galaxy Book Flex announced last October. As with most all Samsung devices, it has an outstanding display, specifically, a 13.3-inch QLED HD display, which looks really sharp -- when not compared directly the Galaxy Chromebook's 4K display, at least.
It also has 10th-generation Intel Core processors -- though Samsung hasn't revealed the specific processor yet -- starting with 8GB RAM and 256GB SSD. It can be upgraded to 12GB RAM and a 512GB SSD. Ports include USB-C, full-sized USB 3, and HDMI, along with a microSD card slot and 3.5 mm audio jack. Other specs include Wi-Fi 6 and a fingerprint reader.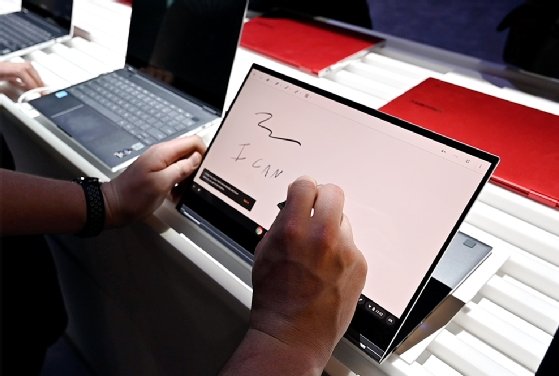 Samsung claims 17.5 hours of juice from a full charge, with fast charging support.
At a glance it's hard to distinguish from the Galaxy Book Flex, and that's a good thing. To cut costs, Samsung opted not to include the active pen, offering it as a separate purchase. There is also no built-in Qi charging pad, or dedicated graphics options.
But for a sub-$1,000 laptop, the Samsung Galaxy Book Flex Alpha is potentially a pretty good haul. It's cheaper than that Chromebook anyway.
Dig Deeper on Mobile operating systems and devices