CenturionStudio.it - Fotolia
HP Spectre X360 15, Elite Dragonfly hands-on preview
Upgrades to the HP Spectre X360 15 and HP Elite Dragonfly were unveiled at CES 2020, catering to the needs of business users -- but at a cost.
HP Spectre X360 15
It looks like HP left the HP Spectre X360 15 in the dryer too long, because the 2020 model is considerably smaller than the 2019 iteration. In fact, this new 15-inch Windows 10 two-in-one is 13% smaller, with nearly non-existent display bezels and a footprint that rivals many 13-inch devices.
Its display, too, rivals the quality of many smartphones. The excellent HP Spectre X360 15 display we previewed at CES 2020, a 4K OLED panel with a 90% screen-to-body ratio and what HP calls True Black HDR, is the salient feature. It pops, with excellent color production, including deep blacks and bright whites.
For business users, a 4K OLED panel may seem like a luxury, but those staring at a display all day will appreciate the comfort level high resolution offers. HP takes it a step further with an anti-glare coating that significantly cuts back on light reflections. Without it, the only way to fight the light is to pump up the display brightness, killing battery and irritating eyes. As a bonus, the coating also protects against fingerprint smudges. The OLED and anti-glare combined could make the HP Spectre X360 15 the best laptop available for working in bright conditions.
Additional business features include a bevy of ports: Thunderbolt 3, full-sized USB, HDMI, 3.5 audio, power jack and a microSD card slot. That's a good haul, but we'd love to see HP ditch the power jack for USB Type-C charging, which adds more versatility. Security features include a fingerprint scanner, IR webcam for facial recognition and a camera kill switch for privacy.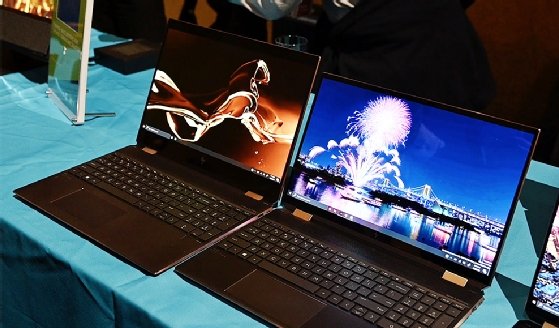 The HP Spectre X360 15 is highly configurable, and like most other 2020 flagship devices, that includes 10th-gen Intel Core processor options, up to 1TB SSD with 32GB of Intel Optane memory, WiFi 6 and Bluetooth 5 support, and the latest Nvidia Graphics. Maxed out with a Core i7 processor, the Spectre X360 15 will be a performance powerhouse. What's more, HP claims it will have a 17-hour battery life, despite the smaller design and smaller battery. This is partially thanks to a new low-wattage OLED. Of course, take vendor claims on battery life with a grain of salt.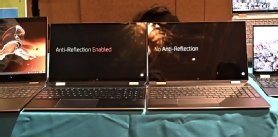 Harder to take with a grain of salt is the price. The HP Spectre X360 15 is slated to ship in April, starting at $1599. It's a premium device with a premium price tag.
HP Elite Dragonfly G2
The 13.3-inch HP Elite Dragonfly G2 is the second-generation Windows 10 two-in-one, following up on last year's Elite Dragonfly. It's a business device, and has all the business hallmarks, including a thin, light and durable design.
It's this design that stands out. With its Dragonfly blue CNC magnesium build, the HP Elite Dragonfly G2 simply looks good and feels sturdy. It's also eco-friendly, with about 90% of the chassis made from recycled magnesium, according to HP, and 82% of the mechanical parts are also made from recycled material.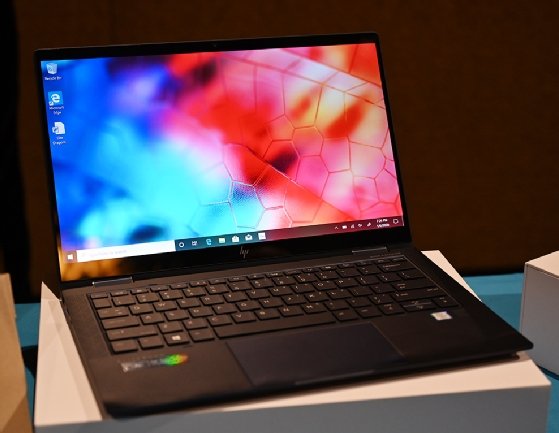 It only weighs a scant 2.2 pounds, and measures just 0.6 inches thick, making it one of the lightest in its class, and more than half a pound lighter than the MacBook Air. It sports 360-degree chrome hinges that enable tablet and tent mode.
In terms of specs, it's highly configurable, with 10th-generation Intel Core processor options along with 16GB RAM and up to a 2TB SSD. The 13.3-inch display ranges from an FHD to 4K. It has ample port selection, including Thunderbolt 3 ports, USB 3.1, HDMI, 3.5mm audio and a nanoSIM slot. The HP Elite Dragonfly G2 is also one of the first laptops to support 5G. So far, only Sprint has been announced, but others could come on board thanks to the Dragonfly's Qualcomm X55 LTE + 5G modem.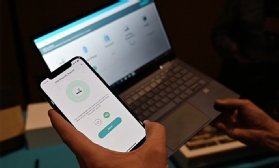 For business users, however, the new security feature is likely the most important upgrade. The Elite Dragonfly has a fingerprint scanner and IR camera for facial recognition, as well as HP Sure View Reflect, which makes the screen unreadable from the side. But it's also the first laptop with a Tile tracker built in. This Bluetooth tracker will help locate a lost laptop, either over a network or by beeping if it's in Bluetooth range.
Tile tracking was previously limited to relatively bulky adhesive dongles users stuck on the lid. Here, it's built in directly. So as long the Dragonfly G2 has battery, it can be tracked, even with the device powered off, and even if the battery is all but dead; the system still reserves some juice to keep the Tile going.
There is no word from HP on pricing or a release date. The previous-generation HP Elite Dragonfly has only been on the market a few months, and its base model costs $1500 as of this writing.
Dig Deeper on Mobile operating systems and devices