The key to end-user computing

alotofpeople - Fotolia
Overview of Samsung Galaxy S9 specs, features for business
The Samsung Galaxy S9 features are pretty similar to that of the S8. But a dual rear camera and other interesting specs continue to make the Galaxy an option for any user.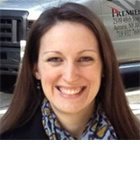 By
Despite seemingly small changes from its predecessor, the Samsung Galaxy S9 specs made a splash with a few additions that help keep the company's flagship device atop the market.
Aside from a camera overhaul and some fun new features, the Samsung Galaxy S9 specs don't venture too far beyond those of the S8. That phone made some major changes that turned heads, and since some of the newly announced features to software -- such as updates to the Bixby digital assistant -- will be made available on the S8 as well, the changes to the S9 may not be enough for existing users to upgrade or for new users to buy.
The S9 looks and feels much the same as the S8, with the same screen size and battery capacity as its predecessor. The biggest addition to Samsung's newest Android device is the dual-aperture 12-megapixel rear camera, which also includes a Live Focus feature that answers to Apple's Portrait Mode in the iPhone X. Major improvements to the S9 camera -- better slow motion capture, increased image quality thanks to new sensors, improved lighting because of the wider aperture -- might be most interesting to the Instagram gurus out there, but they can also be useful for creative professionals and others in the enterprise.
Among the new Samsung Galaxy S9 features useful for business users is Live Translate, a capability based on Google Translate in the Bixby digital assistant that can use the camera to translate text from images in real time.
For simpler secure access in low light, the S9 includes Intelligent Scan, which first attempts to sign the user in with an iris scan, and then fails over to facial recognition if the iris scan doesn't work.
Another new feature more of interest to consumers is the AR Emoji, which lets users create a cartoon image of their face that moves and that they can customize and use in text messages. The Samsung Galaxy S9 specs also include new Dolby Atmos speakers for improved sound quality that's about 1.5 times louder than the S8, according to Samsung.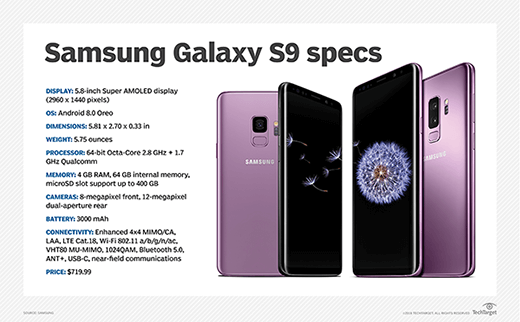 Businesses can also consider an enterprise version of the new phone, which comes with Knox technology for simpler device provisioning and added security. Paired with Samsung's DeX docking station, which also saw updates last month, this smartphone could even serve as a user's desktop device for work -- and still allow IT to hold the reins.