Get to know digital workspace software
VMware and Citrix workspace suites allow IT professionals to centralize end-user management while delivering a single access point for all of users' productivity resources.
Workspaces offer users access to all their resources in one place and simplify life for IT professionals by pulling all the management components into a cloud-based console.
IT can manage all aspects of end users' workstations with these tools, including the devices they work with and the software they access. Citrix and VMware both offer digital workspace software that can simplify management for IT, provide organizations with powerful monitoring capabilities and enhance performance for remote desktop and mobile device users.
Each vendor provides different utilities and a unique approach for managing the digital workspace, but both VMware and Citrix have shown an emphasis on mobile device management and cloud-based desktop virtualization. VMware Workspace One is VMware's digital workspace software, and Citrix offers Citrix Cloud.
Citrix Cloud
Citrix Cloud allows IT professionals to manage desktop and application deployments hosted by either on-premises hardware or in public or private clouds. Citrix Cloud allows IT to use Citrix Virtual Apps and Desktops to manage hybrid desktop deployments that include more than one desktop hosting method. The Citrix Analytics monitoring tool addresses security by tracking user behaviors and identifying suspicious activity so IT can investigate it further.
Citrix Content Collaboration, Citrix Virtual Apps and Desktops and Citrix Endpoint Management make up the standard Citrix Cloud offering. Organizations can opt for a more feature-rich version by selecting optional utilities such as Citrix Gateway for their digital workspace software at an increased price tag.
Citrix Content Collaboration, formerly known as ShareFile, distributes files to end users. The platform provides IT with integration for desktop, web and native mobile applications, ranging from Microsoft Office to Outlook.
Mobile Flows allows IT to build custom workflows into mobile devices, often involving the VMware mobile email application, Boxer.
Citrix Virtual Apps and Desktops, the renamed version of both XenDesktop and XenApp, comes in several editions. It delivers unique desktop sessions or duplicate Remote Desktop Session Host images to end users. The latest version of Citrix Virtual Apps and Desktops includes detailed machine historical data and additional logon performance analysis. The logon analysis provides details on how each Group Policy Object (GPO) affects the logon and how long each phase of the logon takes. The logon phases are pre-userinit, which includes profile and GPO loading; userinit, which includes booting Windows shell and establishing a network connection; and shell, which initializes the UI.
Citrix Endpoint Management is the unified endpoint management platform, which evolved from the company's enterprise mobility management (EMM) technology, XenMobile. The digital workspace software integrates with mobile enrollment and management software such as Apple Business Manager and Microsoft Intune. Citrix Endpoint Management also features Firebase Cloud Messaging integration to manage notifications across all devices.
VMware Workspace One
With Workspace One, IT can perform various desktop management functions from a central console. Workspace One combines several offerings, including VMware Horizon Air for cloud-based desktop delivery, VMware Identity Manager's single sign-on technology and VMware AirWatch for EMM.
Workspace One includes the Workspace One Intelligence tool, which runs automated responses to security threats and performance issues. This automation can relax the burden of IT management with quick responses to security breaches by automatically isolating the infected device from the rest of the organization's network.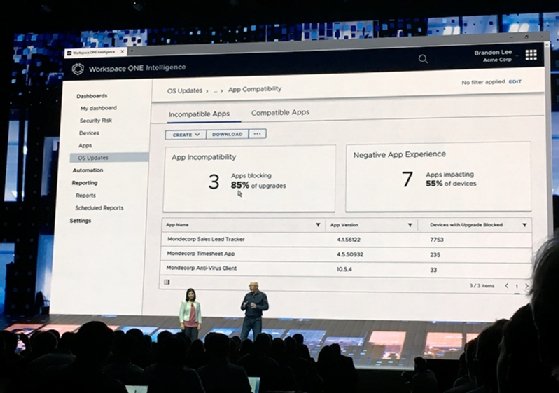 With Workspace One limiting the damage of an attack, IT can focus on finding its source and address the vulnerability across the organization. IT can also address the meticulous process of managing GPOs in Microsoft System Center Configuration Manager with Workspace One Intelligence's GPO templates and baselines, which automate organization-wide standards such as security compliance.
Mobile Flows and support for the Microsoft Graph API for Intune boost EMM capabilities within Workspace One. Mobile Flows allows IT to build custom workflows into mobile devices, often involving the VMware mobile email application, Boxer. In the future, custom workflows won't be limited to Boxer or even VMware-supported applications. VMware has yet to release these integrations, but IT pros will be able to use other development platforms, such as PowWow Mobile's SmartUX, that run alongside Mobile Flows as well.
Microsoft Graph API for Intune allows IT to manage Microsoft Office 365 applications, and Workspace One now supports this management directly. IT can use the digital workspace software to perform management functions such as data encryption for file sharing and enforce passcodes for accessing these applications.