VMware Workspace One helps Western Digital organize 3,000 apps
The application portal in VMware Workspace One allowed IT to streamline app delivery, and the product's cloud-based model proved the right fit for administration.
After making two big acquisitions since 2012, Western Digital needed to integrate technologies, cultures and workflows...
Continue Reading This Article
Enjoy this article as well as all of our content, including E-Guides, news, tips and more.
from multiple companies into one.
Western Digital now has about 75,000 employees across dozens of countries, working in manufacturing, engineering, finance, marketing and more. One of the challenges in streamlining all those users' work was handling a broad portfolio of more than 3,000 applications that IT must support, said CIO Steve Phillpott. Plus, some employees needed access to multiple applications that did the same thing, such as several enterprise resource planning systems.
"That can be overwhelming," Phillpott said. "We were looking for workspace products to help us ease that username-password burden, ease that ability to find the applications that they need, being able to put all their apps on a common portal."
The storage technology giant, headquartered in San Jose, Calif., turned to VMware Workspace One to get everyone on the same page.
Cloud console, EMM brings benefits
It makes it a lot easier for people to find things when they need it.

Steve PhillpottCIO, Western Digital
VMware Workspace One includes AirWatch for enterprise mobility management (EMM), Horizon Air for cloud-based desktop and application delivery, and Identity Manager to secure user access to those desktops and apps. Workspace One's application catalog allows Western Digital to provide access to all the apps a user needs in one place, and people can bookmark what they use most often on a shortcut page.
"It makes it a lot easier for people to find things when they need it," Phillpott said.
Adding AirWatch to the company's application delivery strategy was also beneficial for users, Phillpott said. Having the Workspace One app catalog available on mobile devices helped Western Digital increase portability among employees, who can now access apps -- including Microsoft Office 365, Box, Workday and Salesforce -- on the go.
"More and more of what we're doing is mobile-enabled," Phillpott said. "We want to provide that ability for people to access these applications when they want."
Workspace One has also made IT administrators' jobs easier, Phillpott said.
"From an ease-of-management standpoint, it significantly eases the requirements," Phillpott said. "Imagine the number of calls people are doing to say, 'How do I get access to this application?' If they have ... Workspace One, it becomes much easier to access."
Western Digital deployed the service in the cloud. VMware offers geographical redundancy for all the data users access, so the company's IT department doesn't have to manage that data backup itself. This capability is a big reason why workspace management suites are becoming a high priority for IT decision-makers, said David Johnson, principal analyst at Forrester Research.
"If they're going to duplicate their infrastructure ... they're going to double their cost," Johnson said. "If they can fail over to a standby in the cloud, that's a pretty significant cost saving."
Western Digital also manages Workspace One devices and apps through a cloud-based console. That brings benefits such as visibility into what applications people are using and the ability to deprovision apps quickly when needed, Phillpott said. AirWatch, in particular, helps IT keep track of the many devices connected to the network, he said.
When deploying a workspace suite, it's also a good opportunity for organizations to review what apps they have, and it makes provisioning in general much easier, Johnson said.
"It certainly means fewer applications they have to deploy to physical PCs, which is an advantage," he said. "There are a lot of applications that are just notoriously difficult to deploy on PCs."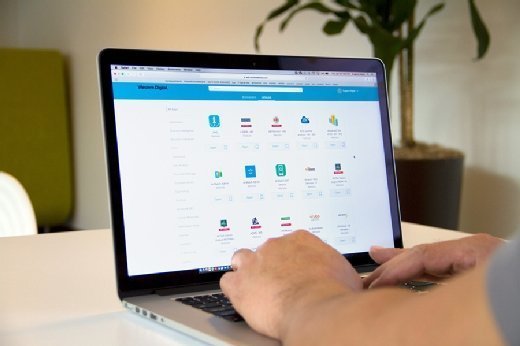 Why Western Digital chose Workspace One
Western Digital looked at other workspace management products, but ultimately chose Workspace One because some of the others didn't have the ability to support both VMware and Citrix virtual desktops. The company has both vendors' virtual desktops to address different application use cases across Western Digital itself and the acquired companies.
IT delivers virtual desktops to engineers in the field and to some office workers to provide access to legacy apps on older OSes -- employees still had some apps that needed access to OSes earlier than Windows 8. Virtual desktops also helped run application tests for a Windows 10 migration, which the company completed by the end of 2017.
Giving employees from several different companies access to Western Digital's collaboration and communication tools was particularly critical off the bat, Phillpott said.
"The faster we get people using our tools, the faster we can start leveraging the synergies between the teams," he said. "This allows them to work together. That's proved to be extremely positive."
With Workspace One now available to all Western Digital users with access to all their apps from multiple devices, the only challenge has been encouraging people to use it, Phillpott said.
"It's people change management," he said. "To come to the portal and realize, 'Oh, gosh, this is out there.' How do we promote this more?"