Citrix ShareFile features, integrations catch IT's eye
ShareFile will integrate with the new Citrix Workspace app, and other integrations with third-party services will help the product stand out in the EFSS market.
ANAHEIM, Calif. -- New Citrix ShareFile features and integrations are welcome additions for IT professionals who manage the EFSS service.
ShareFile is part of Citrix Workspace, a unified platform from which users can access SaaS and virtual applications, virtual desktops, files and more. The new Citrix Workspace app will enable users to access ShareFile data via a desktop, mobile or web application.
"If you're using Workspace, then ShareFile is the way to go because it's so well integrated," said Jack Gold, an analyst at J.Gold Associates in Northborough, Mass. "In the Workspace environment, you'll likely be receiving documents from a lot of different sources, and you'll want a way to get them seamlessly to the user."
Other Citrix ShareFile features showcased here at Citrix Synergy 2018 included a stand-alone desktop application and integration with security analytics technology.
Integration with Workspace
Users can access ShareFile documents via a desktop, web or native mobile app. The ShareFile mobile app is part of a set of Citrix apps, including Workspace Hub and Secure Mail, designed to have the same look and feel.
If you're using Workspace, then ShareFile is the way to go because it's so well integrated.

Jack Goldanalyst, J.Gold Associates
The ShareFile mobile app would be useful for employees who work on the road, said Matthew Wagoner, vice president of operations at California Drywall Co. based in San Jose, Calif. Two-thirds of his company's users, who are commercial construction workers, access files out in the field. California Drywall uses Box for enterprise file sync and sharing (EFSS) but is interested in switching to ShareFile, Wagoner said.
Other ShareFile integrations
ShareFile is positioned to integrate with Workspace, as well as a variety of external data repositories, including Office 365, OneDrive and SharePoint, said product manager Grady Slane and senior sales engineer Ingmar Verheij in a Synergy session.
Users can even access Office 365 files without an Office 365 installation, Slane and Verheij said. And an existing Microsoft Outlook plug-in automatically uploads attachments to users' ShareFile accounts. That's an important feature because the vast majority of organizations still rely on PCs and email to conduct crucial business.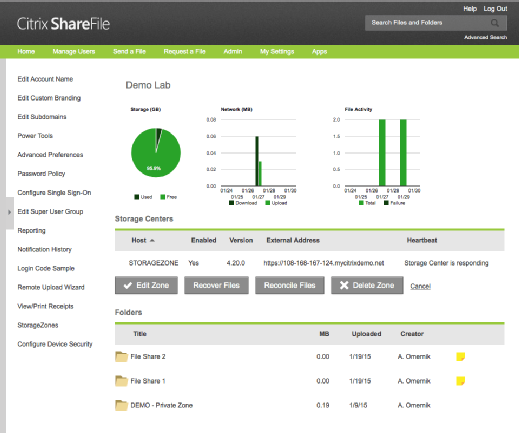 "It's good to know that Citrix has no intention of moving away from [Outlook and desktop integration]," said Jonathan Presson, an enterprise application support specialist at Estes Express Lines, a transportation provider in Richmond, Va.
These ShareFile integrations will help the service stand out in the EFSS market, said Andrew Hewitt, an analyst at Forrester Research.
"[ShareFile] has been pretty good in terms of discovering different files, whether they're on prem or in the cloud, and that gives them a bit of differentiation over companies like Dropbox and Box," Hewitt said.
Security-focused ShareFile features
Citrix Analytics Service (CAS), a cloud offering that tracks user trends and flags suspicious activity, provides the underlying security technology for ShareFile. CAS provides a dashboard of metrics from which administrators can analyze user behavior and create policies. The service also categorizes users in one of four ways: high risk, medium risk, low risk and on a watchlist.
"From an ease of use perspective, [CAS] is very helpful for the IT manager because they can set policies in ShareFile that then get applied to other stuff, like encryption and data leak protection," Gold said. "I can set a policy based on a particular user and have it applied to the doc. I don't have to go into each individual storage system."
Presson said he is interested in the ShareFile integration with Citrix Analytics -- but only if the price of that service is included in the ShareFile license.
"If it is included, which [version] is it? ... Enterprise or platinum?" he said. "It would make life easier for our Citrix admins because they would have the ability to send information without getting the network admins involved."