VMware View components: What you need and how they work
To use VMware View for VDI, you need a few different View components, including the View Agent, vCenter Server and View Connection Server.
VMware Inc.'s approach to VDI is modular, which means there are a number of VMware View components that must all work together so you can create and manage virtual desktops.
Deploying virtual desktop infrastructure (VDI) is always a big undertaking, regardless of which VDI platform you use. One of the most common platforms for deploying virtual desktops is VMware View. Even though there are a lot of VMware View components, View is very flexible. As such, not every deployment uses every component. You can see a sample of what a VMware View deployment might look like in Figure 1.
Figure 1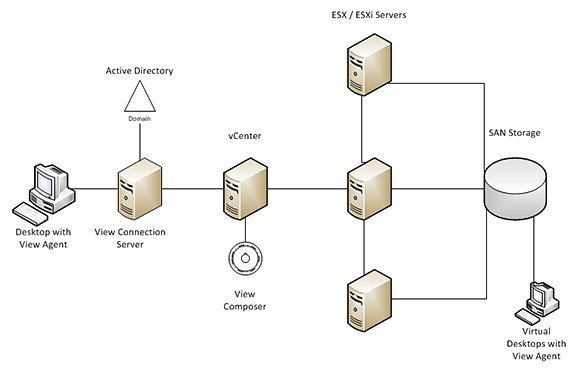 This diagram represents a typical VMware View deployment.
Before you take on a View deployment, here are the VMware View components you need to understand:
Hypervisor. The first requirement for deploying virtual desktops with VMware View is a hypervisor that can host the desktops. View allows you to use ESX or ESXi servers, which are typically connected to a storage area network, which is where the virtual machines (VMs) actually reside.
VCenter Server. So they can be used for VDI, the ESX/ESXi servers must belong to a vCenter Server, a server that acts as a central administration point for the ESX/ESXi servers. The vCenter Server is commonly used to provision and manage VMs.
View Agent. The virtual desktops themselves must run a component called the View Agent. The View Agent allows VMware View to manage the virtual desktop. The Agent also adds some capabilities to the virtual desktop, such as USB support and single sign-on capabilities.
View Composer. Administrators also need to be familiar with linked clones. The idea behind linked clones is that it's possible to create a master virtual desktop image and then create a series of logical clones of that image. These clones are really just links to the master image, and they help save storage space in much the same way that deduplication does.
If you plan on using linked clones, then you will need to install a software service called the View Composer onto your vCenter Server. The View Composer makes it possible to deploy linked clones from a centralized base image.
More on VMware View components
How to install View components
Components that are missing from VMware View
View Connection Server. The most important VMware View component is the View Connection Server. The View Connection Server is a connection broker, and it is responsible for authenticating clients and connecting them to the appropriate virtual desktop (or physical desktop or terminal server). Although the View Connection Server is responsible for authenticating clients, it is typically configured to use Active Directory for authentication.
View Client. Users who want to connect to a virtual desktop must establish a connection from their physical device to a View Connection Server. To do so, the user's device must be equipped with the View Client.
Although the View Client is normally sufficient for establishing connectivity, VMware also offers a client called the View Client with Local Mode. This client makes it possible for users to actually download a VM and run it on their local desktop. If you plan to use Local Mode, you must also run a service called the View Transfer Service, which manages network traffic between your data center and the virtual desktops that are running on users' local systems.
View Administrator. One last VMware View component that you need to be aware of is the View Administrator. The View Administrator is a Web component for deploying and managing virtual desktops.