Natalia Merzlyakova - Fotolia
How do you fix Outlook display issues?
Outlook crashes and rendering issues might require an upgrade -- or a downgrade -- for administrators who want to avoid a Band-Aid approach and want a permanent solution.
There are a few remedies available for various Outlook display issues that have persisted since the middle of...
Continue Reading This Article
Enjoy this article as well as all of our content, including E-Guides, news, tips and more.
2016.
Since that time, many Outlook 2013 and 2016 installations have experienced various performance and display glitches. For some installations, Outlook locks up after a few hours until the program restarts.
Typically, these issues relate to rendering -- white boxes will appear, the application flickers, buttons disappear, text gets garbled or cut off. Sometimes the problem is a delayed response to clicks or typing. Other times, Outlook crashes.
These Outlook display issues only affect 32-bit versions of Office. Normally, 32-bit applications can only access 2 GB of memory that all 32-bit apps share. Outlook appears to handle this limit poorly, making it unusable once available memory dips below what Outlook requires to run smoothly.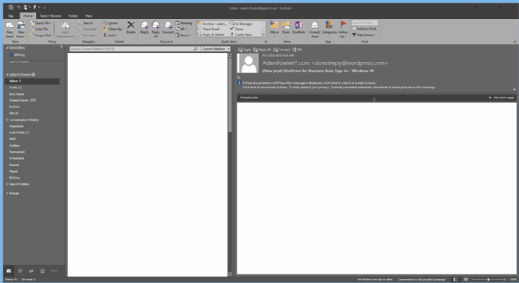 It appears these issues coincided with the addition of the Airspace rendering engine in Office 2013. Because Airspace is not part of Office 2010, admins have the option to switch to this version.
Microsoft's attempts to resolve these Outlook display issues involve giving 32-bit Outlook 2016 more memory to access with a functionality called large address aware (LAA). This feature effectively doubles the amount of memory available to Outlook and other Office applications from 2 GB to 4 GB.
To see how much memory is available for Outlook, try the VMMap Sysinternals tool, which shows the private bytes or memory distributed for a process that cannot be shared. VMMap shows the bit version of Outlook, as well. For 32-bit Outlook, a number at 250,000 K or less is bad.
It appears these issues coincided with the addition of the Airspace rendering engine in Office 2013.
Microsoft deployed LAA to the Office 2016 click-to-run (CTR) version. Enterprises with this version of Office should automatically have LAA enabled. Organizations that use the offline classic installation of Office 2016 MSI do not have LAA support yet, and there is no timetable on its release from Microsoft.
For companies on the 32-bit MSI version of Office 2016, the obvious fix is to switch the Office install to CTR or a 64-bit version. If that's not an option, some workarounds are to restart Outlook regularly, such as during lunch time or when the problems begin, and to remove unnecessary Outlook add-ins and discard unnecessary mailboxes or PST files. A TechNet article from Microsoft offers other suggestions to mitigate these issues.
For 32-bit Office 2013 users, the only option is to upgrade to a newer -- or downgrade to an older -- version.
Editor's note: Microsoft released LAA patches for Outlook 2013 (KB4018376) and Outlook 2016 (KB4018372) in May 2018. The installation process is now easier to correct the Outlook issues, but be sure to test the patches because you may have an add-in that is incompatible with LAA.
Use the following registry setting to prevent add-ins from using the extra memory available from LAA mode. Change the xx to 15 for Outlook 2013 or 16 for Outlook 2016:
HKEY_CURRENT_USER\Software\Microsoft\Office\xx.0\Outlook\ReserveHighAddressRange DWORD Value '1'
Dig Deeper on Microsoft messaging and collaboration
While basic monitoring services and feedback loops provide critical insight for DevOps teams, an end-to-end monitoring tool gives them a more ... Continue Reading
What are some ways to level up from an IT operations or administration role into an IT engineering one? Will my experience in IT operations ... Continue Reading
If I want to share files between three client machines and a Windows server, what are my options? Continue Reading