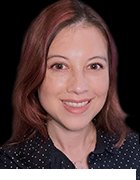 Melinda Marks
Senior Analyst, Enterprise Strategy Group
Senior Analyst Melinda Marks covers application and cloud security at TechTarget's Enterprise Strategy Group, helping organizations scale safely, while adopting faster cloud-native development cycles. Her coverage area includes cloud-native application protection platforms, cloud workload protection, cloud security posture management, DevSecOps and application security, including web application security testing (static AST, dynamic AST, interactive AST, software composition analysis) and API security.
With more than 20 years of experience in tech marketing and strategy, Marks is passionate about conveying product value and differentiation and driving revenue. Most recently, she was chief marketing and strategy officer for Soluble, a startup focused on automating AST for developers. She was also vice president of marketing at Armorblox, vice president of marketing at Styra and head of marketing for StackRox (acquired by Red Hat). Her experience includes running competitive/market intelligence and product marketing teams at Tenable and running global communications for four years at Qualys. She also spent many years at VMware, where she built its original customer reference program, led product PR and was on the core VMworld planning team since the first VMworld.
Marks is a Synopsys Outreach Foundation board member. She has a bachelor's degree in English from University of California, Berkeley.
Melinda Marks's Most Recent Content