tostphoto - Fotolia
Enterprise drone adoption takes off -- with a few hurdles
Enterprise drone applications are showcasing numerous benefits, but challenges stand in the way of widespread adoption -- namely, public safety and scalability.
The age of enterprise drone use is upon us. Once considered only hobbyist or military technology, companies today are using drone applications to conduct safety checks, create job site maps, document site progress and inspect utility infrastructure, largely thanks to dramatic drone cost reductions over the last several years.
"Drones are the most exciting new technology because they can be integrated into existing workflows, making them much more efficient," said Mike Winn, CEO at DroneDeploy, a drone mapping software provider. "The cost of drone hardware was initially high but has come down as much as 90% over the last few years. This is leading to greater use on the job site as builders see immediate ROI at these price levels."
However, despite the benefits, the industry needs to address a variety of challenges in order to make the widespread use of unmanned aerial vehicles (UAVs) smoother for enterprises.
"We tend to think of the UAV platform as a flying IoT edge device," said Brad Westphal, senior director of UAVs and UAV solutions at Honeywell Aerospace. "We are trying to use drones to connect physical assets. This requires significant work around digital integration in terms of analytics and vision processing."
Below, learn about the opportunities real-world companies are finding in their drone deployments, as well as major challenges that must be overcome for enterprise drone applications to truly take off.
Drone opportunity #1: Using apps to improve construction
Drone hardware itself is often just the starting point. Enterprises can bring the most efficiency to their workflows by buying, customizing or building their own apps that integrate into their existing business processes. Drones excel at capturing a lot of video and other data. But then either humans or AI algorithms must make some sense of this data. This has led to the development of enterprise drone app stores. For example, the DroneDeploy App Market helps extend the power of aerial data collected and processed on the DroneDeploy platform.
Enterprise drone apps make it possible to integrate aerial data into existing company workflows. Brasfield & Gorrie LLC, a construction firm, has equipped its regional offices with aerial drones. Its design teams use drone mapping in their everyday workflow. Magnus James Gorrie, CEO at Brasfield & Gorrie, said: "We've created a much more efficient process. We can literally take weeks out of the schedule. Our projects are much higher quality than before, and they're safer."
Drone opportunity #2: Improving aerial inventory
Many enterprises are adopting drone platforms, which help automate much of the work of rolling out fleets of drones for various projects. Many early adopters have seen some value through manually piloting drones to see what they can do, but this requires a lot of time, attention and specialized skills. Now, companies such as Kespry Inc. offer drone app platforms that can be used in various verticals, such as the construction, insurance, mining and paper industries.
One early adopter of the Kespry platform, E Construction Ltd., a paving contractor, has been using drones to inventory the amount of aggregates, like asphalt, available for paving roads. Chad Harrison, aggregates and environment manager at E Construction, said the company used to have two to three crews surveying the lots where the pavement material was stored. These surveys typically required shutting down paving operations so that the process of loading the material did not endanger the surveyors. Now, using drones, surveyors can take an inventory while material is being loaded for road projects -- this saves the company about $25,000 per year in lost productivity.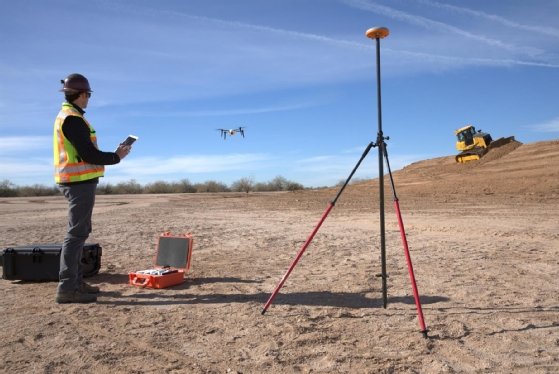 The drones are also much faster than humans, Harrison said, adding that "to just be able to fly a drone for half an hour to pick up a quarter section of 160 acres would have taken us 10 to 14 days in the past, and [people] probably wouldn't have gotten everything."
Drone opportunity #3: New business models
Experts also see enterprises creating entirely new business models with drones rather than just improving existing business processes.
"Companies will rapidly adopt drones to provide premium transportation for small, high-value items with an urgent need for efficient delivery," said John E. Jackson, editor of One Nation Under Drones. This is in contrast to the highly publicized drone delivery efforts promoted by Amazon promised five years ago but which face significant hurdles.
A prime example of a successful early adopter is the California-based company Zipline, which is now routinely transporting blood and medicines from its logistics hub in Africa to hospitals and clinics throughout Rwanda. Since 2016, its fixed-wing drones have flown more than 186,000 miles on 4,000 flights. Recent expansion to its hub are expected to accommodate 500 flights per day, and the company claims it can receive an order and get a drone into the air in just over one minute.
Blood and medicine transportation aren't the only lifesaving drone applications out there. "Other drones have been used to deliver floatation devices to swimmers in distress and AEDs [automated external defibrillators] to patients in need on the streets of Reno, Nevada," Jackson added.
Drone challenge #1: Protecting drones and the public
Ben Marcus, chairman and co-founder of AirMap Inc., an airspace management infrastructure service, said enterprises need a way to ensure that their operations are not only safe, but also compliant with regulations in every country in which they operate. Enterprises also need a way to manage flight plans, monitor flight conformance, request authorizations and provide proof of compliance to authorities.
Increasingly, enterprises are turning to UAV traffic management systems, which provide a sort of virtual air traffic control system for drones. A UAV traffic management system connects an enterprise's internal drone-tracking application with authorities for compliance assurance and facilitates data analytics of recorded video footage and sensor data. This technology can help with geo-awareness, flight planning, regulatory compliance, airspace authorization and traffic deconfliction.
About 1,500 developers are creating applications on top of the AirMap platform for everything from basic safety management to aerial intelligence analytics. AirMap works with civil aviation authorities and air navigation service providers to deliver tools and infrastructure that simplify safety and compliance issues.
Enterprise drone usage is still in its infancy. Enterprises tend to fly only a couple of missions, which are relatively easy to manage. In the long run, enterprise drone applications could grow as regulations and the technology improve. But this will require demonstrating that large numbers of drones can safely fly in the same airspace.
One early example of this was the survey efforts in the aftermath of Hurricane Harvey in 2017 in Texas. The Federal Aviation Administration (FAA) temporarily lifted its flight restrictions in the area and gave jurisdiction over to the Texas Emergency Operations Center. This group was tasked with coordinating the efforts of 119 independent drone operations using a cloud-based dashboard running on the AirMap platform. The large-scale use of drones proved essential in damage assessment, flood monitoring, bridge inspection and public alerts.
Drone challenge #2: Scaling
Honeywell is working with its industrial customers to deploy drones to improve their operations, with a focus on utilities, including oil and gas, refining, renewables and other companies with large capital-intensive outlays.
Honeywell, like many enterprise users, has demonstrated the feasibility of using UAVs on a small scale. But the bigger problem is scaling the technology. This involves finding ways to create the application infrastructure around UAVs for quicker, more repeatable processes and enabling new kinds of processes by digitizing more information about industrial assets.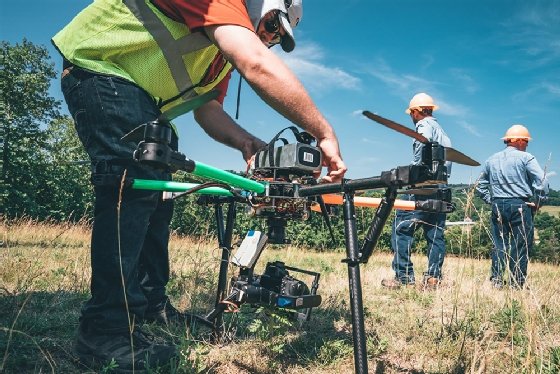 In the long run, Honeywell's Westphal believes that five things are required to make enterprise drone applications more efficient and scalable:
Unlocking the airspace. As the number of drones grows, enterprises are going to have to figure out how to automate the process of sharing the airspace. "The enterprise has to unlock and make the airspace easy," Westphal said. Apps like AirMap can help, but that is only part of the solution. In the long run, scalability is going to require cooperation with the FAA, improved sensors and standard practices for communicating with other enterprise or consumer drones.
Improving drone hardware. Drone hardware must continue to advance and improve, with better sensors for gathering different types of data beyond just video, as well as better sensors for detecting obstacles.
Data processing. More work is required to process and make sense of the data coming off UAVs. "There are thousands of terabytes of data coming off of a 50-mile mission," Westphal said, referring to power line surveys completed by drones. Being efficient with all this data is a big problem.
Better integration. Drone applications must translate to cost efficiencies for more enterprise use cases. This involves figuring out how to integrate into existing ERP, maintenance and control systems infrastructure. Many utilities, for example, use ERP systems to manage task orders and prioritize the scheduling of teams to fix a problem. If there are four trees over a utility line, for example, the ERP system could dispatch a team to prune just those trees, instead of pre-emptively cutting all the trees along the street. But there also needs to be a way to get from recording stand-alone pictures to analyzing the data and then prioritizing tasks based on this assessment. "Utilities are not going to retool SAP or Oracle just to integrate UAVs into their workflows," Westphal said.
Improvements in drone autonomy. Improving the autonomy of the UAV platform using better AI algorithms is critical, according to Westphal. Better autonomous driving algorithms, like those being developed for cars, could not only help reduce the size of self-driving apps for drones, but also improve their speed to increase safety.
Dealing with the real world is a harder problem than most people will give credit, Westphal said. Flying a UAV in your backyard is easier than flying drones on a routine basis. For example, Honeywell has been involved in completing over 300 miles of utility line inspections in the last 10 months, addressing problems ranging from changing weather conditions and even cows in the field drones were planning to take off from. "Those are things you don't anticipate," Westphal said. "We must overcome them to figure out how efficient we can be in the real world -- in cases like cows nibbling on propellers."