janez volmajer - Fotolia
Nanosatellite companies extend IoT connectivity
Space-based IoT connectivity via nanosatellites helps give things that, until now, were either in locations too remote or weren't considered feasible, an opportunity to connect.
Achieving anytime, anywhere access to IoT devices and their data often extends beyond the capabilities of common...
Continue Reading This Article
Enjoy this article as well as all of our content, including E-Guides, news, tips and more.
terrestrial wireless, such as cellular and Wi-Fi. What's a company to do? Perhaps it's time to look to the stars.
At least six companies have space-based IoT data connectivity via nanosatellite constellations in the works -- including Kepler Communications, Hiber Global, Astrocast, Myriota, Fleet Space Technologies and Helios Wire.
What does space-based IoT connectivity bring to the table? Nanosatellites are much smaller and less expensive than large satellites, so they can deliver "significantly lower costs and much smaller terminals, which can be integrated into a significantly greater number of devices -- by an order of magnitude," said Alan Crisp, senior analyst at Northern Sky Research (NSR), an international market research and consulting firm. "This has the potential to add connectivity to things that previously weren't feasible to connect, such as private fishing vessels or even individual life jackets."
Space-based IoT faces challenges, though, chiefly in the form of extremely high latency and low data rates, Crisp explained.
"During the ramp-up satellite launch phase, delays of over 20 hours can be expected, but this will decrease to 15 to 60 minutes as more satellites are launched."
This is because, with one satellite, data gets picked up roughly every 12 hours or so; two satellites reduce that latency to every 6 hours. Essentially, the more satellites that are involved the better, as it means that your data gets picked up more frequently.
Because of the latency issue, or time delay, NSR expects terrestrial technologies such as Sigfox, LoRaWAN or 3G/4G networks to be used instead when available.
However, "usage in areas unserved by terrestrial networks -- think maritime -- or for objects that move between terrestrially served and unserved areas -- like asset tracking -- will benefit from much more affordable satellite IoT connectivity compared to the more expensive satellite solutions available today," Crisp noted.
Meet the space-based IoT connectivity providers
Kepler Communications, based in Toronto, is a player that "plans to be able to achieve larger data transfers," Crisp said. "It has a head start by being the first IoT-focused satellite constellation to have launched a demo satellite in January 2018, and [is planning] a 140-satellite constellation on the Ku band."
Hiber Global in Amsterdam is working on "an 18 to 24 nanosatellite constellation for IoT within the VHF/UHF bands," Crisp said. "It's differentiated itself so far by having a strategic partnership with established operator Iridium, which has a large chunk of today's satellite IoT -- mostly within the enterprise and government space."
Lausanne, Switzerland's Astrocast has a proposed L-band, 66-nanosat constellation underway, according to Crisp, with two demonstration satellites planned.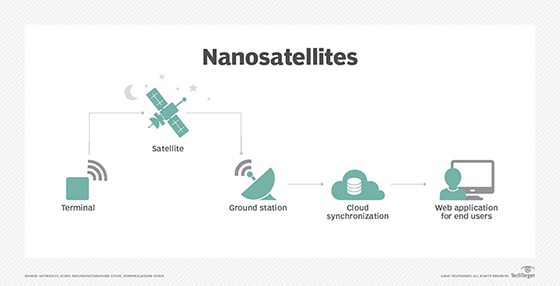 "The company also has a strategic partnership with established operator Thuraya, which is on L-band," he said. "Using the same frequency band on both small satellites and established satellites provides advantages for modems that would be able to access both constellations simultaneously."
Myriota, based in Adelaide, South Australia, offers a nanosatellite technology that enables huge populations of tiny, low-cost, low-power transmitters to send small amounts of data from any location on Earth.
"Our platform can connect hundreds of millions of devices directly to satellite without the need for any other ground-based gateways or repeaters," said Tom Rayner, business development executive at Myriota. "This direct-to-orbit solution opens up IoT to a range of industries, such as agriculture, utilities, environmental monitoring, asset tracking and logistics, among others."
Myriota's commercial offering is on target to be available in late 2018.
"We've had several early-stage demonstrator trials in the field over the past 12 months," Rayner noted.
Also based in Adelaide, South Australia, Fleet is on a mission is to connect everything via its Portal, which the company describes as an edge server, a LoRaWAN gateway, and a satellite modem and antenna all rolled into one low-cost, fully integrated, easy-to-use package. It's designed to allow users to deploy up to 100 LoRaWAN-based sensors within 10 miles of the Portal, as well as LoRa satellite connectivity for remote industries where cellular networks aren't available.
Helios Wire, based in Vancouver, B.C., is using S-band spectrum to beep data from Earth to space. The company plans to launch three small satellites that weigh about 35 pounds within the next 10 months, and then will continue to launch the rest of its constellation as it scales up the business.
Its setup includes "ground-based devices that act as a hub and modem to pick up data from other sensors within a 25-square-mile radius range, which is then uploaded to satellites," explained Scott Larson, CEO and co-founder of Helios Wire. "After satellites pick it up, they drop it down to existing ground stations, which upload it to the cloud. Customers can download their data and go from there."
And, for anyone looking for space-based blockchain for IoT security, be sure to check this company out.
"Space is good for things that are remote or difficult to track -- whether you're operating in places without infrastructure or GSM or you don't trust it or there's environmental or social unrest or things are on the move -- because you can just put a tag on a container when it leaves the factory in China and track its location, vibration -- so you can tell if it's been dropped, temperature and even whether or not someone's tried to open the door on this container," Larson said.
"Every few hours, a little ping goes to space and gets dropped down. We think we can track a device for about $20 per year. It's not expensive, and it allows us to go open up markets where people want to track devices really, really cheap."
The company's goal is to focus on offering a service that's "purely good enough," Larson explained, unlike most of its competitors that are focusing on the top of the market, such as providing streaming video and broadband internet to cruise ships, airplanes and oil rigs in the middle of the ocean and things like that, which tends to cost on average $400 to $500 per year. "If someone wants streaming video, huge data or always-on connectivity, we can't do that," he added.
The timeline for space-based IoT connectivity
When should we expect to see space-based IoT really take off?
"Widespread use of IoT satellites isn't ready just yet," Crisp said. "Only a few test satellites are currently launched, with a few pilot customers trialing the services. Commercial services aren't expected until 2019 or 2020 because ground equipment still needs to be tested and designs validated. If all goes to plan, full constellations will be available for use from 2022."
Dig Deeper on Internet of things networking