Fotolia
Particle Mesh brings mesh networking to IoT
With the Particle IoT mesh network, the company aims to help customers solve connectivity challenges and improve the collection of IoT data.
After seeing success in Wi-Fi and later cellular IoT device hardware, Particle has extended its scope with a new...
Continue Reading This Article
Enjoy this article as well as all of our content, including E-Guides, news, tips and more.
range of prototyping boards and support for mesh networking.
The company today announced the addition of Particle Mesh to its other IoT hardware, including Electron, its cellular device, and Photon, its Wi-Fi device. The Particle IoT mesh network aims to bring a type of connectivity to what CEO Zach Supalla calls a "market in need."
"When we're pursuing a new technology, we're doing it because it solves some customer problem that we can point to," Supalla said. "So, rather than saying, 'Oh, this is some cool new tech,' I can point to somebody and say, 'This is what you need.'"
The Particle Mesh family includes three mesh-ready devices: the Argon and Boron, both of which work alone or can act as IoT mesh network gateway nodes, as well as Xenon, a mesh-only endpoint. Argon is the company's Wi-Fi- and mesh-enabled device, while Boron is its LTE/2G/3G- and mesh-enabled device, which is also compatible with LTE CAT-M1/Narrowband-IoT. All three devices integrate with Particle Device Cloud, the company's cloud management platform.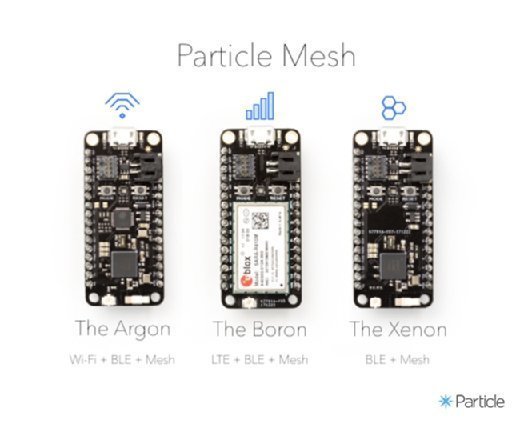 Solving a problem
"We started to see a problem pop up," Supalla said. "A lot of customers were deploying cellular products and then realizing after they shipped that they wanted to collect more sensor data, but their access was limited. So, they all started doing the same thing: adding their own point-to-point radios so they could add wireless sensors. They were all doing it their own ways, and often insecurely or unreliably."
Here was another problem for Particle to solve. With the company's IoT mesh network hardware, Supalla said, Particle's customers could expand the reach of their IoT devices and collect more valuable IoT data, all without the increased cost of adding cellular or Wi-Fi connections to each sensor.
Take the company's leak detection system manufacturing customer, for example. Its systems have the ability to shut off water mains in the event of a pipe bursting or other leak. However, as a pipe leak is different from a toilet leak, Supalla noted, more than one sensor must be installed for the system to perform accurately. Yet, having more than one cellular or Wi-Fi signal in an IoT system can be costly. Building an IoT mesh network, with one sensor reporting the data from multiple sensors throughout a building, makes sense.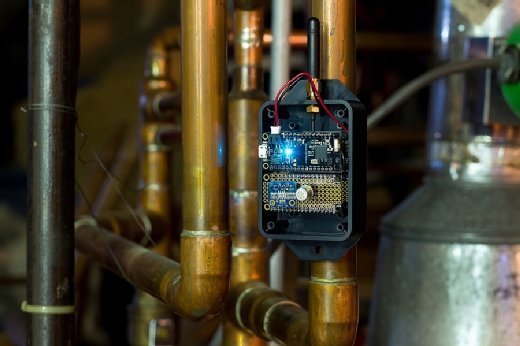 Likewise, Supalla added, using IoT mesh networking in environmental scenarios -- such as the company's research center customer that monitors hundreds of mice, each in its own regulated cage, creating a dense, multisensor network -- could use Bluetooth and thus be the only radio service with low enough power to handle that many transmitters in a small space. Another mesh use case is that of a smart home system, where smart locks, motion detection, and window and other sensors work in conjunction to monitor a home.
Bringing mesh to IoT
While mesh networking has been around for a while, it's just beginning to make inroads in the IoT world.
"New technologies that were previously unreliable start to be viable," Supalla said. "And there's been a bit of a VHS versus Betamax protocol war, and you don't want to make the wrong bet."
Particle Mesh devices are built on the OpenThread protocol, which Supalla said has become the go-to for IoT mesh networks. It is also on the same security wavelength as Particle, which has always been all about keeping its customers safe.
"All communications will be encrypted and secure. That will happen in two ways. One is at the networking layer: Thread is designed to be secure and will provide MAC-layer security," Supalla said. "And [Particle] will add an additional layer of application security, which is [Constrained Application Protocol] CoAP communication encrypted with DTLS."
Thread is also designed around CoAP, which made it a natural fit for Particle Mesh.
The Argon, Boron and Xenon hardware development kits announced today will ship in July, followed by their modular versions later this year. The company is also adding Particle Mesh network management capabilities to its device management console, which will also roll out later this year.
"The interesting thing about mesh is now you have a new problem," Supalla said. "Besides wondering if cellular devices are working and connected, you also want to know if the network a device has created is working, and whether there are other devices connecting to it and if those devices are working."
The new network management capabilities will allow customers to monitor their IoT systems and mesh networks, as well as diagnose problems on individual devices, perform provisioning and roll out software updates.