fotohansel - Fotolia
3 NB-IoT use cases bring advantages -- and challenges
Narrowband IoT applications offer advantages for smart city, farm and factory data analytics, but organizations must still tackle connectivity and security issues.
Narrowband and IoT combined can bring out the best parts of both technologies in smart cities, asset tracking and agricultural projects, but NB-IoT use cases have disadvantages.
NB-IoT was developed to support applications that require low-power consumption, long battery life and can be left alone for a long, long time, said Syed Zaeem Hosain, CTO at IoT and M2M technology provider Aeris based in San Jose, Calif. The standards-based technology creates the potential for a wide range of new IoT devices and services.
"Narrowband IoT is a technology that carriers have been working on for 30 years now, but it's only really caught up over the last couple years," said Sam Barker, a lead analyst at Juniper Research. "Essentially, it revolves around the concepts of IoT and everything being connected and being able to monitor everything."
NB-IoT use cases in smart cities monitor quality of life
In smart cities, NB-IoT technology can monitor air pollution, refuse collection, traffic, smart metering and processes that require small data packets to be sent infrequently to the network center or to an IoT management platform, Barker said.
But NB-IoT will confront organizations' connection security. A threat actor could steal data collected from a connection or take over the connection.
Smart cities are the biggest NB-IoT use case, said Ryne DeBoer, vice president of IoT and smart connected products at The Morey Corp., an electronics manufacturing organization in Woodridge, Ill.
"If you're thinking about creating a smart city, that means you want data analytics or data coming off everything that's within your city," DeBoer said. "For example, maybe the trash cans could be monitored for trash to be hauled away or [monitor for] more information around what's going on with the lighting, water metering or street signs."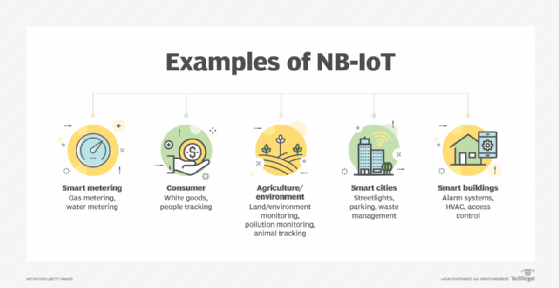 The slow throughput of NB-IoT -- which is just the nature of the technology -- complicates its use for smart city applications, DeBoer said.
NB-IoT works for limited asset tracking
NB-IoT opens the door for more cost-effective asset tracking. The challenge of tracking with NB-IoT is mobility, said Dermot O'Shea, co-founder and joint CEO at Taoglas, a provider of next-generation IoT tools based in Los Angeles.
"You really only want to use it for stationary assets and not something that's mobile, like a vehicle or something that you think might be moved," he said. "So, don't put it in a vehicle and expect to maintain connectivity with it, because NB-IoT is only designed to message at certain intervals. If you're just using it to count sheep, for example, and you only want the count [once] per day or every two days, then it's OK."
In asset tracking, people often want immediate notification if something moves, and they want to know exactly where it is. NB-IoT isn't good for that, O'Shea said.
NB-IoT use cases in agriculture depends on cellular coverage
In the U.S., NB-IoT will advance the agricultural industry. Some farmers want to connect everything, but they can't connect it through wires and Wi-Fi doesn't stretch that far, Barker said.
"Operators have developed low-power technologies, which is essentially a cellular connection like you normally get on your phone; it uses the same network," he said. "But it doesn't use very much data. NB-IoT doesn't have very high bandwidth, which means the data that you can send is quite restricted. It's also low-power NB-IoT, and it's meant to be implemented into a device that has a battery life of around 10 years."
For example, consider a farmer who sticks an NB-IoT-connected device in the middle of a super farm field in the U.S. The device can send data about the moisture level in the soil to alert the farmer when the field needs more water, Barker said. Because the device has power-saving technology, the farmer can leave it there for 10 years.
However, Andre Kindness, principal analyst at Forrester Research, disagreed.
"Agriculture -- good luck with that because there is no cell coverage out in most of the Midwest, anyway," he said. "You only get coverage about 15 miles on either side of a main road and that's about it. When you think about these big fields, that's just not the reality of it."
That reality likely won't change because there's no economic value of putting up new cell towers just to support NB-IoT, according to Kindness.
What IT admins must know about NB-IoT use cases
IT administrators must be concerned when it comes to implementing NB-IoT security, according to O'Shea.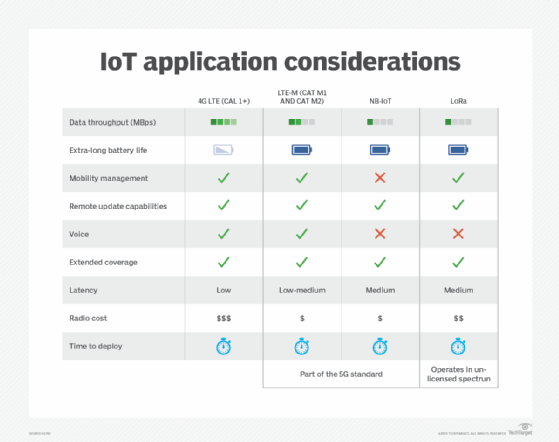 "There are an awful lot of devices out there that are not secure," O'Shea said. "Maybe 20% of the devices out there that have the username 'admin' or 'user1.' And then they either have no password, or they have a password that's also 'admin' or 'user1' or 'password.'"
Some IT admins must stall IoT rollouts because they are so unsecure, he said.
"Admins need to make sure the devices are very, very secure and encrypted so that when they're getting on the network, they're not open to cybercrime," O'Shea said.
Dig Deeper on Internet of things networking