What is WSO2?
WSO2 is a middleware vendor that sells open source application program interface (API) management software. The WSO2 API management software allows users to efficiently design, deploy and maintain APIs.
Most development and integration teams have begun using various technologies for the development, management, sharing and running of APIs. WSO2 provides a variety of middleware products that help users simplify these business processes.
What does WSO2 do?
The external systems which enterprises use -- such as PeopleHR, Salesforce, NetSuite and Pardot -- incorporate large amounts of data related to internal operations, including human resources, finance, marketing and sales processes. The products provided by WSO2 take these abilities and leverage them to allow organizations to access the real value of big data.
The WSO2 architecture focuses on a common code base with completely open source integration products. The company provides users with an enterprise platform that eases the integration of APIs, web services and applications. Customers can use WSO2 products to develop and reuse components as well as manage integrations on-premises and in the cloud.
WSO2 products and features
WSO2 provides a large range of products for varying business needs. These products include the following:
WSO2 Enterprise Integrator (WSO2 EI) -- The core of the WSO2 platform. It is an open source integration product for container-native and cloud-native projects that contains message brokering, visual tools, integration runtimes, business process modeling and analytics tools. WSO2 EI provides users with the choice between graphical or drag-and-drop, configuration-driven integration.
WSO2 Enterprise Service Bus (WSO2 ESB) -- An open source, high-performance, lightweight and comprehensive enterprise service bus. This product addresses integration standards and provides support for all integration patterns. WSO2 ESB enables interoperability between various business applications and heterogenous systems.
WSO2 Identity Server (WSO2 IS) -- Used for load and access management, it makes it possible to manage the identity, security and privacy of a digital business. The WSO2 IS connects and controls various identities across multiple applications, the cloud, internet of things (IoT) devices and APIs, regardless of the standards used by each platform. Through the WSO2 Identity Server, users can perform logins from different locations, thus increasing employee productivity; user experiences are also improved.
WSO2 API Manager -- A full lifecycle API management solution, incorporating a Kubernetes operator that makes it easy to convert raw microservices into managed APIs. The WSO2 API manager can run anywhere: on premises, on a private cloud, on a hybrid cloud or distributed across various cloud and on-premise infrastructures.
WSO2 IoT Server -- Provides a complete solution that allows enterprises and device manufacturers to provide scalability to the connection and control of various devices, creation of apps, securing of devices and data, visualization of sensor data and event management.
WSO2 Data Analytics Server (WSO2 DAS) -- Allows users to benefit from business operations information in real time. Geolocation capabilities also provide users with an improved experience. Furthermore, WSO2 DAS expands its solutions to provide analysis of past and present processes, allowing users to benefit by learning from the past and improving future operations. The WSO2 DAS product also allows users to create the opportunity of new sources of income through digital products.
WSO2 Private CIAM Cloud -- A customer identity and access management (CIAM) platform that provides features aimed specifically at B2B management models, including the ability to create organizational hierarchies and for administrators to readily configure access policies and processes.
Asgardeo -- Identity as a service also geared toward CIAM but designed specifically to manage processes within the user lifecycle, including registration, login, password resets, profile updates, multifactor authentication and account deletion. By assuming responsibility for these user-based tasks, this fully managed service allows developers to focus on building core application functionality.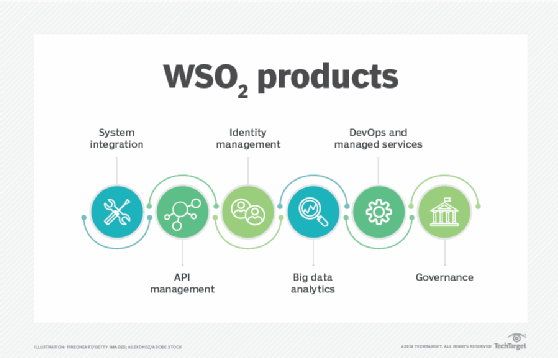 Advantages
The open source nature of WSO2 products means that they are ready-to-use and free; facilitate rapid development and innovation in scalable environments; and can be customized, used and improved without constraints.
Furthermore, since WSO2 products exist on the cloud, developers can use the platform to collaborate quickly in on-demand environments. This is beneficial to companies in competitive industries, where the ability to rapidly get software products to the market without complications can determine the success or failure of the business.
Other advantages include the following:
The open source and community-based approach which WSO2 takes guarantees that their products stay up to date and keep pace with all the challenges of integration.
The WSO2 business model is transparent and helps customers minimize the costs of ownership.
A WSO2-specific code is unnecessary since the products support Java-based extensions and various scripting options.
WSO2 products provide solution templates, built-in message mediators and connections to third-party cloud providers. This can reduce unnecessary engineering efforts and facilitate the reuse of components.
WSO2 provides thorough and frequent product updates and support as well as proactive testing and tuning to find and provide performance enhancements.
Competitors
While WSO2 is unique in many ways -- such as its ability to access all types of data, real-time streams and events -- it still finds competition from other vendors. Some of the biggest companies that compete with WSO2 and their integration platform are IBM, Red Hat and Oracle.
Other competitors include MuleSoft, Apigee, Cloud Elements, SnapLogic, Datactics and Fiorano Software.
History
WSO2 was founded in 2005 by Sanjiva Weerawarana and Paul Fremantle -- two former IBM employees. Weerawarana quit his job at IBM first and established the framework for the business in Sri Lanka; Fremantle joined him soon after. The original name for the company was Serendib Systems.
James Clark -- technical lead of the working group that developed XML -- was an original investor in Weerawarana and Fremantle's company. He requested that the founders change the company's name, believing Serendib Systems to not be attractive or memorable. As a result, Weerawarana and Fremantle decided on WSO2 -- inspired by a combination of web services (WS) and oxygen (O2).
The company's first product was WSO2 Tungsten -- a service that focused on building applications on the internet. WSO2 Titanium was the next product released, eventually becoming the WSO2 ESB.
Current users of the WSO2 platform include Google, eBay, Cisco Systems, Uber, United Airlines, Wells Fargo and ING Model Bank.
This was last updated in
November 2023
Continue Reading About WSO2
Dig Deeper on Enterprise application integration