Learn the scope of Amazon subscription services
Prime is just one of Amazon's many membership offerings. Learn the features and fees of Amazon subscriptions to understand this business unit.
Amazon is often recognized for its success as an online retailer, but another one of the company's core business units is its extensive list of subscription services. Fees garnered from Amazon Prime and various other membership offerings add up to a substantial chunk of the business and promote the use of other Amazon products.
Amazon subscription services totaled $19.21 billion in 2019 revenue, which represents 6.8% of the company's total yearly earnings. This was a jump from $14.16 billion in 2018, according to the company's 2019 annual report. Subscription services include monthly and annual Prime fees, as well as audiobook, digital video, digital music, e-book and other subscription services. The total does not include revenues from AWS, Amazon's cloud platform.
Prime, Amazon's main subscription service, provides shipping and delivery benefits and online shopping discounts. Amazon's other subscription services are tailored to specific customer needs, such as family-oriented products and digital streaming content. Some of these subscription services are additions to the baseline Prime membership, while others are separate from Prime -- but they often come at a discounted price for Prime members.
Amazon's array of subscription services sparked competition in various industries and influenced other companies to adopt similar subscription-based business models. Check out this overview of Amazon subscription services, whether you're a potential customer evaluating an offering or a competitor interested in how this part of Amazon's business works.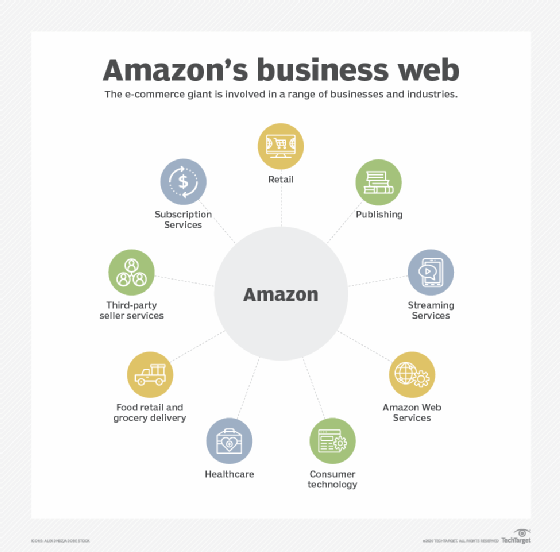 Amazon Prime
Amazon Prime is the company's flagship subscription service. There were more than 150 million Amazon Prime subscribers in 2019. Standard Amazon Prime membership costs $12.99 monthly, or $119 annually. Prime members receive discounts across the company's online retail platforms, brick-and-mortar stores, streaming services and other offerings. Amazon Prime includes benefits such as free shipping and same-day delivery.
Other large retailers that have watched the success of Prime are following suit with their own subscription services. Walmart reportedly plans to launch Walmart+, a $98 annual subscription service, in an attempt to compete with Prime. Walmart+ will offer similar advantages to Prime, such as same day delivery and exclusive product deals, along with other perks like discounts on gas at Walmart gas stations.
Amazon runs an annual Prime Day, where Prime subscribers get better deals and lower prices on select products sold on the commerce platform. Since the company started Prime Day in 2015, it has become a 48-hour event that results in high sales, similar to what retailers experience on "savings holidays" like Black Friday or Cyber Monday. Except, Amazon gets all the revenue on Prime Day. The event incentivizes people to subscribe to Prime, which in turn draws in more monthly and annual subscription fees.
The success of Prime Day inspired other retailers to host competitive versions of store- and site-wide sales holidays. Target "Deal Days," Walmart's "Big Sale" and Macy's "Black Friday in July" are all similar sales events launched in the same mid-July timeframe as Prime Day. EBay also hosts a three-week July sales event called "Crash Sales" to compete with Prime Day.
Prime Day sparks logistical challenges for Amazon, including website outages due to traffic spikes. Amazon's entire site crashed at the start of Prime Day in 2018, causing a major headache for the company. Prime Day also puts pressure on the Amazon supply chain to have enough inventory to keep up with heightened demand for popular products at one time. The event strains the delivery process to meet the short shipping windows promised to all Prime members.
Prime Student
Amazon offers a lower-price version of Prime membership for college students. They get the first six months free, followed by a $6.49 monthly or $59 yearly fee. Prime Student provides free shipping, discounts on select items such as textbooks, and unlimited Prime movies and TV shows. Prime Student is valid for four years or until the student graduates -- whichever comes first. When the four-year Prime Student membership ends, if the student does not cancel, Amazon automatically renews it as a standard Prime membership.
Prime Video
Prime Video is the TV and movie streaming component of Amazon Prime. Prime Video comes with Amazon original titles as well as access to licensed shows and movies. Users have the option to pay a monthly fee to add channels, such as HBO, Showtime and Cinemax, to their Prime Video service. Monthly fees vary by each added channel.
Amazon entered this market partly to join in on the success of video-on-demand services like Netflix, which ultimately drove brick-and-mortar video stores like Blockbuster out of business. However, a more significant payoff for Amazon is access to consumer viewing data. Amazon's business model relies heavily on understanding what consumers want so they can mold the Amazon shopping experience accordingly. Through analyzing consumers' viewing habits, Amazon can make informed decisions on its retail platforms and other core business components.
Prime Video competes with video streaming services such as Netflix, Hulu and Apple TV. It offers a similar streaming experience to its competitors, but it operates on a different business model. Prime Video is not an individual monthly subscription service, but rather a feature bundled in free as part of the overarching Amazon Prime subscription. Thus, Prime Video also serves as a marketing component that incentivizes shoppers to purchase a Prime membership.
The relationship between Netflix and Amazon is not simply competitive. Netflix hosts its massive library of streaming content on the AWS cloud. While the two compete in the streaming market, Amazon also counts Netflix as its customer.
Amazon Music
Amazon's music subscription service features approximately 60 million songs, as well as playlists and stations. This is the company's answer to popular music streaming services Spotify, Apple Music and Pandora. A standard Amazon Music subscription costs $7.99 monthly for Prime members and $9.99 monthly for non-Prime members.
Similar to Prime Video, Amazon Music serves more purposes for Amazon than just direct revenue. It's also an opportunity for the company to tap into consumer listening habits to inform its data-analytics-driven strategy. The music service is also tightly integrated with Amazon Echo and Alexa smart devices, another indicator of Amazon's use of subscription services to promote its main retail products.
Amazon reported 55 million Amazon Music customers in 2019, significantly behind the 113 million paying Spotify subscribers.
Kindle Unlimited
For $9.99 a month, Kindle Unlimited subscribers gain access to over 1 million Kindle e-book titles, Audible audiobook narrations, magazines and comics. Kindle Unlimited titles can be downloaded on an Amazon Kindle or other devices with the Kindle app.
Kindle Unlimited is the leading e-book subscription service, with the largest library. However, the major publishing houses refuse to license the vast majority of their titles on Kindle Unlimited, so the library consists of many titles from small, independent publishers. Kindle Unlimited subscribers may not find certain bestsellers they want to read.
While Kindle Unlimited is the most prominent e-book subscription service, it shares the market with competitors like Scribd. Scribd is an e-book subscription service that launched in 2013, one year before Kindle Unlimited. Scribd offers a library of over 1 million titles, but it has also struggled to attract the major publishers to its service. Local libraries in the U.S. have also gone digital with free e-books and audiobooks delivered through apps such as Libby from OneDrive.
Audible
Amazon acquired Audible, an audiobook supplier, in 2008 for $300 million. Audible subscribers can access audiobooks across many genres. There are two Audible subscription levels: Gold for $14.95 per month and Platinum for $22.95 per month. Gold-level subscribers can select one audiobook per month and Platinum-level subscribers can select two. Unused credits roll over to the next month. Audible comes at no additional cost to Prime members.
Audible is the most popular platform for purchasing and downloading audiobooks, with the largest library. Other audiobook subscription services have emerged following the success of Audible, such as Libro.fm and AudioBooks Now. Some of the leading publishing houses have also launched their own audiobook services in the wake of Amazon's success with Audible, such as Hachette Book Group's Hachette Audio.
Magazine subscriptions
Readers can order monthly magazines on cooking, health, fitness and other topics through this Amazon subscription service. Amazon offers magazine subscriptions categorized by price, from $5 or less to $25 and up.
Subscribe & Save
Amazon Subscribe & Save service offers consumers regularly scheduled deliveries and deals on common household products, such as cleaning supplies and snacks, in the online store. Users select the products and quantity they want delivered, and how frequently they want to receive them, such as monthly or every six months. The deliveries automatically trigger on these settings. Subscribe & Save discounts range from 5% to 15% for all users, and up to 20% for Prime members.
Subscribe & Save poses a threat to traditional sellers of common household essentials, like Target and Costco. Target's response was to launch its own version of Subscribe & Save -- Target Subscriptions, a program for regularly scheduled deliveries, with deals on everyday essentials.
Amazon Family
This Amazon membership program focuses on a specific demographic, with deals on products such as baby food and diapers. Amazon Family subscribers get a monthly newsletter with personalized recommendations, according to their children's age range, and parenting tips. Amazon Family is exclusively for Prime members.
FreeTime Unlimited
Amazon FreeTime subscribers get access to thousands of kid-friendly movies, shows, digital books, games and educational apps from sources such as PBS, Disney and Nickelodeon. FreeTime content is available on Kindles, Fire Tablets and other Android or Apple iOS devices. FreeTime subscriptions target users ages 3-12 and include parental controls to limit screen time. Amazon FreeTime Unlimited subscriptions start at $2.99 for Prime members and $4.99 for everyone else.
Amazon STEM Club
This Amazon subscription service delivers a science, technology, engineering and math (STEM) themed children's game or toy on a recurring basis. Each STEM Club delivery costs $19.99. Users receive the delivery once every month, two months or three months. STEM Club subscriptions are available for children in age ranges 3-4, 5-7 and 8-13.
Amazon Subscription Boxes
The subscription box industry experienced rapid growth in the last decade following the success of pioneers like Birchbox, a personalized cosmetics subscription box launched in 2010. Amazon offers approximately 200 monthly subscription boxes, including those from third-party sellers. Each box is curated with an individual brand or theme within five categories -- beauty, food and drink, kids and toys, lifestyle and pets. Popular third-party subscriptions include the Allure Beauty Box and the SnackNation Healthier Snack Box. Monthly fees vary by theme.
Amazon Fresh and Pantry
Amazon Fresh is a two-hour grocery pickup and delivery service exclusively for Prime members. In 2019, Amazon removed the $14.95 monthly fee for Amazon Fresh, which made the grocery delivery service available for Prime members at no additional cost. However, Amazon Fresh membership is invitation only. Prime members must sign up in advance to receive an invitation to shop with this Amazon grocery service.
Amazon Pantry is an online store where shoppers can order groceries and household items. This was previously known as Prime Pantry and required a $4.99 monthly fee, but Amazon has removed the subscription component.
Amazon's choice to remove the subscription requirement from both Fresh and Pantry shows a shift in strategy on subscriptions and food services. It could relate to the company's effort to become more established in the food retail industry, which began with the 2017 acquisition of Whole Foods.
Removing the subscription component could also be an effort to better compete in the crowded online grocery services market. Traditional players in food retail offer online grocery pickup and delivery services, such as Walmart with Walmart Grocery and regional grocery store chain Stop & Shop with Peapod. There are also several online-only vendors with specialized food delivery services, like Instacart, a personal same-day grocery delivery service, HelloFresh, a meal kit delivery subscription, and Thrive Market, which specializes in organic food delivery.