Break down the components of Amazon's retail business
Scan this overview of Amazon's various retail business units, from online platforms to brick-and-mortar stores, to understand what makes the company a dominant force in retail.
Amazon has expanded into scores of markets since it started selling books online in 1995, but retail remains at the core of its success.
The tech giant offers subscriptions and streaming services, dominates as a cloud services provider and develops its own consumer technology, such as the Echo smart speaker and Kindle e-book. Amazon also continues to diversify its portfolio as it moves into industries such as healthcare and publishing. However, out of all its various divisions, retail is still its primary source of revenue.
Amazon is the largest e-commerce business in the U.S., with roughly 50% of the market share, according to some estimates. And since 2015, the company has also taken its retail business into physical stores, via acquisitions and its own builds. Amazon's retail strategy also has many other moving parts, including a platform for third-party sellers and technology for checkout-free shopping.
Amazon's net revenue in 2019 was $280.5 billion, according to its annual report, making it one of the world's most valuable companies. Online retail platform sales accounted for more than half of that figure, at $141.24 billion. Sales from physical stores came to $17.19 billion.
Whether you're trying to compete against Amazon or looking to learn from its retail practices, it's helpful to know the full scope of its reach. Learn more about the various components that make up Amazon's retail business, from online platforms to physical stores, with this overview.
Amazon online retail
Amazon.com. Online sales make up most of Amazon's retail business. The online shopping platform offers a wide selection of items, accompanied by reviews and ratings to inform customers' purchase decisions. Consumers get a personalized virtual shopping experience, a range of competitive prices and brands and options for overnight or same-day delivery.
Amazon was an early online retailer and set the standard for e-commerce customer experience. There are millions of products available on Amazon, such as shoes and apparel, household items, furniture and electronics. Amazon also sells its own products on the site, including consumer tech and smart devices such as the Amazon Kindle e-reader and Amazon Echo speaker.
Amazon has been criticized for business practices that help it dominate the online retail market. The company has been accused of favoring its own products by displaying Amazon private-label products higher in search results than products from competing brands. It has been knocked for overcrowding markets, which causes smaller sellers on the platform to lose brand recognition. Others have been forced to lower prices to remain competitive.
Amazon has also been heavily criticized for its environmental record and its labor practices associated with expedited online retail delivery.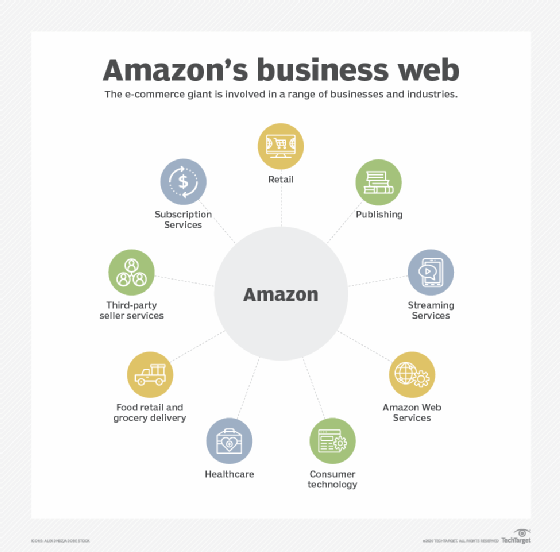 Amazon Prime. Amazon Prime is technically a subscription service and not a retail unit. However, the Prime membership program underpins the entirety of Amazon's retail business model. A standard Amazon Prime membership costs $119 per year. Prime members get exclusive deals, products and discounts, along with free and fast delivery.
These benefits incentivize customers to continue to shop on the Amazon platform, rather than with a competitor, to get continued discounts. Prime membership also draws customers into the web of Amazon's many other businesses, such as Amazon streaming services. There are more than 150 million Amazon Prime members. In 2019, revenue from Amazon Prime membership and other non-AWS subscription service fees totaled $19.21 billion.
Amazon Marketplace. Independent third-party retailers and vendors can use this platform to sell their products via Amazon's e-commerce site. Third-party sellers pay Amazon a referral fee and Amazon receives a percentage of all third-party sales. Approximately 50% of sales on Amazon's e-commerce platform comes from third-party sellers. Independent sellers can handle product fulfillment themselves or pay for Amazon Fulfillment services. Revenue from Amazon third-party seller services totaled $53.76 billion in 2019.
Zappos. In 2009, Amazon acquired this online shoe and clothing retailer for $1.2 billion. Zappos operates as an independent entity but is a wholly owned Amazon subsidiary. Zappos reportedly earned more than $568 million in revenue in 2019.
Amazon private-label retail brands. In addition to its e-commerce platform, Amazon's online retail business includes sales from Amazon private-label brands. There are more than 100 Amazon private-label brands, such as Amazon Basics, a brand of household items like kitchen accessories and batteries; Amazon Essentials, a clothing line; and Pinzon, Amazon's brand of luxury bedding and towels.
Amazon physical stores
Amazon Books. Amazon launched its first physical bookstore, Amazon Books, in Seattle in 2015. Since then, it has opened 21 Amazon Books locations across 13 states, including New York, California and Colorado.
The stores feature a curated selection of titles based on consumer data gleaned from the company's online retail platform and Kindle readers. All books on the shelves have at least a four-star customer rating on Amazon.com or are highly anticipated new releases. Shoppers can browse "Most-Wished-For Books on Amazon.com" and other data-driven categories.
Customers can also purchase games, toys, home items and Amazon tech devices at Amazon Books. These products are available at discounted prices for Amazon Prime members.
Whole Foods. Amazon made its biggest move into physical stores with the $13.7 billion acquisition of Whole Foods in 2017. There are approximately 500 Whole Foods locations. Amazon's acquisition of Whole Foods also marked its entrance into the food retail industry.
The grocery chain is recognized for its selection of natural and organic offerings. Amazon Prime members get discounts at Whole Foods shops across the country.
Amazon doesn't break out sales figures for Whole Foods, though the grocery chain likely generates the vast majority of Amazon's revenues from physical stores.
Amazon 4-star. Amazon opened the first of these general merchandise stores in 2018 in New York. There are currently 11 4-star stores. Customers can purchase a range of retail items such as consumer tech products, kitchen and home goods and toys.
Products in 4-star stores are grouped similarly to Amazon's online shopping experience, such as "Frequently Bought Together" or "If You Like This, You'll Love ..." categories. Similar to Amazon Books, the shelves are stocked based on Amazon's online customer favorites and reviews. All items in the store are 4-star rated, top sellers or trending products. Amazon Prime savings are available in store for members.
Amazon Go. Amazon added checkout-free shopping to its retail strategy with Amazon Go and Amazon Go Grocery. Amazon Go is a chain of 25 convenience stores located in Chicago, New York, San Francisco and Seattle, which first opened in 2018. Amazon Go offers ready-to-eat snacks and meal options. Amazon expanded Go stores in 2020 with the first Amazon Go Grocery store, located in Seattle. Amazon Go Grocery offers a full selection of supermarket foods, with fresh produce, meat and a bakery.
Customers scan the Amazon Go app when they enter the store and fill their carts with items. When customers finish shopping, they exit the store without checking out at a register. The Amazon Go app tracks a virtual cart of all the customer's items and then bills the person's Amazon account.
Amazon Go locations are designed to remove lines in grocery stores with checkout-free technology. To shop at these stores, customers are required to have an Amazon account and the Amazon Go app.
Amazon Pop Up. Amazon opened six themed pop-up stores in malls located in California, Colorado, Illinois, Nevada, Washington and Texas. This set of pop-up stores launched in January 2020, after Amazon closed a chain of nearly 90 smaller mall kiosks at the beginning of 2019. Amazon Pop Up stores have a rotating, themed inventory. Products and brands are cycled through with each theme change. Themes have included holiday toy stores, Barbie's 50th anniversary, Marvel's Avengers and more.