Fotolia RAW - stock.adobe.com
Phocas BI tool proves its value for manufacturers, wholesalers
With its focus on the manufacturing and wholesale distribution industries, Phocas Software has carved out a niche for itself among other BI software vendors.
While many business intelligence and analytics software vendors chase whales to grow their profitability, fiercely competing with each other for the next big contract with a Fortune 500 company, the Phocas BI platform is geared toward a different audience.
Phocas Software generally doesn't focus on the biggest corporations.
The Phocas BI platform, instead, is geared toward manufacturing, wholesale distribution, and retail customers, and it's a whole lot more likely to be employed in a warehouse than an enterprise trading on Wall Street.
The vendor, based in Coventry, England, but with offices in the United States, was founded by Myles Glashier and Paul Magee in 1999.
Building on a manufacturing base
Magee had experience with manufacturing and distribution companies before helping found Phocas, and used the relationships he'd formed with former customers to begin building a new customer base for his new company. Those led to others and helped grow the client base for the Phocas BI platform.
"They kind of wrote a product together and just started organically working through the customers in the U.K. and developing those great relationships, and after a while we started to develop that ... customized environment and product for a few key industries," said Andrea Hilleary, Phocas' field marketing manager for its U.S. operation. "We're always looking to expand these industries -- but we did start in manufacturing and wholesale distribution and retail sales by just having that from-the-ground-up approach."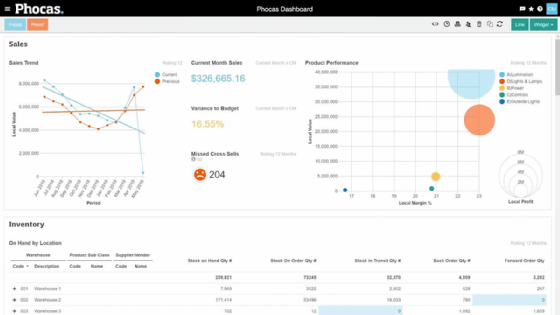 Appealing to non-IT end users
Given that Phocas has many smaller customers, organizations that don't have extensive experience using data to inform their decision-making and don't employ teams of IT professionals and data scientists, it's imperative that the Phocas BI platform be accessible to citizen data scientists, that IT expertise not be a requirement for use.
Phocas has tried to make its platform easy to use for non-data scientists, said Jay Deubler, president of Phocas U.S. "It's like your regular person's BI."
It's also imperative that Phocas take an active role in helping users of the Phocas BI platform gain a level of technical expertise and become versed in analytics.
Beyond instruction when Phocas is first deployed, the vendor offers a monthly webinar series targeted at users of all skill levels from the novice all the way up to customers who have gained enough expertise to design their own database, as well as a feature on its website called the Phocas Academy.
"We stay really on the ground with our customers," Hilleary said. "We've been in the warehouse, we know their pain points, we know what their day to day looks like."
Once in the warehouse or distribution facility with a user, Phocas is able to customize its BI tool to fit the needs -- and level of expertise -- of the user so they can get the most out of their data.
"It's just staying close to the customer and understanding their reality and just making sure that we're speaking to their day to day and how they're going to use their product," Hilleary said.
Phocas user monitors metrics
A typical industrial sector user is Edges Electrical Group, based in Sacramento, which began using Phocas four years ago.
The company was collecting data and analyzing it, but using a combination of Eclipse and Excel was a cumbersome, time-consuming process, said Michael Janson, Edges' IT manager.
It's not the most visually appealing. But it's the best at getting you the data you need and giving it to you quickly.

Michael Janson IT manager, Edges Electrical Group
"Now it takes just a couple of minutes to put the data together," Janson said. "It's unbelievable how quickly the data comes up, and how easy it is to use."
Janson said that when Edges was looking to buy a BI tool, it compared the Phocas BI platform against those from other vendors -- Mits, another BI vendor geared toward manufacturing and wholesale distribution, in particular -- and chose Phocas because it seemed the easiest to use.
Janson then trained other Edges employees how to use the Phocas BI platform.
"All the managers are now able to monitor the key metrics for their departments," he said.
If there's any critique Janson has for the Phocas BI platform it's that its visuals aren't as strong as those produced by some other BI vendors.
"It's not the most visually appealing," he said. "But it's the best at getting you the data you need and giving it to you quickly."
Still eying bigger enterprises
As effectively as Phocas, a privately held company whose revenues are estimated at approximately $26 million, appears to serves its niche, it also sells to a more traditional corporate clientele.
The strategy for appealing to them, however, is similar to Phocas' strategy for its manufacturing and wholesale distribution users.
"With the more corporate audiences we can still tout those same attributes of ease of use and being customizable, so for them it's also just identifying different pain points," Hilleary said. "For them it's, 'Hey, we know you have to present reports to many different stakeholders -- is the data accurate, can you customize it to your needs and to see it in your own way?'"
Dig Deeper on Business intelligence technology