News
Stay informed about the latest enterprise technology news and product updates.
Merger and acquisition activity is altering the BI landscape
From Qlik's acquisition of Podium Data in July 2018 through Salesforce's purchase of Tableau Software in June 2019, the last year in BI has been characterized by a wave of consolidation.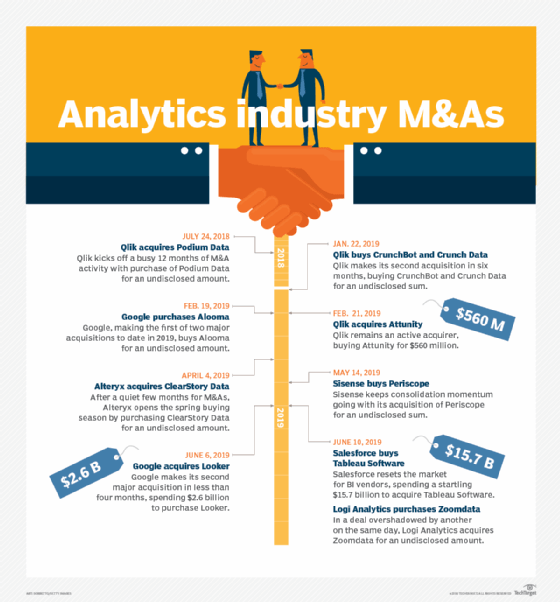 Capped by Salesforce's $15.7 billion acquisition of Tableau Software on June 10, 2019, and Google's $2.6 billion purchase of Looker just four days earlier, the BI market over the last year has been marked by a wave of merger and acquisition activity.
Qlik kicked off the surge with its acquisition of Podium Data in July 2018, and, subsequently, made two more purchases.
"To survive, you're going to have to reach some kind of scale," said Rick Sherman, founder and managing partner of Athena IT Solutions, in a SearchBusinessAnalytics story in July 2019. "Small vendors are going to be bought or merge with more focused niche companies to build a more complete product."
It was a little more than a decade ago that a similar wave of merger and activity reshaped the BI landscape, highlighted by IBM buying Cognos Analytics and SAP acquiring Business Objects.
After the flurry of deals in the spring ending with the premium Salesforce paid for Tableau, the pace of mergers and acquisition activity has slowed since the start of the summer, but more could be coming soon as more vendors with a specialized purpose seek partners with complementary capabilities in an attempt to keep pace with competitors that have already filled out their analytics stack.