Klemsy - Fotolia
Startup Uplevel targets software engineering efficiency
Startup vendor Uplevel emerged from stealth on Wednesday touting a platform aimed at improving the efficiency of software engineers by using data analysis.
Featuring a business plan that aims to increase software engineering efficiency and armed with $7.5 million in venture capital funding, Uplevel emerged from stealth Wednesday.
Based in Seattle and founded in 2018, Uplevel uses machine learning and organizational science to compile data about the daily activity of engineers in order to ultimately help them become more effective.
One of the main issues engineers face is a lack of time to do their job. They may be assigned a handful of tasks to carry out, but instead of being allowed to focus their attention on those tasks they're instead being bombarded by messages, or mired in an overabundance of meetings.
Uplevel aims to improve software engineering efficiency by monitoring messaging platforms such as Slack, collaboration software like Jira, calendar tools, and code repository software such as GitHub. It then compiles the data and is able to show how engineers are truly spending their time -- whether they're being allowed to do their jobs or instead being prevented from it by no fault of their own.
"I kept seeing pain around engineering effectiveness," said Joe Levy, co-founder and CEO of Uplevel. "Engineers are often seen as artists, but what they're trying to manage from a business perspective can be tough. If we can help engineers be more effective, organizations can be more effective without having to throw more bodies at the problem."
Beyond arming the engineers themselves with data to show how they can be more effective, Uplevel attempts to provide the leaders of engineering teams the kind of information they previously lacked.
If we can help engineers be more effective, organizations can be more effective without having to throw more bodies at the problem.

Joe LevyCEO and co-founder, Uplevel
While sales and marketing teams have reams of data to drive the decision-making process -- and present when asked for reports -- engineering teams haven't had the same kind of solid information.
"Sales, marketing, they have super detailed data that leads to understanding, but the head of engineering doesn't have that same level of data," Levy said. "There are no metrics of the same caliber [for engineers], but they're still asked to produce the same kind of detailed projections."
As Uplevel emerges from stealth, as with all startups one of its challenges will be to demonstrate how it's providing something different than what's already on the market.
Without differentiation, its likelihood of success is diminished.
But according to Vanessa Larco, a partner at venture capital investment firm New Enterprise Associates with an extensive background in computer science, what Uplevel provides is something that indeed is unique.
"This is really interesting," she said. "I haven't seen anything doing this exact thing. The value proposition of Uplevel is compelling if it helps quantify some of the challenges faced by R&D teams to enable them to restructure their workload and processes to better enable them to reach their goals. I haven't seen or used the product, but I can understand the need they are fulfilling."
Similarly, Mike Leone, analyst at Enterprise Strategy Group, believes Uplevel is on to something new.
"There are numerous time-based tracking solutions for software engineering teams available today, but they lack a comprehensive view of the entire engineering ecosystem, including messaging apps, collaboration tools, code repository tools and calendars," he said. "The level of intelligence Uplevel can provide based on analyzing all of the collected data will serve as a major differentiator for them."
Uplevel developed from a combination of research done by organizational psychologist David Youssefnia and a winning hackathon concept from Dave Matthews, who previously worked at Microsoft and Hulu. The two began collaborating at Madrona Venture Labs in Seattle to hone their idea of how to improve software engineering efficiency before Levy, also formerly of Microsoft, and Ravs Kaur, whose previous experience includes time at Tableau and Microsoft, joined to help Uplevel go to market.
Youssefnia serves as chief strategy officer, Matthews as director product management, and Kaur as CTO.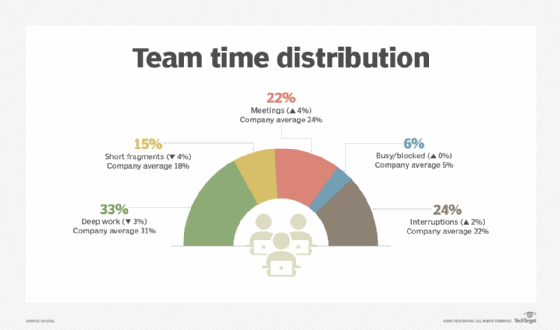 Uplevel officially formed in June 2018, attracted its first round of funding in September of that year and its second in April 2019. Leading investors include Norwest Venture Partners, Madrona Venture Group and Voyager Capital.
"Their fundamental philosophy was different from what we'd heard," said Jonathan Parramore, senior data scientist at Avalara, a provider of automated tax compliance software and an Uplevel customer for about a year. "Engineering efficiency is difficult to measure, and they took a behavioral approach and looked holistically at multiple sources of data, then had the data science to meld it together. I'd say that everything they promised they would do, they have delivered."
Still, Avalara would eventually like to see more capabilities as Uplevel matures.
"They have amazing reports they generate by looking at the data they have access to, but we'd like them to be able to create reports that are more in real time," said Danny Fields, Avalara's CTO and executive vice president of engineering. "That's coming."
Moving forward, while Uplevel doesn't plan to branch out and offer a wide array of products, it is aiming to become an essential platform for all organizations looking to improve software engineering efficiency.
As it builds up its own cache of information about improving software engineering efficiency it will be able to share that data -- masking the identity of individual organizations -- with customers so that they can compare the efficiency of their engineers versus those of other organizations.
"The goal we're focused on is to be the de facto platform that is helping engineers do their job," Levy said. "We want to be a platform they can't live without, that every big organization is reliant on."