Guido Vrola - Fotolia
Uplevel targets software engineering efficiency amid pandemic
Uplevel, a startup analytics vendor whose platform aims to aid engineering efficiency, rolled out three new tools on Tuesday to assist developers during the COVID-19 pandemic.
Startup analytics vendor Uplevel unveiled a set of new data visualization tools on Tuesday aimed at helping software development teams both collaborate and stay connected as they work from home during the COVID-19 pandemic.
Uplevel, founded in 2018 and based in Seattle, emerged from stealth in January 2020 with $7.5 million in new venture capital investment and a platform that uses machine learning and organizational science to bolster software engineering efficiency by amassing data about engineers and how they go about their daily development tasks.
The new data visualization tools -- now generally available -- had already been in Uplevel's development pipeline, according to CEO and co-founder Joe Levy, but once almost all developers were forced to work from home due to COVID-19 the new tools became the vendor's top priority.
"Trying to do any job in this new environment is incredibly stressful," Levy said. "The anxiety level for everything is at an all-time high, and no matter what kind of home situation you're in you're probably multitasking between something else. So, we are focused on how creative, technical people deal with that and keep them in a state where they are able to ... be effective at work and not feel like they are running ragged."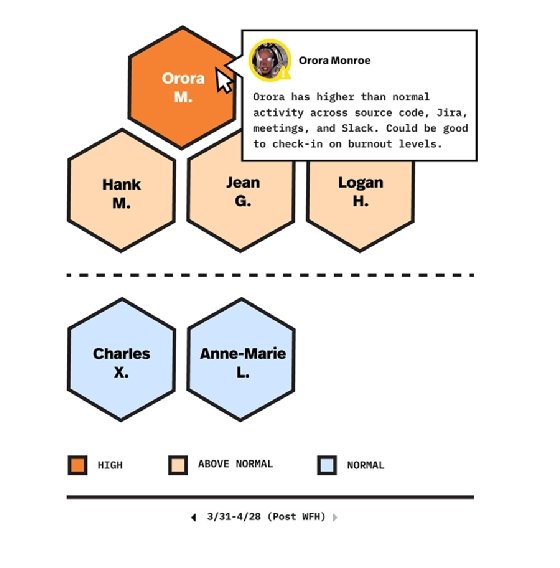 A widespread assumption, Levy added, is that software development, a job done in front of a computer screen, is no different at home than in the office, but that assumption is simply not true.
"It was absolutely, blindingly obvious by the middle of March that people were struggling," Levy said. "It didn't take a wizard [to make this a priority]. Customers were directly asking, and we were seeing in our data a bunch of behavioral changes that indicated they were struggling."
Seeing the need for the new analytics tools, Levy said Uplevel temporarily halted almost everything else it was working on and was able to develop the tool set in about three weeks.
The three main new tools aimed at improving both software engineering efficiency and the state of mind of developers working from home during the COVID-19 crisis are called Always On, Isolation Identification and Throughput. All use data gathered while developers work from home and compare it to data compiled before the start of the pandemic to identify potential problems.
Always On aims to help developers disconnect from work. It tracks the time they spend on message applications like Slack and Microsoft Teams, how long they're stuck in virtual meetings and the number of pull requests -- contributions to an open development project -- they receive. Uplevel's goal for the tool is to identify wasted time and reduce the sometimes longer hours developers spend while working from home rather than the office, longer hours that can lead to burnout.
The goal of Isolation Identification, meanwhile, is to help developers maintain healthy connections with their teams. It tracks attendance in virtual work-related and social meetings and provides teams with network analysis charts to avoid not only a drop in collaboration but in the interaction -- often not work-related -- vital to a healthy frame of mind.
Critics of similar software have said it can lead to micromanaging remote workers, but according to Levy the purpose of Uplevel's tool is aimed at ensuring the mental well-being of workers experiencing the psychological effects of so much time alone.
Throughput is intended to help developers simply get work done. Given the added responsibility many developers face while working from home -- helping to homeschool their children and share in other parenting duties chief among them -- tasks may take longer than if done in the office. Uplevel's new tool measures the time it takes for peer reviews and Jira cycles so managers can identify changes in productivity and make plans accordingly to help developers balance competing responsibilities.
The new tools, according to Mike Leone, senior analyst at Enterprise Strategy Group, build well on the platform Uplevel offered to improve software engineering efficiency when it first emerged from stealth.
No matter what kind of home situation you're in you're probably multitasking between something else. So, we are focused on how creative, technical people deal with that and keep them in a state where they are able to ... be effective at work and not feel like they are running ragged.

Joe LevyCEO and co-founder, Uplevel
"The great part about Uplevel is that their technology was already quite effective for engineering teams," he said. "These announcements are directly connected to what they've always offered, with slight and relevant adjustments based on the new working normal."
Leone added that one of the keys to the new tools is that Uplevel has an actual understanding of what it's like for developers as they work from home while balancing work and raising children, both in terms of the reduced time they can devote solely to their work and their mental state in the midst of the pandemic.
"It's about effectiveness, enablement and help," Leone said. "This announcement is about getting the best out of engineering teams on the actual engineer's terms as their days may be filled with different kind of distractions than previously experienced. That's what Uplevel is after here."
Beyond developing a series of data visualizations to help improve software engineering efficiency from home -- a goal that was on Uplevel's roadmap but not a priority until the start of the pandemic -- Uplevel said it is working to create tools to help organizations ensure their development teams and corporate objectives are in line with each other.
"We think we can help people self-correct and be some guidance around that," Levy said. "We think there's a lot of room in this world to find out whether the engineering team is aligned with what is actually most important to the business."