kentoh - Fotolia
Tamr launches Data Can Help to reduce supply chain risk
Data Can Help is a new data curation service from Tamr designed to assist enterprises deal with the economic downturn caused by the COVID-19 pandemic.
With the global economy at a virtual standstill because of the COVID-19 pandemic, Tamr developed a new service called Data Can Help in order to assist organizations as they try to minimize the sudden new risks they face.
Tamr, founded in 2012 and based in Cambridge, Mass., specializes in data curation as a service.
Under normal circumstances Tamr works closely with an enterprise over a two- to three-month period to understand how they want their data prepared by Tamr. Tamr's machine learning model is trained to uncover insights within their disparate data sets on an ongoing basis and then Tamr develops a solution to fit the customer's needs.
Due to the sudden economic downturn, however, two to three months could be too long for an enterprise whose revenues are suffering and quickly needs to identify ways to pivot its business or identify ways to cut costs in order to survive the slowdown.
In response, Tamr developed Data Can Help, which in particular helps organizations identify changes in their supply chain and make decisions related to their suppliers.
The new system, unveiled on April 21 and now generally available, layers up-to-date data on the impact of the COVID-19 pandemic on top of an organization's existing supply chain and spend data. For a starting price of $50,000, over a six-month period, the vendor will deliver up to five analytics-ready data sets per week to power the data visualizations enterprises need to make data-driven decisions.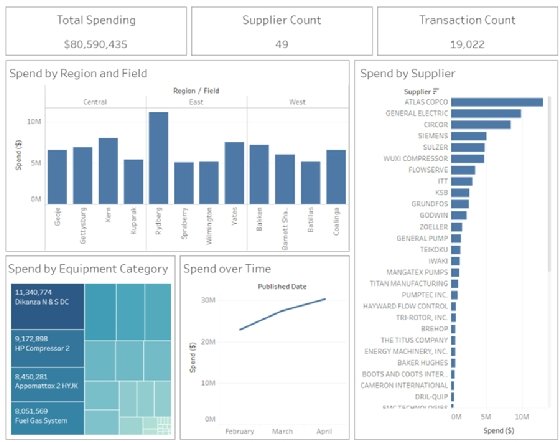 "With Data Can Help, we're going in with much more turnkey and defined solutions upfront," said Matt Holzapfel, solutions lead at Tamr. "We're able to, given the nature of this situation, package up something that's much more tightly defined, and then rather than meeting that two to three months, we're talking a week or two, and also as part of this we're packaging in the analytics that go along with it."
That speed, he noted, is key in the short term with organizations focused on making quick changes to react to the economic downturn rather than decisions with a long-term focus.
For people within supply chain, within procurement, it's less of a broad data management or data mastering project and it's much more of an analytic project where they're getting what they need when they need it.

Matt HolzapfelSolutions lead, Tamr
"For people within supply chain, within procurement, it's less of a broad data management or data mastering project and it's much more of an analytic project where they're getting what they need when they need it," Holzapfel said.
While Data Can Help is specifically aimed at giving enterprises a fast look at their data by curating it and putting into usable data sets, the service -- and Tamr's overall operation -- are part of a growing trend in which vendors take on part of the analytic process as a service, said Mike Leone, senior analyst at Enterprise Strategy Group.
"Helping organizations harness the value of data is something that continues to be focused on by vendors and businesses alike," he said. "We've seen ongoing trends of open data sets becoming publicly available, but just handing over the data is really the start."
As for how Data Can Help -- and Tamr itself -- is able to assist organizations, Leone said it comes down to the vendor's expertise in curation.
"How does that data mesh with custom data sets for a specific business -- that's where the value-add from Tamr and Data Can Help comes into play," Leone said. "They know ideal ways to blend different data sources in a way that can offer actionable insights to help improve operational efficiency and reduce costs across supply chains."
One of the crucial ways Data Can Help aids organizations is by combining data from different data sources into data sets that can be viewed at the enterprise level.
Holzapfel used a manufacturing company with a host of different factory sites as an example. A factory in California, he said, might be using the same supplier as a factory in Florida, but neither site is aware that it uses the same supplier for a particular part, nor is the executive-level staff at the enterprise's headquarters.
If the factory in Florida suddenly sees a delay in the delivery from that supplier, the site in California could also soon experience a similar delay. But without knowing the two factories use the same supplier, the California factory wouldn't have a chance to change its supply chain and would suffer the same potentially crippling delay.
"It gives the enterprise more information about some of their blind spots, particularly in the long tail," Holzapfel said in reference to low-volume transactions. "I think where data is really helpful is in that long tail where a human is just not looking every day at every supplier who maybe you're only spending a million bucks with but they're a critical part of one of your products. If they're late, or default, then you're caught with a bunch of problems."
Data Can Help, Holzapfel added, can also assist organizations that don't deal in goods and services by simply giving them a broad view of their spending and helping to identify areas where they have recurring fees that might be reduced.
In addition, for enterprises already invested in analytics, Tamr said the new service can free data scientists from having to wrangle and prepare data and instead focus on running the models that will help their organizations make data-driven decisions to survive the downturn.
"As demand starts and stops and starts and stops, the amount of agility that these organizations are going to need in order to respond effectively is huge," Holzapfel said. "In normal times external signals are helpful but you're operating on big trends and not small data points, but right now with the volatility you really need to be executing on these small changes because they have big implications."