alunablue - stock.adobe.com
Spotfire 11 release marks launch of new Tibco BI ecosystem
The combination of latest Spotfire update and a new streaming data engine marks the launch of Tibco's new analytics ecosystem that combines analytics capabilities in one experience.
Tibco on Wednesday unveiled Spotfire 11, a new version of its analytics platform that is now part of an approach to business intelligence the vendor is calling Hyperconverged Analytics.
Tibco revealed the update during the keynote address of Tibco Now, its virtual user conference.
Hyperconverged Analytics is the blending of visual analysis, streaming data capture and augmented intelligence capabilities in a single environment. Spotfire, meanwhile, is Tibco's primary analytics platform, and while updated versions were added in the interim, Spotfire X was released two years ago.
As part of its Hyperconverged Analytics experience, in addition to Spotfire 11 the vendor released Tibco Cloud Data Streams, a cloud-based streaming analytics platform. And when the two are joined, it allows users to bring visual analytics, data science and streaming data together in a single environment in order to see their data visualized in real time and help customers make data-driven decisions.
That combination, meanwhile, is important as analytics continue to advance beyond just data visualization, analysts said.
"A rising portion of business managers need to infuse real-time operational and contextual insights into their operational decisions, and Tibco Cloud Data Streams and Spotfire advance this trend by applying BI visualization to streaming data," said Kevin Petrie, vice president of research at Eckerson Group.
"Tibco holds a strong incumbent position in streaming analytics, so it has the ability to meaningfully shape the direction of this market," he added.
Donald Farmer, principal at TreeHive Strategy, also said the development of Hyperconverged Analytics will benefit Tibco's customers but pointed out that Tibco isn't the first vendor to combine a series of tools in one place to create a single experience. Qlik, he noted is doing something similar, as are bigger vendors such as Microsoft whose Azure Synapse integrates different analytics tools.
"The idea of integrating these different analytic processes into a single, manageable, governable process is very interesting," Farmer said. "It's definitely the way to go. Tibco has always had, because of its background in business process management, a lot of data from multiple sources which would normally be incompatible, so this is a very natural thing for Tibco to do. People will use this. It's an excellent product for Tibco customers."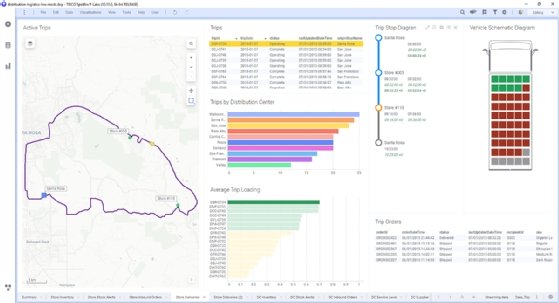 In addition to its ability to couple with Tibco Cloud Data Streams to enable streaming data analysis and create the Hyperconverged Analytics experience, Spotfire 11 includes Spotfire Mods, a feature that enables customers to build specialized visualizations without having to write code.
Other new features and capabilities in Spotfire 11 include a recommendation engine that not only helps users discover which visualizations best represent their data but also enables them to discover the reasons behind data points; the ability to look at both real-time and historical data side-by-side so users can select a real-time data point and view the corresponding historical data in the same visualization; and enhanced connectivity to Python to better enable data scientists and other new connectors.
"Spotfire Mods is the big one," said Nelson Petracek, Tibco's CTO. "Spotfire Mods is the ability to plug in your own custom widgets that are very contextual to your own persona, while still leveraging everything else that Spotfire brings."
The idea of integrating these different analytic processes into a single, manageable, governable process is very interesting. It's definitely the way to go.

Donald FarmerPrincipal, TreeHive Strategy
Farmer likewise said that Spotfire Mods has the potential to be a significant tool for users, particularly those in certain industries such as oil and healthcare in which specialized visualizations better represent data than prebuilt visualizations and web developers who want to create more spectacular visualizations than the prepackaged ones that come with BI platforms.
"Actually, of all the things they announced, that's the one that is most interesting to me personally," Farmer said.
Beyond the release of Spotfire 11, Tibco unveiled the Tibco Any Data Hub on Wednesday during its user conference.
Any Data Hub is a data management suite that aims to reduce the complexities of the data management process. It helps organizations address and organize data from disparate sources, understand all the metadata behind data sets, and govern such things as data security, data privacy and data lineage. And as part of the Any Data Hub, Tibco recently released Tibco Data Virtualization 8.3, which helps customers break down data silos in order to get a unified view of their data.
"The Any Data Hub is meant to deal with the processes that govern the collection, storage, retrieval, security and all those things around data you need to have," Petracek said.
Finally, Tibco, founded in 1997 and based in Palo Alto, Calif., unveiled a series of tools as part of the Tibco Responsive Application Mesh to help organizations modernize their architecture.
Among them are Tibco Cloud Integration, which enables users to monitor applications -- whether on premises, in the cloud or hybrid -- in a single view; Tibco Cloud Mesh, which helps users create and discover assets such as APIs and integrations anywhere in Tibco Cloud; Tibco BusinessEvents 6, which helps organizations process business events in real time; and Tibco BPM Enterprise 5, which is fully cloud-native and provides digital process automation capabilities at scale.
"Tibco is building on a legacy of business process management, and of all the business intelligence companies out there ... [they] have the deepest experience integrating business processes with analytics," Farmer said. "So they're in a really good position to make this work."