ipopba - stock.adobe.com
Analytics keys Golden State Warriors' wins, on court and off
After adopting a data-driven culture a decade ago, the Golden State Warriors transformed themselves from one of the NBA's least successful franchises to one of its best.
Analytics has transformed the Golden State Warriors.
A decade ago, the Warriors were just another pro basketball team, and a bad one at that. They had missed the playoffs 16 of 17 years in a league in which more than half the teams make the playoffs each year.
They were tenants in an arena in Oakland, Calif., and they had little business beyond the basketball court.
Fast forward to the present, and after adopting a data-driven philosophy in 2010, the Warriors have become perennial championship contenders and one of the most valuable franchises in the NBA.
Golden State is coming off a stretch in which it won three NBA championships in four years from 2015 to 2018, now owns and operates its own arena in the Mission Bay district of San Francisco, and is a sports and entertainment conglomerate that's involved in restaurants, retail and staging concerts.
A change in mindset led to that transformation. A big part of that change in mindset was to use analytics to help make decisions both on and off the court.
The Warriors, which have a close relationship with Oracle -- the tech giant owns the naming rights for the suite-level seats at Chase Arena -- began using Oracle NetSuite in 2015.
But the organization's transformation started even before that when -- after the team's acquisition by Joe Lacob and Peter Guber in 2010 -- the team brought in Rick Welts as president and COO in 2011 and hired former NBA player Mark Jackson as coach before the start of the 2011-12 season.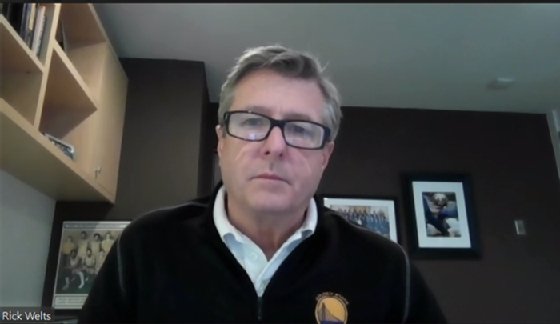 Jackson, who led the Warriors for three years, bought in to analytics and helped change the team's culture before Steve Kerr took over in 2014 and guided Golden State to its three recent championships.
"For us, it's been an amazing decade-long journey," Welts said during a web presentation on Nov. 18 sponsored by Oracle about data and championship sports teams. "We're now in a completely different business … than when we started this journey a decade ago."
For us, it's been an amazing decade-long journey.

Rick WeltsPresident and COO, Golden State Warriors
Analytics in sports is largely associated with baseball. A quarter century ago, the Yankees built a dynasty in part by working on the assumption that on-base percentage was perhaps the most important offensive statistic in the game. The Oakland Athletics took that a step further at the start of the 21st century with their "Moneyball" approach, as first chronicled in the best-selling 2003 book of the same name by Michael Lewis.
Since then, an explosion of new statistics has sparked an analytics revolution in the sport.
But baseball is not alone.
While other sports have been slower to adopt analytics, it has been taking place, and in the NBA the Golden State Warriors have been one of the primary practitioners.
One way the Warriors use analytics to inform their basketball decisions is with 150 cameras at their practice facility that track every player's every basketball move to optimize their mechanics. Another is to put wearable trackers on players to measure their health and inform decisions such as the best time to take a player out of a game to get him rest and discover how much rest a player might need in each game to keep him fresh and healthy for a full season.
Meanwhile, the Warriors view analytics differently than a baseball team might. In a baseball game, any given play involves only the pitcher, batter and perhaps a couple of fielders, and lasts only a few seconds. In a basketball game, however, 10 players are in constant motion, each play usually involves every player, and the action is continuous for sometimes minutes at a time.
So rather than use analytics to predict outcomes as a baseball manager might by employing analytics to make nearly every decision, the Warriors view analytics an additive tool.
"Coaching [basketball] is an art and a science," Welts said. "Those who are really good at the art sometimes aren't quite buying into the science, and vice versa."
"You have to take the approach that it's additive to the potential to win rather than substitutional," he continued. "This is more information that can help inform judgments and predict outcomes, not substituting for the human element."
While analytics has helped fuel a dynasty -- one that was halted in 2019-20 by a spate of injuries and may be paused another year after star Klay Thompson tore his Achilles tendon on Nov. 19 while trying to return from a knee injury -- it's also helped Golden State transform its business operations.
Unlike in most sports leagues, the NBA's central office collects business data and provides it to all the teams so they can share best practices and enable teams to see where they stand compared with one another.
But beyond the data the Warriors get from the league office, Golden State uses Oracle analytics software to build profiles of individual customers to make them offers that might be of interest. They track who perhaps not only attended a basketball game but also a Taylor Swift concert and then tailor their marketing efforts based on that knowledge.
Now, even something as seemingly straightforward as ticket prices is based on more nuanced factors than a decade ago.
When Welts began with the Warriors, while a ticket near the court was, of course, more expensive than one in the last rows of the arena, each seat cost the same for each game. Now, using analytics, each seat is priced differently for every game to optimize its value, taking into account such factors as the opponent, the day of the week, and when the game falls during the course of the season.
"Everything is so measurable," Welts said. "If you're really committed to the measurement and to adjusting, [you can] make sure you do something better the next time.
A decade after being a moribund franchise, left behind not only on the basketball court but also as a corporate entity capable of developing income streams beyond the basics of ticket sales and television contracts, the Golden State Warriors are now considered a model franchise.
They are now one of just six NBA teams to have ever won three championships in a four-year stretch. In addition, according to Forbes, they are valued at $4.3 billion and rank only behind the New York Knicks and Los Angeles Lakers among NBA franchises after being acquired 10 years ago for $450 million.
Credit the Warriors' adoption of analytics.
"In our industry, wins and losses are very measurable," Welts said. "We get a scorecard every day we go to work and it's not hard to determine over a period of time what's helping and what's not. [Analytics] just has to be something that is committed to at the top of the organization. In ours it is, both on the business side and on the basketball side."