Getty Images/iStockphoto
Sport teams drive sales leads with an AI digital assistant
American soccer club Louisville City and the NBA's Milwaukee Bucks use Conversica to target the most promising leads for their sales teams and drive profit for their organizations.
For every dollar American soccer club Louisville City FC puts into AI digital assistant provider Conversica, the club gets $4.60 back.
The club began using the AI lead engagement software vendor's platform in December 2021 to support its sales team in pursuing leads. Recently, the team -- part of the USL Championship league, the second tier of U.S. professional soccer -- chose to renew its contract with the vendor.
"It saves our sales team so much time," Louisville City business intelligence manager Evan Alvarez said. "We've been able to close a lot of sales through the platform."
"Lou City's" process
Through the Conversica platform, the soccer team markets to consumers interested in purchasing season tickets or other membership products. The digital assistant sends up to seven emails to a lead, weeds out bad leads and sends good leads to human sales representatives to help close the deal.
"It really starts from our lead capture process," Alvarez said. That involves different mediums, including surveys on the team's website and Facebook ads.
"Our digital assistant does the heavy lifting from there," Alvarez added.
Since starting to use Conversica's digital assistant, Lou City has sent out more than 250,000 emails. In the past nearly six months, the team generated over $100,000 in sales through Conversica, according to Alvarez.
Lou City is also testing Conversica's chatbot customer service capability on its website.
Conversation automation
As a platform for intelligent virtual assistants, Conversica's AI assistants communicate with email, phone calls, messaging and chatbots. The technology communicates in 75 languages and works for marketing, sales and customer engagement teams.
"It's digital people having powerfully human conversations with prospects or existing customers," said Jim Kaskade, CEO at Conversica, referring to the concept of digital assistants composing emails and texts that sound like they came from a human. "Either you're trying to get people to become a customer or you have an existing customer that you're trying to make an advocate."
"Either case, we have AI that essentially represents the companies they work for as the best versions of their employees, helping the business grow revenue," he continued.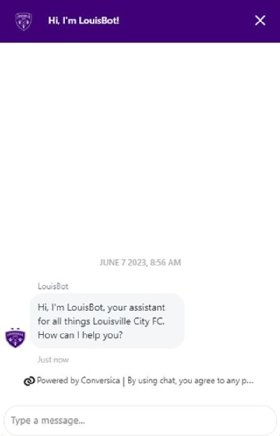 The realism of what some are calling AI digital employees comes from the evolution of business-to-business conversation automation technology over the past five years or so.
This rapid development comes as "providers strive to meet and exceed the expectations of buyers and customers self-directing their journeys and making decisions as a group," said Jessie Johnson, an analyst at Forrester Research.
Companies looking to tap to generate revenue from B2B marketing usually look for a tool that can automate threaded conversations across different channels and applications.
The technology is also helpful for recommending content to consumers and helping human workers fill conversation gaps, Johnson said.
Challenges and the Milwaukee Bucks
However, conversation automation technology still brings some problems with it.
First, some organizations need to be more strategic in using these tools, Johnson said.
For example, organizations could take a different approach than the digital assistant saying, "Would you like to make an appointment to speak to our representative about joining our membership plan?"
Instead the virtual worker could phrase it another way that provides immediate value to the customer, with a message like, "We noticed you've been to the last few home games in your hometown. We'd like to inform you in advance of an upcoming home game and give you discounted tickets. Would you like this offer and to look at our membership pricing?"
We've been able to close a lot of sales through the platform.

Evan AlvarezBusiness intelligence manager, Louisville City FC
Another challenge is finding the right time to hand off to the sales team the conversation initiated by the virtual assistant. However, that might be more of problem within the specific enterprise or organization.
Finally, organizations navigating disconnected data repositories may find it hard to provide quality data to fuel conversations that the digital assistant can use, Johnson added.
"B2B marketers must be wary of ingesting all available conversational data elements without a clearly defined strategy for how that data will be captured, processed, stored, unified and maintained," she said.
For the Milwaukee Bucks National Basketball Association franchise, using Conversica's AI digital assistant is done with intentionality, said Justin Price, email marketing manager for the NBA franchise.
The basketball organization started using the technology during the latter part of the coronavirus pandemic when public spaces began to reopen.
"For us, it was all about connecting customers with a salesperson at scale," Price said. "We want to help the sales team do their job to the best of their ability. By giving them these more qualified [and] hotter leads, we're allowed to do exactly that."
Some 40% of leads generated during the 2022-2023 season came from Conversica's sales assistant, according to Price.
Despite the success of the AI digital assistant, one drawback of the technology is the need for more communication after the consumer responds with a positive response, he said.
It might be beneficial for the Conversica digital agent to continue conversing with the consumer so it doesn't seem like an abrupt end to the email thread between the potential lead and the digital assistant.
"Someone could ultimately go through a flow and interact with our sales assistants multiple times," Price said. "We want the conversation to seem as natural and human-like as possible."
Lou City gets humans to help
Putting a human in the loop has helped Lou City navigate some challenges faced with using the AI digital assistant, Alvarez said.
For example, if the digital assistant routes a lead that responds "maybe" to the initial inquiry into the "no" group, human workers are looking for those types of misroutes on the Conversica platform to reroute those leads and override the digital assistant.
"Sometimes that does occur where the digital assistant just picks up the incorrect word, for example, and funnels that accordingly," Alvarez said. "But we have the necessary people in place to fix that manually."
With the chatbot capability, the bot might also answer questions incorrectly if it picks up the incorrect word, so the organization is currently working with Conversica's chatbot team to fix those glitches.
For customers looking at Conversica's platform, the entry price is around $75,000 annually.
"We tend to sell it like we're selling a person's role," Kaskade said. "It's acting as one of your employees. It's the most effective version of your staff because it can do things in the best way possible. And then it can also do it at scale."
Conversica has raised $132 million in equity financing since 2013, when it was renamed from AutoFerret.com and moved from Bellingham, Wash. to Foster City, Calif.
Its competition in the AI conversational chatbot market includes Kore.ai, Omilia, Avaamo and Cognigy.
Esther Ajao is a news writer covering artificial intelligence software and systems.