Fotolia
Expert urges data pros to hone data science skills
IT expert William McKnight shares job tips for data professionals looking to prosper in a changing enterprise. His first piece of advice: continually foster data science skills.
Data professionals should consistently improve their data science skills and find ways to increase their company's data maturity, according to William McKnight, president of McKnight Consulting Group.
McKnight was referring to a data maturity model and the data science skills learning path that data professionals should follow on the job. Essentially, that means abandoning old habits and learning new techniques and technologies all the time.
"There's more maturity in moving imperfectly than in merely perfecting and defining the shortcomings," McKnight said. "We have to be on a journey forward. We have to be embracing the trends that are going to be sticking around."
If data practitioners more fully embrace data science, look to upgrade their skills and build a strong data foundation -- whether it's a traditional data warehouse, data lake or multi-cloud setup -- they'll be better prepared for the BI and analytics trends and technologies transforming the enterprise today, McKnight said. During a recent Dataversity webinar, he offered career advice for data professionals to succeed amid the fast pace in the analytics software market.
Keep up your skills
Keeping up analytics and data science skills is key, McKnight said.
We can't simply throw bodies at initiatives that everybody else in the company seems to come up with.

William McKnightpresident, McKnight Consulting Group
"I want you to improve your skills 20% every year," he said. If you don't learn new skills, "all you're doing is building technical debt for yourself. Then, one day, [new technology and trends] are going to come to fruition, and you're going to need to change 100%, and you're not going to be able to do it."
Similarly, it's time for IT professionals to become data science leaders within their organizations -- even if they don't consider themselves data scientists, McKnight said. These organizational innovators prioritize data-driven insights and lead by example by emphasizing statistical models and machine learning to help drive business decisions.
To become an effective data scientist, you should continually advance your data science skills and try new methods and approaches, according to McKnight. That's what that first wave of data science leaders did, and they've set an example for other IT professionals who may not consider themselves to be in the category of "data scientist," he said.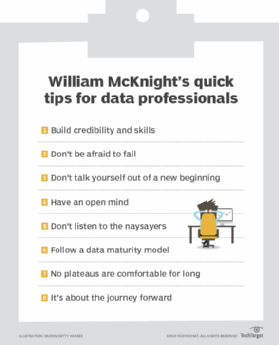 "There have been some 'fake-it-till-you-make-it' data scientists out there the past few years," McKnight said. "They weren't trained Ph.D.s; they were business analysts. But some of them actually made it, and they're data scientists now."
Data maturity is highly correlated to business success, McKnight asserted. He encouraged data professionals to use and follow a maturity model -- an assessment tool for evaluating an organization's level of data prowess -- to help guide them to their next level of sophistication in handling data.
"You're not going to just get a budget to flat-out 'increase data maturity,'" McKnight said. "The leadership that's required of data professionals is to [increase data maturity], while, at the same time, continuing to deliver business wins and to do it in a scalable fashion."
Don't just hire more people
If data professionals rely mainly on more staff and hardware to attack problems, McKnight said they're basically going to remain static.
"Being a data professional is not being in the internal staffing business," McKnight said. "We can't simply throw bodies at initiatives that everybody else in the company seems to come up with. We need to be coming up with initiatives as well because only we have the foresight into what the possibilities are out there."
Part of that foresight means that data professionals can no longer simply be asking business users: "What may I do for you today?" They're responsible for proactively building the applications of the future and incorporating new technologies to boost performance and user satisfaction, McKnight said.
"You need to be constantly improving and raising that [technology] foundation," McKnight said.
"Don't listen to the naysayers that would have us stay the course by saying 'Don't get in the cloud. Don't embrace Agile development. Never mind the data lake, big data or Hadoop,'" McKnight said. "That sort of mentality is starting to not play well in an enterprise."
In addition to avoiding that kind of negative mentality, data professionals should make a point of closely following industry developments and keeping their own data science skills up to date, while also continually assessing the most important trends in the marketplace. "You cannot just chase any old trends and hope for the best," McKnight said.