Jakub Jirsk - Fotolia
Edge computing use cases must be driven by business value
For Schneider Electric and many other large enterprises that take a look at edge computing projects, the main criterion for success is whether the technology delivers business value.
Schneider Electric is increasingly using edge computing as it builds out its technology platforms. But, for the France-based company, business value still drives all its initiatives in this area.
For example, the company, which specializes in energy management and power systems, is looking at edge computing use cases involving manufacturing floor platforms to further drive efficiencies and boost productivity via more instantaneous analysis data, said Jamie Bourassa, Schneider Electric's vice president edge computing.
Schneider is looking at how it could partner with client organizations to help them bring more edge computing to their environments. This could, for example, involve a hospital that wants to develop more intelligent robotic capabilities for surgeries, where the need for real-time insights is paramount and where the latency sending data from the site to the cloud for analysis is unacceptable.
"Edge computing ensures those types digital experiences are seamless, flawless and available," Bourassa said.
Despite such benefits, Bourassa said Schneider Electric isn't deploying edge computing universally. Rather, he said the company is pursuing edge computing where executives have identified potential business benefits -- whether those are in its own internal use cases or in partnership with client companies.
"What's driving edge should actually be business decisions, [such as] making a manufacturing facility more efficient or driving up quality," Bourassa said. "At the end the day, it should be a business case, that mathematical equation, that determines whether edge computing is possible or not possible."
He's not alone in that assessment.
Early adopters edge computing, as well as management consultants and technology advisers, said they caution CIOs and their executive colleagues from thinking about edge computing investments or edge computing initiatives. Instead, they said CIOs should think edge computing as another technology tool and consider how and where it can enable digital initiatives such as enhanced customer engagements, better employee support or more efficient operations in ways that other technology tools can't.
Read our in-depth guide for details of how the role of the CIO has evolved and learn what is required of chief information officers today.
"It's a way to speed up our computing and speed up so many applications," said Kevin Curran, a senior member the Institute Electrical and Electronics Engineers and a professor of cybersecurity at Ulster University. "They should ask, 'Why not let the devices do the algorithm, rather than sending the data to the cloud?' There are so many places where we can stop sending data from the edge to a central place and then back to the edge. You're talking about speed and cost savings."
Proliferation of use cases
Edge computing, which Bourassa labeled as a "new deployment methodology," enables organizations to collect and analyze data right where it's created and needed, giving them the ability to react in real time without the cost and latency associated with moving data around.
That ability is driving companies, including Schneider Electric, to consider a significant number of use cases, Bourassa said.
In one example of an edge computing use case, retailers could collect and analyze data while customers are in the stores, allowing the retailers to customize the sales experience in real time. Healthcare providers could reliably process critical-care data instantaneously, thereby driving even more innovative treatments and better outcomes. Hospitality companies could better anticipate what they'll need to better serve each individual customer right at the time of demand. Industrial companies and manufacturers could drive up efficiencies and eliminate even more waste from production and equipment maintenance.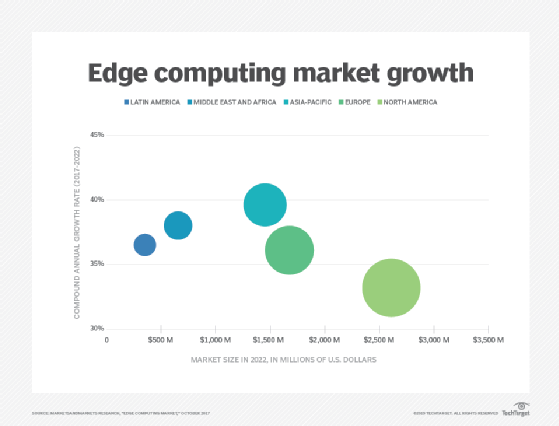 Bringing edge computing to the enterprise
CIOs generally have many of the components that comprise edge computing already in place, said Yannis Kalfoglou, an AI and blockchain expert at PA Consulting.
A typical organization, he said, has plenty of hardware at the ends of its network -- from security cameras to employee and customer smartphones to IoT sensors -- as well as analytics software, AI technology, networking and Wi-Fi.
"What edge computing does is it takes all of the devices on the edge and makes them more intelligent, efficient and productive. So, at a high level, edge computing is not something that you buy; at the same time, it's not something you don't already have," Kalfoglou said.
Indeed, the rapid rise in the number of connected devices gives a good indication of how much work is already underway in building out edge computing capacity. That number continues to skyrocket: A report from Statista estimated the total number of IoT-connected devices will be 75.44 billion worldwide by 2025, up fivefold from 2015.
However, Kalfoglou stressed that edge computing is more than a collection of the right hardware components. Rather, it's about organizations using those elements to collect, process and act upon data to meet business goals.
He cited one London hospital using edge computing as a case in point. The hospital is using security cameras capable of taking images and processing information about the individuals and actions they see -- data analysis that happens via machine learning software on the cameras themselves. The cameras then use the analysis to alert security about any problems they've been trained to identify.
"What makes it edge computing is the ability to process data and create inferences on the device itself; otherwise, you just have a device on the edge," Kalfoglou said, noting that vendors themselves are building a new class of devices with microchips, as well as analytics and AI capabilities, to support organizational adoption of edge computing. "So, [CIOs] just have to have the right information in place to enable the devices to be smart in what they do."
Legacy hampers some moves to the edge
Not everyone is ready to make that leap, however. Experts said CIOs who haven't yet embraced cloud computing, microservices and other more modern IT elements will have to shed legacy technologies and move away from a hub-and-spoke IT environment before they start thinking about edge computing use cases.
"Edge brings a different operational model, a distributed model, and that's something that many organizations aren't prepared for," Kalfoglou said.
As such, many CIOs will have to make some large investments if they to embrace edge computing. Most CIOs will have to spend some money to develop edge computing in their organizations. That's where the cost-benefit analysis comes in, to determine whether, where and when edge computing is the right option.
"It has to be a financial equation: We have to ask if it will create more revenue or drive efficiencies. But the short answer to that is, 'Yes,'" Bourassa added.
He and others pointed out the cost of many components -- from networking and cloud to processing and software to the edge devices themselves -- is increasingly commodity items, making them much more affordable for enterprises.
On the other hand, experts said the costs of piecing together edge computing for each individual use case can vary widely, while ongoing service and maintenance costs associated with edge computing deployments remain, for the most part, unknown and undetermined at this time.
Transformative potential
At the same time, executive advisers and technology consultants said CIOs and their C-suite colleagues should that expected ROIs for edge-computing-enabled initiatives are elusive. Edge computing is too new, and there are too few use cases in the works for organizations to benchmark their own proposals.
Thus, organizations need to ask: Where is the potential?
"That goes beyond the technology discussion. That goes into the business model and new opportunities," Kalfoglou said, adding that CIOs and their organizations shouldn't underestimate the potential edge computing, even as they weigh costs against potential investments.
"This is a game changer," he said. "Some the use cases with edge computing will be quite transformational."
Dig Deeper on IT applications, infrastructure and operations