Konstantin Sutyagin - Fotolia
IT leaders explain how to assign a value to your data assets
In the latest CIO Decisions, CIOs and IT experts share their thoughts on infonomics -- placing a value on data assets -- and other of-the-moment IT concerns.
Your organization's economic survival might rely on infonomics -- so, are you on track to make the most of your valuable data? The June/July issue of CIO Decisions ezine spotlighted the increasing emphasis on attaching dollar signs to data. The growing field of infonomics, as coined by Gartner analyst Doug Laney, treats corporate information as an asset, but many organizations are still struggling to grasp just how much that information is worth. Our cover story presented studies of how various organizations are using infonomics to boost business opportunities, and provided six steps for measuring the value of your data assets -- for starters, establish its intrinsic, business and performance value, then move onto financial means of measurement.
The issue also included an interview with Dell CIO Andi Karaboutis, who explained her leadership philosophy and how she transformed the IT group into a trusted business partner; Greg Pfluger, vice president of information systems at American Family Insurance, discussed the conundrum between more data and clean data; a real estate company turned to an outside company to deliver its house-hunting mobile app within the desired time frame; and much more.
Below are some of our favorite quotes featured in the issue from CIOs, IT thought leaders and technology analysts. Below the quotes, click through to read individual articles from the ezine.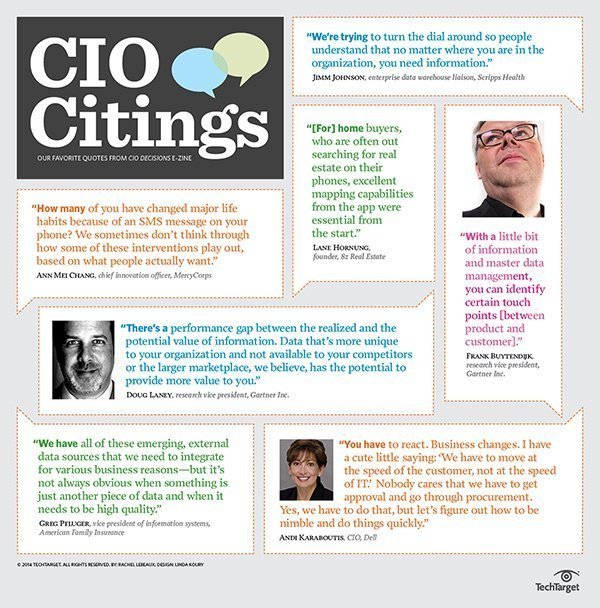 From the issue:
Infonomics: How to treat data as an asset for your business
Organizations that elevate data to the status of an asset are opening the door to innovation and cultural change.
Learn how to weigh the value of your data assets
Gartner analyst Doug Laney provides six models that CIOs should use to measure the value of their corporate information.
Should you build a mobile app? SMBs weigh in
Building a personalized mobile app can give small and medium-sized business owners an edge over their competition, but doing so isn't for everyone, as these SMBs explain.
Ask the Expert: Is more data superior to clean data?
When it comes to using data for business purposes, how clean is clean enough? Here, some expert advice for CIOs looking to properly enable real-time data use.
Dell CIO transforms IT from a follower to a business partner
Dell CIO Andi Karaboutis has transformed her company's 5,000-person IT group into a business juggernaut. Here's how she makes IT into a leader.
Talking SMAC: Social, mobile, analytics, cloud
Karaboutis discusses the demand for SMAC -- social, mobile, analytics and cloud -- and how Dell is moving forward on self-service analytics.
Time to reflect on disruptive tech
What do humans really want from their technology? A former Google engineer educates aspiring disruptors on the most important aspects of deploying disruptive technology.
Boosting the protection of corporate data assets through partnerships
Former eBay CISO David Cullinane expounds on the preponderance of new threats that necessitate security-related information sharing as part of corporate data protection.
Dig Deeper on IT applications, infrastructure and operations