pressmaster - Fotolia
Writing a statement of work? Here's what you should include
A project's success can hinge on having clear and specific details about it. Download this free checklist to see critical elements of a statement of work.
A statement of work, or scope statement, is the documentation of specific requirements of a particular project or service contract. This clear and specific document, which is commonly found within a request for proposal (RFP), is a critical step in the project planning process, necessary to get sponsors and stakeholders to buy into a project. It functions as a guide for project teams to stay on track, decreasing the chances of miscommunication.
Writing a statement of work involves defining the business need for the project, costs, deliverables, goals, tasks and responsibilities, schedules, how outcomes will be evaluated by the customer, and more. The document can also be valuable for the project team leader in the event that change requests occur during the course of a project.
While many companies create their own customized statements of work that vary based on the specific project proposal, they all have certain components in common. Take a look at our free checklist for writing a statement of work below to see what elements should be included. (You can also download the checklist by right-clicking here and selecting Save As.)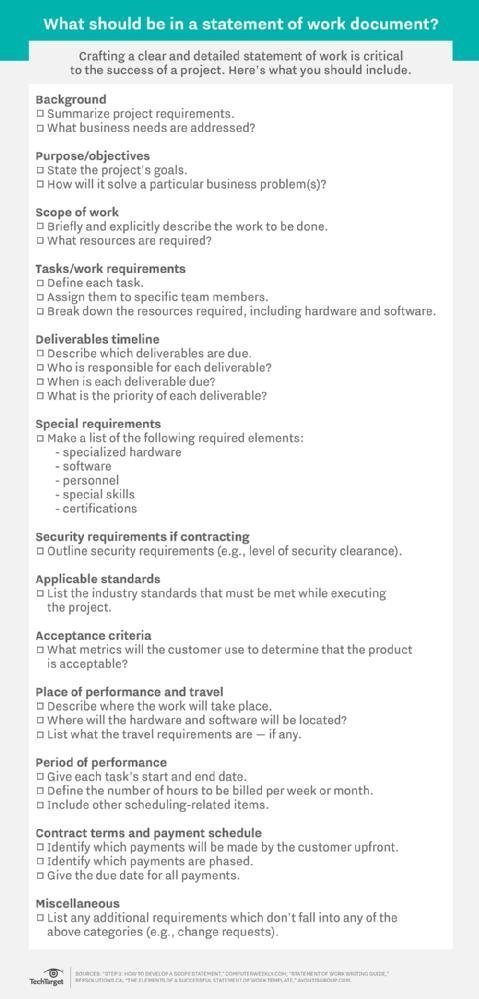 Checklist: What should be in a statement of work?
Background
Summarize the project's general requirements for the reader, as well as what business needs it will address.
Purpose/objectives
Describe why the project is being pursued. State the project's goals here and how the project will solve a particular business problem(s).
Scope of work
Briefly describe the work that will need to be done and the resources that will be required to complete it.
Tasks/work requirements
Define and assign each task to specific team members and break down the resources required to complete each task, including hardware and software.
Deliverables timeline
Describe in detail which deliverables are due, from whom and when, by order of priority.
Special requirements
Outline the specialized hardware, software and personnel that will be required, as well as any special skills or certifications.
Security requirements
If contractors are hired, describe in detail unique security requirements (e.g., level of security clearance).
Applicable standards
List the industry standards that must be complied with when executing the project.
Acceptance criteria
List the metrics with which the customer will determine whether the outcome of the project is acceptable.
Place of performance and travel
Period of performance
Give each task a specific timeframe for completion and define the number of hours to be billed per week or per month, as well as other scheduling-related items.
Contract terms and payment schedule
Identify which payments will be made by the customer upfront and which are phased, as well as when they will be due.
Miscellaneous
List any additional requirements that don't fall into a category above (e.g., change requests).
Best practices for writing a statement of work
Use simple, succinct and specific language instead of vague phrases, and write in short sentences.
Use present tense, active verbs -- as opposed to passive ones.
Define technical jargon and spell out any acronyms.
Be consistent with terms used throughout the document (i.e., use the same word to describe the same action throughout).
Sources: "Step 3: How to develop a scope statement," ComputerWeekly.com; "Statement of Work Writing Guide," RFPsolutions.ca; "The elements of a successful statement of work template," Avontisgroup.com.
Dig Deeper on IT applications, infrastructure and operations