Sergey Nivens - Fotolia
Infographic: Strategic IT plan checklist for CIOs
A company's IT strategy can determine whether it sinks or floats in today's competitive marketplace. Download our free checklist to find out what components should be in your strategic IT plan.
CIOs and IT executives need a clearly defined strategic IT plan in order to guide their organization in today's competitive environment. Drafting such a plan, however, isn't easy.
An IT strategic planning document needs to be concise, but should also cover a wide range of components, such as how IT's strategy ties back to business goals and requirements, where technology gaps and risks exist throughout the organization, how to allocate IT resources and capabilities, and more. Furthermore, executing the IT plan requires CIOs and IT leaders to collaborate closely with the business, as well as with other departments within the organization.
While IT strategies vary depending on the organization and must occasionally change to adapt to changing business priorities, evolving technologies and user needs, as well as other factors, there are elements of a strategic IT plan that are common across the board.
Check out our free strategic IT plan checklist below to get details on these necessary components. (You can also download the checklist by right-clicking here and selecting Save As.)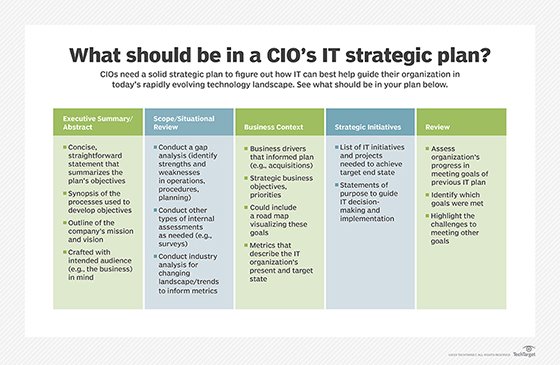 Checklist: What should be in a CIO's strategic IT plan?
Executive summary/statement
The executive summary is a brief and impactful statement that summarizes IT's strategic objectives. These objectives are tied with the company's vision, mission and goals.
Concise, straightforward statement that summarizes the plan's objectives;
Synopsis of the processes used to develop objectives;
Outline of the company's mission and vision; and
Crafted with intended audience (e.g., the business) in mind.
Scope/situational review
IT will need to get a scope of the business' specific requirements to help map out the technology plan for the following years; this can be achieved using a variety of methods:
Conduct a gap analysis -- identify strengths and weaknesses in operations, procedures, planning;
Conduct other types of internal assessments, as needed (e.g., surveys, interviews);
Conduct industry analysis for changing landscape/trends to inform metrics.
Business context
The business context is a deeper look into the specific business-driven objectives that drive IT strategy, as well as what their targets and intended results are.
Business drivers that informed the plan (e.g., acquisitions);
Strategic business objectives, priorities;
Could include a roadmap visualizing these goals; and
Pinpoint metrics that describe the IT organization's present and target state
Strategic initiatives
These are the projects necessary to achieve the strategic IT plan.
List of IT initiatives and projects needed to achieved target end state; and
Statements of purpose to guide IT decision making and implementation.
Review
This review highlights IT's accomplishments from the previous year, as well as what resources are required to meeting the goals of this new plan.
Assessment of organization's progress in meeting goals of previous IT plan;
Identify which goals were met; and
Highlight the challenges to meeting other goals.
Sources: Business 2 Community, "Strategic Plan – a Template"; CEB, "Strategy on a Page"; Trent University, "New Beginnings: Strategic IT Plan for Trent University"; UNC Charlotte, "2010 – 2015 Strategic Plan Template".
Dig Deeper on CIO strategy