Definition
IT strategy (information technology strategy)
What is IT strategy (information technology strategy)?
IT strategy (information technology strategy) is a comprehensive plan that outlines how technology should be used to meet IT and business goals. An IT strategy is a written document that details the multiple factors that affect the organization's investment in and use of technology. Ideally, this strategy should support and shape an organization's overall business strategy.
IT strategies should cover all facets of technology management, including cost management, human capital management, hardware and software management, vendor management and risk management.
Executing an IT strategy requires strong IT leadership; the chief information officer (CIO) and chief technology officer (CTO) need to work closely with business, budget and legal departments and other lines of business and user groups to achieve its success.
Organizations formalize their IT strategy in a written document or balanced scorecard strategy map. The plan and its documentation should be flexible enough to change in response to new organizational circumstances, market and industry conditions, business priorities and objectives, budgetary constraints, available skill sets and core competencies, technology advances, and user need.
IT strategies are also called technology strategies or an IT technology strategic plan. IT strategies should also be designed to be agile. For example, IT strategies for some organizations had to change in 2020 due to the pandemic.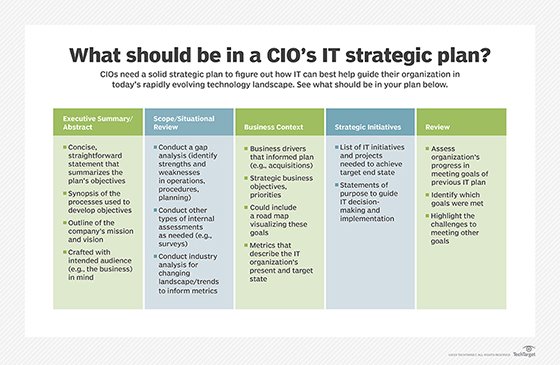 Why companies need an IT strategy
An IT strategy has become a critical element for organizational leadership. Its importance mirrors the rise of technology as a critical element for business success. The importance of an IT strategy has been amplified as organizations focus on digital transformation.
Technology is essential for creating new business models, products and services; enhancing customer service and customer experience; increasing sales; enabling workers and improving productivity; and supporting interactions with vendors and other business partners. As such, organizations must make a technology strategy to accomplish these and compete against other organizations with the same objectives.
Some organizations may decide to forgo a separate IT strategy, particularly platform companies and other businesses whose product is based on technology offerings. Instead, these organizations may fold IT strategies into the overall business strategy to create a single unified document.
Basics of an IT strategy
A strong IT strategy provides a blueprint of how technology supports and shapes the organization's overall business strategy. Its strategic goals should mirror business projects -- aka business alignment --and take into account the needs of key stakeholders including employees, customers and business partners.
The strategy should offer a look at the organization's current technology posture and provide an idea of where IT should head over the next three to five years.
There are different models that can help executives construct an IT strategy. Most contain certain key elements including:
A high-level overview of the IT department that covers its mission, core values, objectives and approaches to accomplishing its goals.
Current budgets and spending forecastsfor a multi-year timeline.
An outline of current and future IT projects and initiatives with timelines and milestones.
A catalog of existing enterprise architecture; IT department capabilities and capacities; and future needs and requirements with details about infrastructure, staffing and other necessary resources.
An analysis of IT's strengths and weaknesses.
A list of the internal and external forces -- such as market and industry trends -- that shape current technology requirements and innovations. This includes the future forces expected to shape IT.
A prediction of the potential opportunities and vulnerabilities that will necessitate technology responses to best position the organization for success.
Although the IT strategy by nature needs to address complex technical details, it should not be considered a technical document. Instead, it should be considered a business document. As such, it should be written in clear, concise language that's free of technical jargon.
How to create an IT strategy
Just as there are varying models for the document itself, there are multiple ways to approach creating an IT strategy. Commonalities do exist, however. For example, an initial review of the organization's existing strategic IT plan and related documents is a good first step in any IT strategy.
This first step should be followed by an assessment of how the organization is meeting established objectives, milestones, benchmarks and relevant key performance indicators. The assessment should identify the technology currently in use and the gaps that exist between these current IT operations and the objectives and strategic goals outlined in the ongoing strategic plans.
Senior IT leaders then need to collaborate with their business-side counterparts to develop the IT strategy further. Resources such as research reports should be looked for to understand the business and technology trends that will impact the organization's market.
This creates a groundwork for IT executives to develop short and long-term objectives, budget projections, technology predictions, the perceived future opportunities and vulnerabilities that go into the technology strategy. At this point, an organization should have the corresponding summaries needed for the final document.
Implementation of an IT strategy
A strong IT strategy relies not just on creating the plan, but also on proper implementation of it. These documents won't do any good if they're ignored after completion.
The documents should be used to guide tactical technology decisions, thereby helping the IT department align its day-to-day operations with the overall business model and mission.
However, adherence to the IT strategy should not be overly rigid. The potential fast pace of technology advancements and innovation require organizations to be agile if they want to seize unforeseen developments. This will help an organization be more competitive and better serve its market.
The technology strategy needs to be flexible. CIOs, CTOs and other executives must also be nimble, and they should expect to reassess and redevelop the technology strategy at least annually and possibly revisit it even more frequently. Revisits of IT strategies should be done to verify tactical plans align with the technology strategy, and to verify the technology strategy remains aligned with the overall organizational mission -- as it changes in response to shifting dynamics.
This was last updated in
February 2023
Continue Reading About IT strategy (information technology strategy)