IBM, Red Hat move users toward edge computing, 5G networks
IBM and Red Hat have jumped into the edge computing market debuting a slew of products and services that work hand in glove with the existing hybrid cloud strategy it shares with Red Hat.
IBM rolled out its first comprehensive edge computing strategy that will work in concert with its hybrid cloud and 5G technologies to accelerate the implementation and performance of users' cloud-based applications including web-based analytics.
At the heart of its edge strategy is the new Edge Application Manager, an autonomous management offering that deploys AI, analytics and enterprise workloads and can remotely manage up to 10,000 edge nodes by a single administrator. The product is the first to be delivered based on IBM's open source project, Open Horizon.
The company also launched Telco Cloud Manager, an IBM-developed product powered by Red Hat that orchestrates virtual and container network functions in minutes, IBM officials claimed. The offering is built on Red Hat's OpenShift and can manage workloads on both the OpenShift and Red Hat OpenStack platforms. This flexibility is something telcos will need, IBM officials said, as they modernize their networks to be more agile as well as offer new cloud-based services that can exploit 5G.
"When we looked at our own infrastructure, we realized it is critical to enable users to create open cloud-based environments that also work at the edge," said Hillery Hunter, CTO for IBM Cloud. "And there will be many more enterprises and telecommunications providers that also need analytics for decision-making and needing a way to transition to 5G over the next four or five years."
With the Open Horizon project, IBM combined elements from the edge, communications and cloud and created an API that hooks them altogether, explained Judith Hurwitz, president and CEO of Hurwitz & Associates, an IT research and analysis firm in Needham, Mass.
"One advantage here is Red Hat's involvement, which has a lot of expertise with telcos and where its greatest success has been among the vertical markets," she said.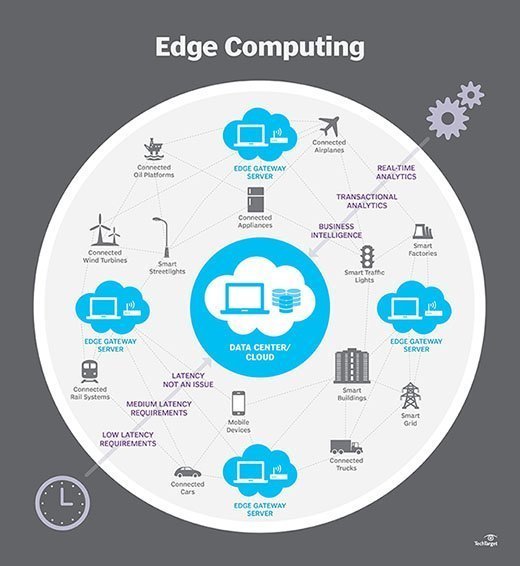 Platforms which combine a variety of complementary technologies that tie together data enters, cloud and the edge are becoming preferable to an increasing number of corporate customers, Hurwitz noted. They like the flexibility of storing and, as importantly, processing data in multiple locations.
Currently, about 10% of data generated by IT shops is created and processed outside the data center, but by 2025 that figure will rise to 75%, according to Gartner.
Users want a service that is operational, and they don't care where it lives. Now it's not about cloud computing, or mainframe computing or data center computing, it's just computing.

Judith HurwitzPresident and CEO, Hurwitz & Associates
"Users want a service that is operational, and they don't care where it lives or whose service it is," she said. "Now it's not about cloud computing, or mainframe computing or data center computing, it's just computing."
Building the Edge ecosystem
IBM also took the wraps off its IBM Edge Ecosystem where developers and system integrators can offer corporate users a range of different offerings. The company also introduced the IBM Telco Network Cloud to attract business partners from the telecommunications industry to help users implement network-based cloud platforms. Some of the equipment manufacturer and IT providers include Cisco, Dell Technologies, Juniper, Intel, Nvidia and F5 Networks.
"They also have Vodafone, a pretty influential client, using the Edge Application Manager in Europe to manage sensors and cameras," said Frank Dzubeck, president of Communications Network Architects, Inc. "They don't have any big [telecommunications] names over here yet, but telcos is going to be [IBM's] way into the edge computing and 5G worlds."
By combining this variety of technologies, IBM's approach to edge computing differs significantly from that of HPE and Dell Technologies, Dzubeck pointed out, and so it might take users a bit longer to weigh the pros and cons of the IBM approach.
"But they are offering a breadth of services to their users that the other two [HPE and Dell] either can't or won't provide," Dzubeck said. "This could give them an advantage."
In addition, IBM updated several applications and services for the edge, including IBM Visual Insights (formerly called PowerAI Vision), IBM Production Optimization, IBM Connected Manufacturing and IBM Maximo Worker. Each offering gives users clients the ability to deploy AI and cognitive applications and services at scale.
IBM Services teams specializing in edge computing and telco network clouds will be available to assist users in delivering 5G and edge-based services.
Dig Deeper on Cloud app development and management