Evaluate
Weigh the pros and cons of technologies, products and projects you are considering.
The coronavirus effect on enterprise technology practices
Effects of COVID-19 on enterprise IT go well beyond enabling remote workforces. Coronavirus is also changing approaches to IT staffing, projects/initiatives and budgets/spending.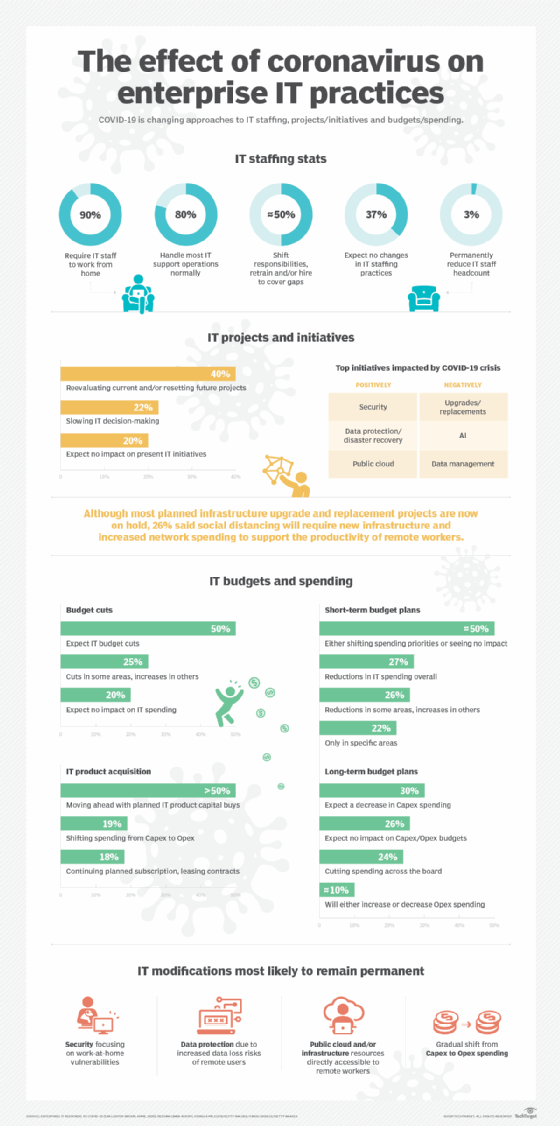 The COVID-19 pandemic is having profound consequences on organizations everywhere -- IT departments that make businesses tick are no exception. Initially, the main effect of coronavirus on enterprise technology had IT scrambling to meet the demands of a workforce suddenly and predominantly working from home.
But what about other short-term, as well as intermediate and long-term, effects of coronavirus on enterprise IT? Evaluator Group surveyed IT professionals as the COVID-19 spread ramped up, releasing the results in a report, "Enterprise IT Responds to COVID-19."
The survey found that, at first, the pandemic had most IT departments doing what they could to keep core business operations going. Like business leaders, the scale of the disruption of coronavirus on enterprise technology and corporate workflow caught IT flat-footed. As a result, a significant long-term goal for many due to COVID-19 is to now be better prepared should most, if not all, staff have to work remotely. This only scratches the surface, however.
Find out more about how COVID-19 is altering enterprise IT approaches to present and future staffing, projects/initiatives and budgets/spending.