Armin Sestic - Fotolia
BPM in cloud evolves to suit line of business, IoT
While on-premises BPM tools have caused a tug of war between lines of business and IT, the cloud helps appease both sides. Here's what to expect from this cloud BPM trend and more.
Business process management tools rise in importance as companies try to make better use -- and reuse -- of IT...
Continue Reading This Article
Enjoy this article as well as all of our content, including E-Guides, news, tips and more.
assets. And, when coupled with cloud, this type of software can benefit from a pay-as-you-go model for more efficient cost management, as well as increased scalability.
As a result, cloud-based BPM has become a key SaaS tool in the enterprise. Looking forward, the growth of BPM in cloud will drive three major trends that enterprise users should track.
Reduced bias
BPM is designed to encourage collaboration between line departments and IT, but the former group often complains that BPM tools hosted in the data center favor the IT point of view in both emphasis and design. To avoid this and promote equality between these two groups, many believe that BPM tools have to move to neutral territory: the cloud.
Today, BPM supports roughly a dozen different roles and is increasingly integrated with enterprise architecture practices and models. This expands the scope of BPM software, as well as the number of non-IT professionals who use it. Collaboration and project management, for example, account for most of the new features in cloud BPM software.
Collaboration features in cloud-based BPM include project tools and integration with social networks. While business people widely use platforms like LinkedIn for social networking, IT professionals use other wiki-based tools. Expect to see a closer merger between the two.
This push for a greater line department focus in BPM could also divide the BPM suites themselves. While nearly all the cloud BPM products are fairly broad in their application, those from vendors with a CIO-level sales emphasis, such as IBM's Business Process Manager on Cloud or Appian, focus more on IT. NetSuite, on the other hand, is an example of cloud BPM software with a broader organizational target.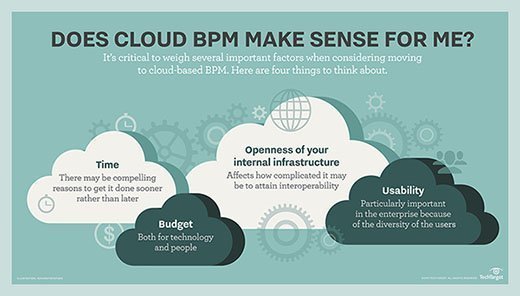 Software practices influence BPM
Cloud, in general, affects application design and development, which puts pressure on BPM to accommodate changes in software practices. Cloud platforms, for example, have encouraged a more component-driven vision for applications, which maps more effectively to business processes. This will be another factor that expands line department participation in BPM software.
BPM in cloud encourages line organizations to take more control over applications. The adoption of third-party tools, rather than custom development, helps them target specific business problems. This, however, is a double-edged sword: It can improve automated support for business processes but also duplicate capabilities and hinder workflow integration among organizations. IT and line departments will have to define a new level of interaction.
IoT support
The third trend to watch around BPM in cloud involves internet of things (IoT) and machine-to-machine communications. These technologies presume that sensors will activate processes, either directly or through sensor-linked analytics. This poses a challenge for BPM, because it takes human judgment out of the loop and requires instead that business policies anticipate human review of events and responses. That shifts the emphasis of BPM toward automated policies, which, in the past, has led to the absorption of BPM into things like Business Process Modeling Language, and puts the focus back on IT.
In theory, business policy automation has always been within the scope of BPM. But, in practice, BPM suites have offered only basic support for policy automation or even for the specific identification of business policies. It's clear that this will change and that policy controls to guide IoT deployments will be built into cloud-based BPM.
Dig Deeper on Cloud app development and management