Cloud backup vs. NAS: A comparison on critical factors
Undecided about which type of backup technology is the best choice for your organization? Here's a look at the pros and cons of today's two most popular approaches.
One critical choice a growing number of IT and storage managers face is whether to keep their backups local with network-attached storage or to send them into the cloud. But before getting into the finer points of cloud backup vs. NAS, it's helpful to establish the meaning of each.
Quick review of cloud backup and NAS
Storage is closely connected to both cloud backup and NAS. As to the first, cloud backup and cloud storage both involve copying data to the cloud, but storage has a wider purpose. It involves maintaining, managing and backing up data, and making it available to users. Cloud backup, on the other hand, is typically meant to serve as a data protection strategy.
In contrast, NAS is a local storage technology that connects to a network rather than a PC or server. The approach allows multiple computers and mobile devices on a network to wirelessly share and access files. NAS can also be used for backup.
Benefits and disadvantages of NAS vs. cloud backup
Each technology presents both benefits and drawbacks, so it's important to research both approaches thoroughly before making a final choice. "The informed decision would be comparing costs, needs and ease of use," said Kate Donofrio, technical lead and manager at compliance and certification firm Schellman & Company.
Key factors to consider include recovery point and time objectives, retention periods, data visibility, durability requirements and available budgets and resources. "These requirements set the foundation for any solution, whether it be an on-premises, hybrid or entirely cloud-based backup storage approach," explained Eric Brooks, a principal architect in the cloud practice of IT infrastructure provider Logicalis. "They also enable an organization to analyze what solutions they have in place, pinpoint the areas where there are critical gaps and prioritize where best to make investments in different technology areas."
Both [cloud backup and NAS] have a place in a comprehensive backup approach.

Scott MorleyPrincipal application architect, OneNeck IT Solutions
The choice between NAS and cloud-based backup should never be viewed as an either-or decision. "Both have a place in a comprehensive backup approach, and the business requirements around recovery time objective [RTO], recovery point objective [RPO] and long-term retention should drive the decision on when to use which," said Scott Morley, principal application architect at IT services firm OneNeck IT Solutions.
Performance and speed
Both NAS and cloud-based backup can offer solid data protection. If a faster backup is desired, with a primary goal of protecting incremental changes, then a NAS-based approach might be better, advised Krishna Subramanian, COO and co-founder of Komprise, a data storage management software provider. "If a full off-site backup is needed, and restoration performance is not particularly critical, then a cloud-based solution might be a better fit," Subramanian said.
NAS systems that are collocated on the same LAN as the devices being backed up have a clear speed advantage, said Dan Tucker, vice president and leader of the digital platform capability team at IT consulting firm Booz Allen Hamilton.
Cloud is limited by internet speed. While it's possible to purchase bandwidth that surpasses LAN speeds, the cost is beyond what most organizations are willing to pay for backup storage, said George Mateaki, a security analyst at IT security service provider SecurityMetrics. Ultimately, NAS should support faster speeds due to the widespread use of high-speed LANs. Therefore, a key deciding factor between NAS and the cloud for many organizations is how quickly they will be able to back up and retrieve their data via a LAN versus over the internet.
However, Tucker pointed out another consideration. "As enterprises move into the public cloud, a cloud-based backup provided by the cloud service provider is going to have better performance … than travelling over the WAN back to the corporate NAS."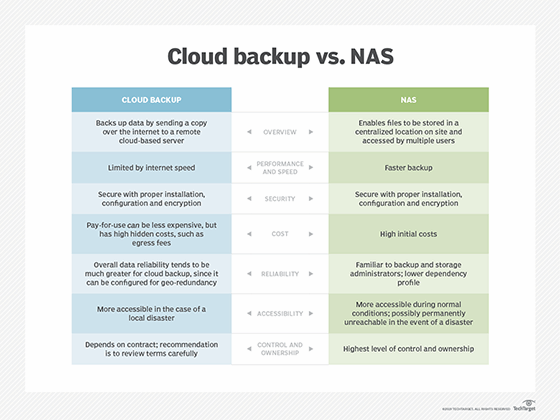 When all factors are considered, on-premises NAS devices are less sensitive to network latency than cloud services and are, therefore, generally faster, especially for full backups. "However, both approaches can be sped up significantly by archiving first," Subramanian said.
For geographically distributed organizations, cloud-based backups can offer superior performance for snapshot-based backups. "If a catastrophic data loss occurred, the restore would be limited to the user's internet bandwidth," Tucker noted.
An important concern with NAS backups is that the file count can grow very large very quickly. "A petabyte of data is typically several hundred million files, and this can cause long backup windows, large backup sizes and inconsistencies," Subramanian warned. On the other hand, she believes that more than 75% of NAS data is cold and has not been accessed or modified in over a year, and archiving such data before starting a backup can significantly speed up backup windows and reduce storage space.
Security
When installed and configured properly, NAS and cloud backups offer generally equal levels of data security, both at rest and in transit. When evaluating NAS technologies, only storage products with self-encrypting disk storage should be considered, cloud architect Brooks advised. "The ability to provide transparent encryption at the disk level ensures that no data can be retrieved from the physical disk media should it be removed," he said. Cloud backup providers should also guarantee their use of encryption technology.
Encryption is always necessary, regardless of the approach, said Jesse Antosiewicz, senior director of IT market applications at Liberty Mutual Insurance. "It's the implementation and ability to sustain operations over time that are the differentiators."
Cost
The ultimate cost of any backup approach depends on numerous factors, including equipment, service levels and backup size and frequency. Upfront NAS costs can be staggering for many organizations. "The initial purchase of the storage array as well as three or more years of support can be costly and will likely expand as additional capacity is purchased," Brooks said.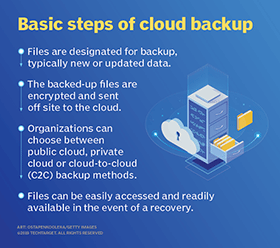 Countering NAS's stiff upfront costs, cloud backup services offer a more easily digestible pay-for-use model. Cloud-based is typically cheaper overall, particularly when labor is factored in. "However, if you have to perform large scale restorations, the outbound bandwidth from most cloud providers is much more expensive than the inbound, which is often free," Tucker said. "When you start adding up AWS network costs and restore costs, things can get pricy fairly quickly."
Typically, cloud storage that's used to back up enterprise data center archives of public cloud workloads is more cost-effective than buying an on-premises NAS system, Antosiewicz noted. "In the case of private data center workloads, this is subject to how often you need to recover data on premises, as egress charges can quickly evaporate any gained savings," he said.
Reliability
Reliability is influenced by a number of factors, and both NAS and cloud have their benefits.
"The NAS device is the most familiar to backup and storage administrators and operates as a self-contained unit to manage," Brooks stated. "It has a lower dependency profile as compared to the hybrid and storage gateway architectures because it eliminates many of the upstream dependencies on connectivity and storage service availability."
Meanwhile, overall data reliability tends to be much greater for cloud backup, since it can be configured for geo-redundancy. "NAS solutions keep backups on premises and would require an off-site service to ensure survival in the case of disaster," application architect Morley said. "Most major cloud providers offer a five-nines-plus SLA [service-level agreement] on storage and will keep multiple copies of data, even without geo-redundancy, making the chance of storage corruption almost nonexistent."
Accessibility
Easy, secure access is important to any successful backup system. "Backup needs to be done with the premise that the data can be recovered," said Adrian Moir, lead technology evangelist for IT management software provider Quest Software. "Access needs to be restricted, but in such a way that a successful recovery of data can be made."
NAS systems are generally more accessible than their cloud counterparts under routine operating conditions simply because they are positioned on site. Yet NAS backups may be unreachable -- perhaps permanently -- in the aftermath of a fire or other calamity. "In the case of a local disaster, a cloud solution will have the benefit of being almost immediately available at any location with an internet connection," Morley said.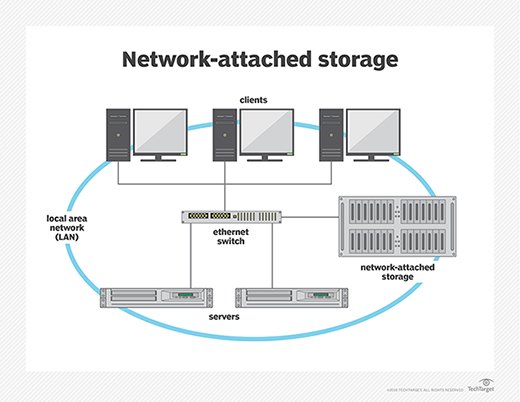 Control and ownership
Subramanian noted that NAS-based approaches generally provide the greatest amount of control, since all of the data is stored on premises. Cloud-based backups, on the other hand, usually provide acceptable access flexibility as well as good control, as long as the exported data is fully secured ahead of time.
A NAS system will generally come with a guarantee of control and ownership, although version upgrades can sometimes make existing backups unusable or need conversion. "Cloud backup solutions are generally provided by companies that guarantee access and ownership of data, but any contract should be reviewed fully to ensure there is no contention of ownership," Morley said.
Making the cloud backup vs. NAS decision
When evaluating whether to follow a NAS or cloud-based backup approach, it's important to fully understand current backup and recovery business requirements. "Things seemingly as simple as RPOs and RTOs can play a huge part in the decision," said David Byte, a senior technology specialist at open source software provider SUSE.
When considering cloud backup, thoroughly examine several providers and have agreements in place for how to regain data possession when it becomes necessary to change providers or if the current cloud provider goes out of business. "Backup data can be sizable, and since there are many compliance and legal requirements for the retention of data, one must be comfortable with all terms," Schellman & Company's Donofrio observed. "The loss of backups due to cloud providers going out of business can also be a compliance nightmare," she noted.
There are pros and cons for each option, based on an organization's overall data protection plans and business needs. "Look for a partner who can help you understand those requirements and provide the optimal solution for your environment," Logicalis' Brooks suggested.