pixel - Fotolia
OwnBackup Salesforce tools include archive and blockchain
OwnBackup's fall release includes a new data archiving product, a blockchain-powered compliance component and improved capabilities for its Salesforce protection app.
OwnBackup Inc. bolstered its Salesforce protection with an archiving product and a blockchain-powered compliance tool.
OwnBackup Archiver is a separate product from the OwnBackup Salesforce protection application. Archiver allows users to directly archive data from Salesforce to OwnBackup's servers, freeing up production space. The OwnBackup Integrity and Compliance Edition (ICE) is an add-on to the OwnBackup Salesforce data backup and recovery application designed to serve customers who are in highly regulated industries.
Roy Emek, vice president of engineering at OwnBackup, said Salesforce performance slows down when the SaaS app has too much live data.
"Typically, this happens to places where much of the data isn't live data that they need on an ongoing or daily basis," Emek said. "What we provide in Archiver is the ability to define what pieces of your data can go into a lower level of storage."
OwnBackup Archiver provides a secondary storage option integrated into the Salesforce platform. Users can find, view and restore cold-stored data in Salesforce. Archiver is priced by usage rather than by data stored.
OwnBackup ICE uses blockchain technology to ensure the integrity of backups. When a backup is created, a signature is created along with it via blockchain to prove it hasn't been modified or tampered with.
Many of OwnBackup's customers are in the financial, healthcare and pharmaceutical industries, which have strict auditing and regulatory compliance requirements.
[ICE is] very suitable for some of the industries we're more popular in, but we also think that everyone needs to know that their backups are safe.

Roy Emekvice president of engineering, OwnBackup
"[ICE is] very suitable for some of the industries we're more popular in, but we also think that everyone needs to know that their backups are safe," Emek said.
New York-based W.W. Norton & Company Inc. uses the OwnBackup Salesforce data protection application. The publishing company started using Salesforce three years ago to automate processes it previously performed manually, such as bonus reporting and customer integration.
"When I came on board, there was no backup whatsoever," said Kimin Kirkpatrick, business analyst and project manager at W.W. Norton. He found OwnBackup when he was shopping for a backup vendor for the company's fledgling Salesforce deployment.
"We were very impressed with how the [OwnBackup] software worked," he said. "The price point was right. The staff was extremely responsive."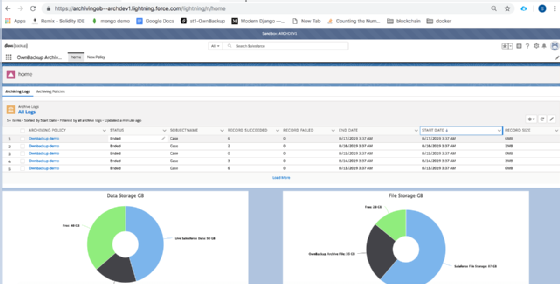 Kirkpatrick said he is most curious about the Archiver add-on to OwnBackup Salesforce protection. He wants something that will enable him to see all the data on Salesforce and push out large chunks of it to a lower storage tier.
"It's just being mindful of the data source, making sure that we're not hitting up against our limits," he said, nearly echoing the exact use case Emek described.
OwnBackup Archiver and OwnBackup ICE will be in beta for select customers by the end of 2018, and they are scheduled to be generally available in early 2019.