kras99 - Fotolia
Synology Active Backup boosts recovery speeds for Shiseido
Worried about slow recovery times and the impact ransomware might cause endpoint devices, Shiseido swapped in Synology Active Backup to reduce recovery time to 30 minutes.
A series of ransomware attacks in 2017 convinced Shiseido Taiwan to upgrade its backup system.
Shiseido Taiwan, the Taiwan branch of a Japan-based skin care and cosmetics company, has more than 2 million customers. That translates to 58 TB of customer and sales data distributed across virtual machines (VMs), servers and endpoint computers.
Shiseido Taiwan was running Synology NAS devices as backup targets, and used Synology's Snapshot Replication to recover data on shared folders that were encrypted by ransomware.
Although Shiseido Taiwan did not end up having to pay off its attackers, restoring the infected PCs took two to three hours each. Zhang Gahou, manager of the information system planning department at Shiseido Taiwan, said that was unacceptable. Shiseido Taiwan has about 2,700 employees, and would be faced with a massive amount of downtime if it had to restore a large volume of endpoint devices.
Zhang started looking for something to replace Dell vRanger, an early virtual machine backup software application. Shiseido Taiwan used vRanger to back up VMware servers to Synology NAS devices. The ransomware attack helped him pinpoint what he wanted in a backup product: high deduplication ratio, a user-friendly interface and faster bare-metal restores.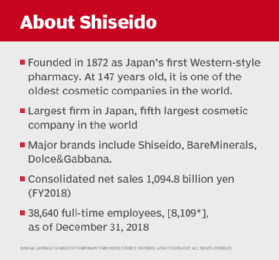 "We are always looking for efficient dedupe software that's easy to operate, with a user-friendly interface," Zhang said.
Zhang considered backup applications from Veeam Software and Dell EMC but found them to be too expensive. Then he found the answer from his hardware vendor: In June 2018, Zhang signed up for the Synology Active Backup beta program.
Zhang said Synology Active Backup seemed like the perfect choice. During the beta testing period, he deduped 58 TB of raw data to 28 TB. More importantly, Synology Active Backup centralized backup tasks for VMs, servers and endpoint PCs to a single product and interface. Previously, Zhang had separate backup products for each of those.
Shiseido Taiwan's established relationship with Synology also made Zhang confident in his choice. "We've been using Synology products for a long time, and they respond quickly to customer feedback," he said.
Zhang said shortly after the product's official release, he had asked the vendor to add an off-site backup function to Synology Active Backup. Now, he is part of a test group for that feature, and he said it will officially launch in the near future.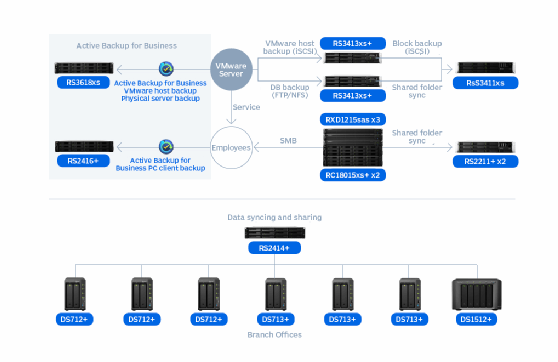 Shiseido Taiwan hasn't been attacked since using Synology Active Backup, but Zhang runs periodic recovery tests. He's created test servers and found he could recover 300 GB of data in 15 minutes, and bare-metal restores for PCs took only 30 minutes.
Due to the positive results of his testing, Zhang said he plans to expand backup capabilities to more employees' PCs.