idspopd - Fotolia
NetApp and Synology top NAS storage systems survey
A storage pioneer and relative newcomer land top honors in our 10th Quality Awards NAS storage systems survey of midrange and enterprise users.
NAS stands for network attached storage -- but it's also the first three letters of "nasty." And judging by the...
Continue Reading This Article
Enjoy this article as well as all of our content, including E-Guides, news, tips and more.
tough evaluation standards of our survey respondents, NAS system vendors better sit up and take notice -- or run for cover.
The respondents to our 10th Quality Awards survey for NAS systems, continuing a trend we saw developing last year, were tough critics of their NAS vendors and systems in both the midrange and enterprise categories.
Across the board, scores were down from last year, when we saw some of the lowest marks ever doled out by respondents. It's likely more a "honeymoon is over" situation than deep-seated disappointment, as the spiraling growth of file data is taxing all types and sizes of NAS boxes in companies big and small. So what we're seeing is probably more about heightened expectations than broad disappointment with the product category.
Against that backdrop, we had a couple of very tight races, with NetApp prevailing among enterprise NAS systems and a newcomer -- Synology -- rising to the top of the midrange class.
Our 505 valid survey responses yielded 616 product evaluations, with six enterprise and seven midrange product lines comprising our finalists.
Overall Rankings: And the winners are…
Enterprise. With an overall average score of 6.10, NetApp outdistanced a cluster of rivals who finished second, third and fourth separated by only .04 points. For NetApp, this is its second enterprise NAS win, its first coming back in the third edition of this survey. And while NetApp's margin over second-place EMC (6.01) was relatively narrow, the NAS storage systems pioneer actually won quite handily, earning top marks in four of the five rating categories and coming in second in the fifth. EMC led in the final category and enjoyed an incredibly consistent cruise across all categories with only a .08 spread from its lowest to highest scores. DataDirect Networks (DDN) was just a hair behind EMC with an overall 5.99 for its best finish to date, with the same margin separating it from fourth-place IBM (5.97). Hewlett Packard Enterprise (HPE) and Dell were close to each other and not far behind the leaders -- 5.75 and 5.73, respectively -- to round out the field.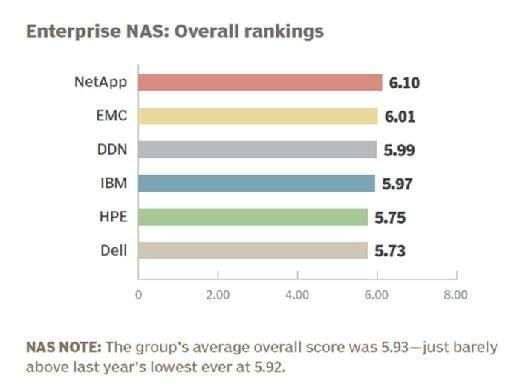 Midrange. The enterprise race was close, but the midrange competition was almost too close to call. The top three vendors -- Synology, HPE and NetApp -- were separated by a minuscule .03 points. Synology's .01 point lead over second-place HPE was about as close to a dead heat as you can get. Those three leaders divvied up rating category honors with Synology winning two, HPE snagging one and NetApp coming out on top in the remaining two (tied with EMC in one). Hands-down, this was the closest competition ever among midrange NAS storage systems, but as close as the scores were, they didn't stand out relative to past surveys. In fact, the group's average overall score was the lowest we've seen to date across the 10 sets of survey results. The group's average category scores were either the lowest or second lowest ever. Midrange NAS users have become a tough crowd to please.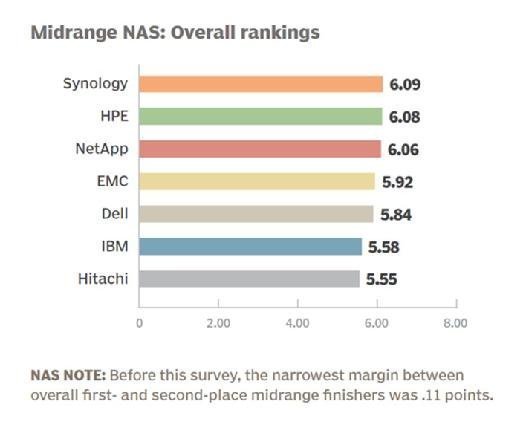 Sales-Force Competence: Caveat emptor
Enterprise. NetApp scored highest for only one of the rating statements in the sales category, but it related to an important bottom-line aspect of a customer relationship: NetApp's 6.06 easily outdistanced the field for "My sales rep is easy to negotiate with." That's not to suggest that NetApp was a slouch for the other statements -- in fact, it came in second or third on four of the five others. DDN led for three statements to place third in this category; it garnered a 6.33 for having a knowledgeable sales support team. EMC accounted for the highest marks on the remaining two statements, squeaking by IBM (6.06) with 6.07 for "My sales rep is flexible" and earning a 6.09 for sales reps who are knowledgeable about customers' industries. Fourth-place IBM also fared well, with its best ratings picked up for flexible reps (6.06) and for "My sales rep understands my business" where its 6.03 was only .01 behind statement leader DDN.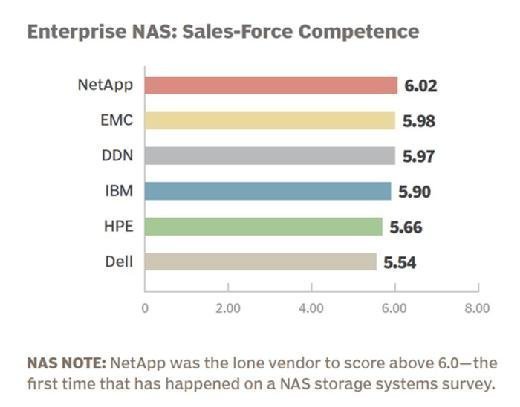 Midrange. Looking at the midrange NAS results for sales competence, you can easily conclude that HPE has the customer thing down pat, and its rivals might be able to learn a thing or two from the Palo Alto, Calif., IT giant. Of the six statements in this category, HPE broke the tape first for five of them on its way to an average score of 6.18. HPE's strongest showings were for having a knowledgeable sales support team (6.67) and for reps who understand customers' businesses (6.24). The lone statement it didn't win -- "My sales rep keeps my interests foremost" -- second-place NetApp snagged with a 5.95. NetApp had a very consistent showing, with four 6.0-or-better marks and two just shy of 6.0. EMC's performance was also relatively consistent with five scores near or above 6.0, and only stumbling a bit on the "My sales rep is easy to negotiate with" statement as did several others in the group.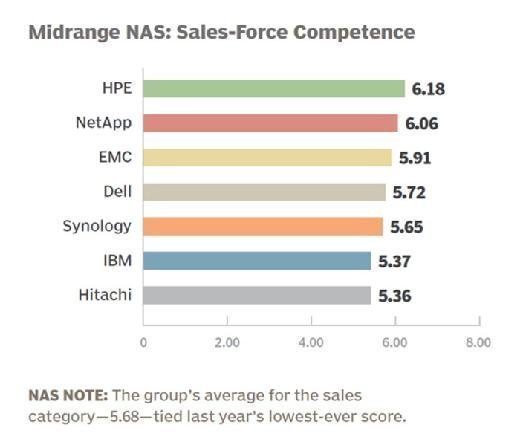 Initial Product Quality: Rating the out-of-the-box experience
Enterprise. When a new NAS is uncrated, the goal is simple: a fast and flawless deployment. All of the enterprise NAS products fared well for initial quality, resulting in an exceptionally tight race, which NetApp won by a .03 margin over DDN and IBM. The others were also packed in tightly, yielding a .18 point spread spanning all six vendors -- by far, the smallest spread we've ever seen from top to bottom. It also featured another oddity: NetApp finished first without coming out on top on any rating statement. DDN's 6.44 was tops for the bellwether statement, "This product delivers good value for the money"; it also did well for ease of use (6.32). IBM prevailed on two statements, highlighted by a category-high 6.58 for products that install without defects. EMC and HPE grabbed one apiece: EMC for products requiring little vendor intervention (6.07) and HPE for getting products up and running easily (6.17).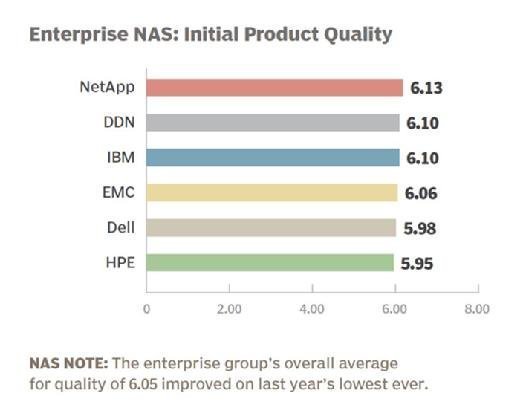 Midrange. Synology might not be the best-known NAS vendor out there, but its customers are clearly pleased with the quality of the company's products, as the SMB-focused vendor made a newly clean sweep of the initial quality ratings, notching a category average of 6.57 by racking up the highest marks for each statement (with one tie). That solid mark was underscored by a pair of 6.77s for installing without defects and products that get up and running quickly. HPE's 6.21 score was good for second place as it tied Synology for user satisfaction with the level of professional services that products require (6.33). HPE was the only vendor in addition to Synology to earn 6.0 or higher marks on all six category statements. Dell (6.04) rounded out the top three, a showing anchored by its best score of 6.30 earned for products that can get up and running quickly.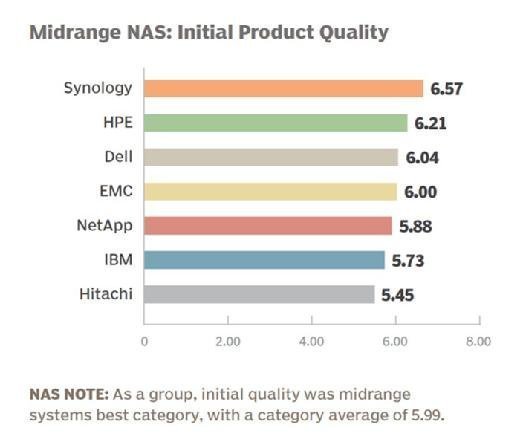 Product Features: What's under the hood counts
Enterprise. NetApp was the only vendor to rack up 6.0-plus scores on all the rating statements for features and, in doing so, netted the highest marks for three of the seven statements. NetApp's best performances came for "Overall, this product's features meet my needs" (6.40) and a 6.37 for mirroring features. As usual, NetApp also did well for snapshotting features, garnering a 6.10, bested only by DDN's 6.15. In addition to that statement win, second-place DDN led the group for two others, with a 6.25 for replication and a 6.16 for interoperability. EMC leveraged a solid 6.33 for scalable capacity that won that statement and helped EMC nip IBM 5.99 to 5.94 to finish third. Although there were plenty of good results, as a group, the overall rating was only .01 point higher than last year, which was the lowest group score for features ever.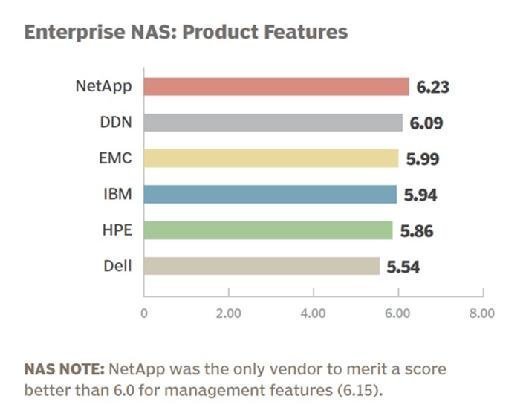 Midrange. Synology matched its initial quality win with a second category victory, earning a 6.31 in the features category to outpace NetApp (6.21) and HPE (6.04). Synology and NetApp were the only two vendors to put up 6.0-plus scores for all features rating statements, and they split statement wins with Synology for five and NetApp copping the last two. Synology's across-the-board strength was highlighted by sterling scores for overall feature satisfaction (6.65), management features (6.46) and snapshotting (6.38). NetApp was remarkably consistent with ratings ranging from 6.12 to 6.28, with statement wins for interoperability with other vendors' gear (6.22) and replication features (6.19). Most of HPE's grades were between 5.80 and 5.90, but strong showing for overall satisfaction with its feature sets (6.48) and management capabilities (6.38) helped it cruise into third place.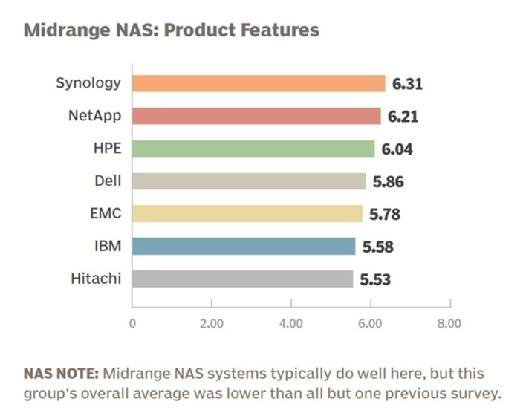 Reliability: Meeting expectations
Enterprise. First impressions and flashy features are impressive, but the true test is how an array performs day-in/day-out. NetApp (6.13) won this critical category, although it split individual statement honors with DDN and IBM. IBM and EMC had identical 5.99 scores to tie for second, followed by Dell (5.86). NetApp's best result was a group-best 6.27 for products that meet users' service level agreements; its second leading score -- 5.90 -- was picked up on the tough "This product requires very few unplanned patches" statement, which was a stumbling block for most of the vendors. IBM snapped up the highest statement mark of 6.32 for products that experience very little downtime; co-second-place finisher EMC didn't score highest for any single statement but was strongest for meeting service levels. Finishing farther back in the pack, DDN still outranked the rest for two statements: 6.17 for non-disruptive patches and 6.16 for providing good upgrade guidance.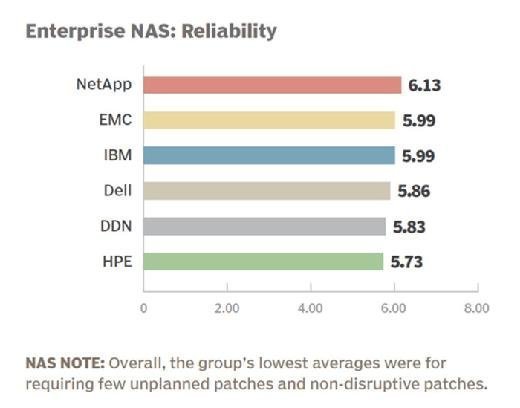 Midrange. NetApp (6.17) displayed its reliability chops by matching its enterprise group win with a similar showing to finish in front of the midrange field, once again dominating a category without winning any statements, but scoring above 6.0 on all of them. NetApp flexed its muscles with a 6.32 for products that have very little downtime, and a pair of 6.24s for meeting service levels and requiring few unplanned patches. Second-place HPE (6.10) bucked the group's trend and fared well on the patches statements, with a 6.50 for its patch guidance and 6.45 for non-disruptive patching. Synology stumbled a bit on the non-disruptive patching statement with a 5.32, but still rode into third place with a group high 6.63 for "This product experiences very little downtime" as well high marks on the service level (6.40) and unplanned patches (6.25) statements.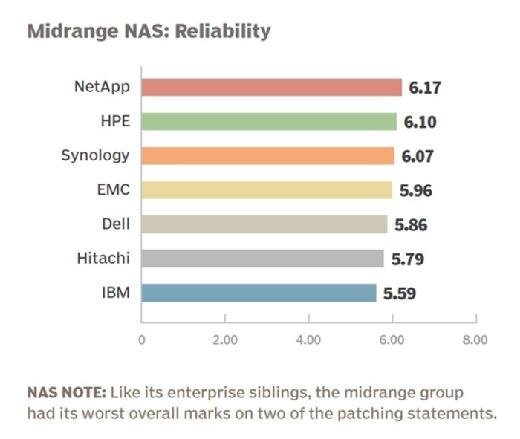 Technical Support: NAS safety nets
Enterprise. Four enterprise NAS system vendors vied for the top spot in the tech support category and finished with only a tenth of a point separating them, but EMC eked out the win with a 6.03 to outrun NetApp, DDN and IBM -- all clustered with .05 points of each other. Statements honors were well-distributed, but EMC led for three, including 6.18 for taking ownership of problems, 6.08 for resolving problems in a timely manner and 5.87 for problems that rarely require escalation (tied with IBM). NetApp tied IBM for the lead for supplying support as contractually specified (6.23) and led for having knowledgeable third-party partners (6.05). Third-place DDN earned the highest single statement mark, with a 6.50 for "Support personnel are knowledgeable" and stood out in the group with a 6.00 for its user training. HPE copped the last statement with a 6.22 for its documentation and support materials.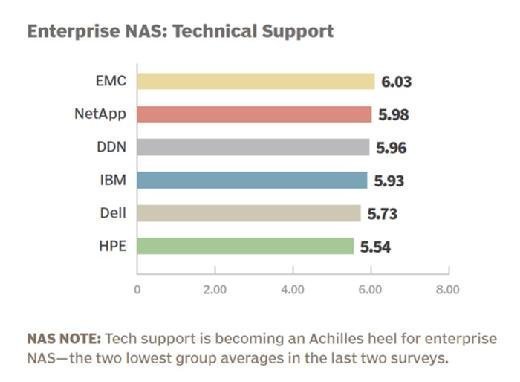 Midrange. Scores were low but the competition was high among midrange NAS system vendors in the technical support category, resulting in a dead heat as both NetApp and EMC picked up 5.96 marks. HPE won a couple of statements in rolling up a 5.88 score, while Synology, nipping at HPE's heels, beat the bunch on three statements on the way to a 5.86 rating. NetApp's 6.27 for delivering support per contract was tops; it tied Synology for having knowledgeable third-party partners (6.09) and also tied EMC on taking ownership of problems (6.00). Co-winner EMC added a first for its training (5.97). As it did in the enterprise group, HPE led for its documentation (6.38) and also prevailed with a 6.29 for its knowledgeable support personnel. Although it finished just out of the top three, DDN had the highest tallies for issues that rarely required escalation (6.19) and timely problem resolution (5.95).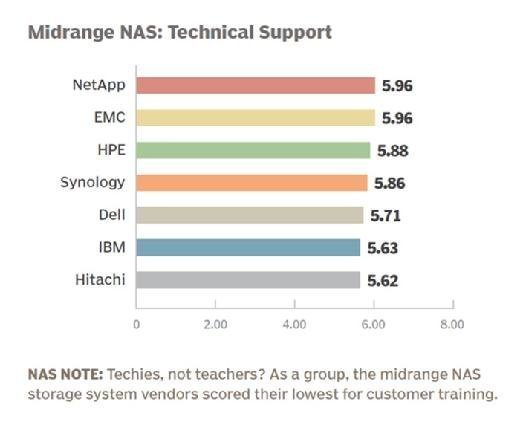 Would you buy this product again?
As we've done on past Quality Awards surveys, we capped off our specific category rating statements with the more general statement, "All things considered, I would buy this product again." As often as not, the results of that final query seem to run counter to our users' responses in the category rating sections. But some things are clear: We know that if users have a uniformly terrible experience with a product or vendor, they're not likely to say they'd repeat the purchase, and we also know that familiarity can be comforting -- as a result, so-so category scores might still yield good "buy again" marks.
Against that context, in the enterprise group, 92% of HPE's users are willing to take the plunge again. That was despite HPE's less than lustrous overall performance. First- and second-place finishers NetApp and EMC also have loyal users with 89% and 86%, respectively, registering buy-again votes -- a less-surprising result for sure.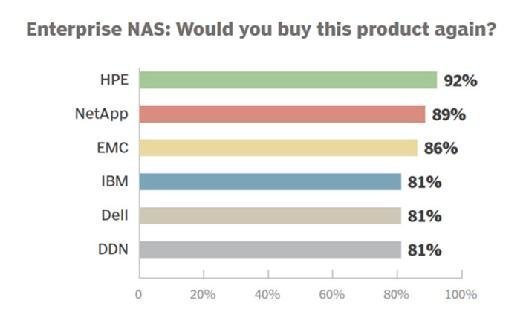 HPE also led the midrange group with a repeat-purchase score of 95% -- somewhat less surprising as HPE came in second overall. EMC (93%) snuck past NetApp (88%) and a Synology-Hitachi tie (86%).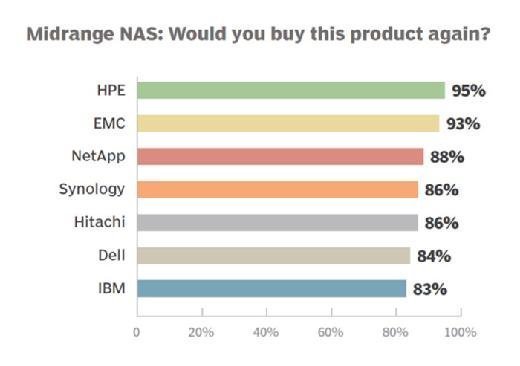 About the Quality Awards
The Storage magazine/SearchStorage Quality Awards are designed to identify and recognize products that have proven their quality and reliability in actual use. The results are derived from a survey of qualified Storage/SearchStorage readers who assessed products in five main categories: sales-force competence, product features, initial product quality, product reliability and technical support. Products are rated on a 1.00 to 8.00 scale, where 8.00 is the most favorable score. This is the 10th edition of the Quality Awards for NAS systems; there were 505 valid responses to the survey providing 616 sets of ratings for vendors' products/product lines.
Products in the survey
These products were included in the tenth Quality Awards for NAS survey. The number of responses for each finalist is shown in parentheses.
Enterprise NAS systems
DataDirect Networks NAS Scaler/GRIDScaler/EXAScaler (26)
Dell Compellent FS8600 (NAS)/EqualLogic FS7500/FS7600 (NAS) (42)
EMC VNX 5000/7000/8000 NAS or Isilon X-Series (87)
Hewlett Packard Enterprise (HPE) StoreEasy 3000/5000 or StorageWorks X9000 Storage Systems (37)
Hitachi (HDS) NAS 4080/4100 or Essential NAS Platform 1000 Series or HNAS Platform 3000 Series*
IBM N6000 or N7000 or Scale Out Network Attached Storage (SONAS) or Storwize V7000 Unified (31)
NetApp FAS6000 or FAS8000 (both with NAS interface) (64)
Oracle ZFS ZS3-4 or ZFS ZS4-4*
Midrange NAS systems
Dell PowerVault NX Series (57)
EMC VNXe 3000 Series NAS or Isilon S-Series (40)
Exablox OneBlox*
Hewlett Packard Enterprise (HPE) StoreEasy 1000 or StoreAll 8000/9000 X300/X500/X1000/X3000 Network (21)
Hitachi (HDS) NAS 4040/4060 or HNAS AMS2000/1000/500/200 (21)
IBM N3000 or N5000 (29)
NetApp FAS2000 or FAS3000 (both with NAS interface) (69)
Nexsan NST2000/NST4000/NST6000 (with NAS interface)*
QNAP SS-ECxxxxx series, TS-ECx80 Series or TVS-ECx80 Series*
Oracle ZFS ZS3-2*
Synology RackStation RS2414 or RS3614 Series (28)
* Too few responses to qualify
Next Steps
Is your NAS system scalable?
Why scalable NAS systems must evolve
How to make a NAS system purchasing decision