alex_aldo - Fotolia
VeeamON 2019: Veeam enhances orchestrator, promises NAS support
Veeam has hit its long-term $1 billion revenue goal. The vendor updated its DR orchestration and now aims to finish off the awaited Availability Suite v10, with NAS backup.
MIAMI -- Veeam Software, a new member of the billion-dollar revenue club, launched an updated orchestration tool designed to aid recovery goals and previewed a long-anticipated new version of the flagship Availability Suite at its annual user conference.
The data protection and management company hit $1 billion in annual bookings revenue on May 15, Veeam's co-founder and executive vice president, Ratmir Timashev, said Tuesday at VeeamON 2019.
"It's a very elite group of software companies. ... We're very proud to be part of that elite group," Timashev said, claiming there are 34 billion-dollar pure software companies.
The billion-dollar milestone had been a longtime Veeam goal. As far back as 2013, Veeam executives talked about hitting $1 billion within five years.
Veeam came $37 million short of its $1 billion goal in 2018. At the time, Timashev called the miss a "slight disappointment" and said Veeam had "underinvested" in its traditional SMB and commercial markets to concentrate on the enterprise.
Veeam orchestrates cheaper restores, recovery testing
Timashev said Veeam Availability Orchestrator Version 2, launched at VeeamON 2019 and available now, helps lower the cost of recovery.
While disaster recovery (DR) often involves replication, the Veeam product orchestrates recovery from backups, in addition to replicas. The Veeam Availability Orchestrator is geared toward all applications, not just mission-critical data.
"Replicas are good, but they're expensive," Timashev said. "We democratized DR."
The ability to quickly restore second-tier data -- workloads just under the mission-critical level -- is important, said George Crump, president and founder of IT analysis firm Storage Switzerland.
Replicas are good, but they're expensive. We democratized DR.

Ratmir TimashevCo-founder and executive vice president, Veeam Software
"Availability Orchestrator is a really good product," Crump said.
Version 2 includes the ability to set recovery time objectives (RTOs) and recovery point objectives (RPOs), automate testing and produce documentation about whether an organization is meeting those objectives.
Testing RTOs and RPOs helps get IT and business executives on the same page, said Krista Macomber, senior analyst at Storage Switzerland. With the reporting, executives can easily see if their company is meeting goals.
The orchestration can apply to other aspects of IT, as well, using backup and replication data for DevOps, patch and upgrade testing, and analytics.
Orchestration is one of Veeam's five stages of cloud data management, a technology direction the company has been pushing at VeeamON 2019. The other stages are backup, cloud mobility, visibility and automation.
Many organizations today are incorporating workload orchestration and automation across different infrastructures, said Danny Allan, vice president of product strategy at Veeam.
Version 1 of Veeam Availability Orchestrator launched in February 2018.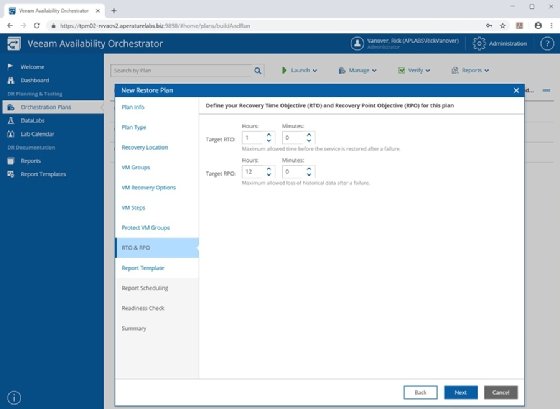 Veeam Availability Suite v10 back in play
Back at VeeamON 2017, Veeam executives said they were close to delivering Veeam Availability Suite v10. At that conference, Veeam said version 10 would go live by the end of that year. While that launch didn't happen, and Timashev has called it a "slight mistake" to promise version 10 two years ago, he noted that Veeam has delivered much of the promised feature set through updates to version 9.5.
NAS support is one glaring missing piece that was promised in version 10. Executives said at VeeamON 2019 on Tuesday that version 10 including NAS backup and recovery will be available by the end of 2019.
Version 10 will also feature Direct Restore to VMware, including Instant Recovery to vSphere.
Timashev said that continuous data protection (CDP) -- another key element of version 10 -- is still on the roadmap. That feature will likely be part of an update to version 10. Veeam currently offers near-CDP of five minutes through its replication.
In addition, Veeam said Backup & Replication for Microsoft Azure will launch later this year.