BillionPhotos.com - Fotolia
Guarding the shop: Rewind backup protects e-commerce data
E-commerce sites need backup in the event of data loss situations, especially during the holidays. Rewind gives merchants the chance to go back to a safe point in time.
It's the most wonderful time of the year for e-commerce … that is, until your site goes down and customers can't shop anymore.
That's where Rewind backup comes in.
Rewind provides backup for e-commerce sites hosted on Shopify and BigCommerce.
"Most people don't know they need a backup," Rewind CEO Mike Potter said.
For example, an e-commerce business that uses Shopify and deletes a product or blog post is not covered just because it's in the cloud. Similar to cloud-based applications such as Microsoft Office 365 and Salesforce, the provider protects its infrastructure, but not always your data.
However, in Office 365, for example, users have a place for deleted items that they can access if they delete an email by mistake. That's not the case in a lot of e-commerce platforms where "there is no trash bin," Potter said.
Potter, who is also a founder of Ottawa-based Rewind, said he's lost data before, so he understands the pain. Launched four years ago, Rewind had one customer lose everything right before Christmas but restored the store to a safe point in time from before the incident.
As a way to bring the backup issue to the forefront, this holiday season Rewind is offering a free version of its data protection software. Rewind: One-Time enables retailers to conduct a free one-time backup of up to 10,000 products and related data in their online stores. The Rewind backup offer is available for BigCommerce and Shopify merchants.
After an incident, Rewind: One-Time users can restore their data to the time they installed the product.
There needs to be a way for everyone to have protection in this holiday season.

Mike PotterCEO, Rewind
The one-time backup for BigCommerce includes product, brand, category, option set and option data, while the Shopify backup includes products, product images, custom collections and smart collections. The backups are stored indefinitely in the Rewind Vault, which is hosted in various Amazon regions. Data is encrypted in transit and at rest.
It's the first time Rewind has offered this one-time backup.
"There needs to be a way for everyone to have protection in this holiday season," Potter said.
A jump forward with Rewind backup
For Crossrope, an online jump rope seller and workout provider based in Raleigh, N.C., "it's the biggest season of the year," said digital marketing specialist Andy Lam.
"To have Rewind as a tool for backing up, it just gives us peace of mind," Lam said.
Before adopting Rewind, one afternoon at the end of a workday, Crossrope made a change to its theme code that broke the site. Customers couldn't add items to their carts and the company lost out on orders and revenue in the process.
The company had a manual backup saved from 30 days prior and spent a lot of time trying to restore the site manually.
"That kickstarted trying to find a better solution," Lam said.
Crossrope heard from BigCommerce, its e-commerce platform of choice, about Rewind backup. It was the first backup company that Crossrope contacted.
"Because they were a full-fledged cloud backup tool, it was a no-brainer," Lam said.
Now if there are any incorrect changes like the previous incident, Crossrope can "rewind" to a known good point in time, in just a couple of clicks. The company has been using Rewind backup for about four months and hasn't had a major incident. Rewind performs daily backups for Crossrope, which Lam said is enough.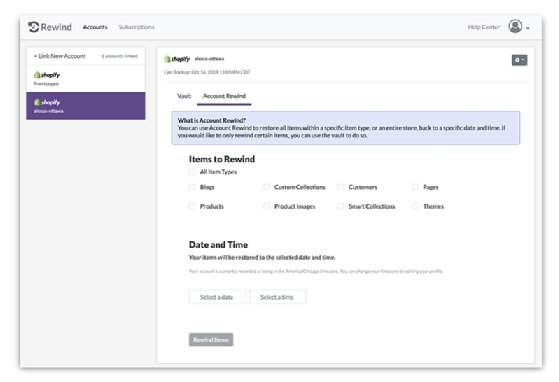 "Now we feel safe," Lam said. "I know they're covering a lot of bases for us."
While Rewind can restore the code in a couple of clicks, Lam said he is hoping the backup vendor can speed up product restoration.
A Rewind recap
Though e-commerce data loss can result from malicious acts and third-party integrations, human error is a common cause.
"We've seen everything," Potter said. (Think of a cat jumping on a keyboard.) "You don't get any warnings you're going to have a disaster."
Rewind claims more than 10,000 small and medium-sized enterprises as customers.
If they want backups more recent than the one-time protection, Rewind: One-Time users can upgrade to one of the paid options during the holiday season or beyond. Pricing ranges from $9 to $299 per month, depending on the size of the store and the number of orders. Many customers perform a daily Rewind backup, Potter said.
The Rewind: One-Time offer is available through Dec. 31, 2019. Customers who use it will have access to that backup indefinitely.
Rewind also provides backup for Mailchimp email marketing and QuickBooks Online accounting data.