pixel - Fotolia
Odaseva introduces high availability for Salesforce
Odaseva is rolling out a feature that can provide Salesforce with high availability, letting them work with Salesforce data even when the SaaS application is down.
Salesforce users will be able to continue to work even if Salesforce goes down, thanks to Odaseva's new addition.
Odaseva ultra high availability (UHA) works similarly to high availability (HA) for any non-SaaS environment. If there's a Salesforce outage, such as a planned maintenance or an unexpected failure, a customer's Salesforce account would failover to an emulated Salesforce account in Odaseva. Users can continue to view, edit and update the emulated records like normal. When Salesforce is back up, Odaseva will re-synchronize the two environments, performing what is essentially a failback.
Odaseva UHA is in early access and will be released as an add-on to the Odaseva platform in early 2020. Pricing is not yet available.
Salesforce has become so mission-critical to some organizations that they can't afford any downtime. Odaseva CEO Sovan Bin said Odaseva UHA isn't strictly necessary for smaller businesses that can shrug off a small Salesforce outage, but there are places such as call centers that need Salesforce access 100% of the time. These organizations stand to lose hundreds of thousands of dollars for every hour they can't conduct business, while suffering from lost opportunities and damage to their brand.
"The real damage is because you've stopped doing business," Bin said.
Odaseva provides backup and data governance for Salesforce data. Developed by Salesforce certified technical architects -- the highest Salesforce expertise credential -- Odaseva Data Governance Cloud offers archiving and automated data compliance on top of data protection features. Odaseva claims its compliance and data governance tools differentiate it from Salesforce backup competitors such as OwnBackup and Spanning.
Data protection and backup only address the integrity of data, but HA addresses its availability and accessibility. Christophe Bertrand, senior analyst at IT analyst firm Enterprise Strategy Group (ESG), said HA is lacking for SaaS application data. He said he didn't know any other vendor with a similar product or feature.
"Not only is it unique, other vendors aren't even exploring HA for Salesforce," Bertrand said.
Bertrand added that other SaaS applications such as Office 365, Box and ServiceNow also have an availability gap, even as they become mission-critical to businesses. When these services go down, companies may have to stop working. Bertrand estimated the cost of downtime averages to higher than $300,000 per hour for most enterprises. Although many vendors provide backup, no one has yet provided a failover/failback offering.
"Ninety-nine-point-whatever percent uptime is not enough. That's still 15 hours of downtime per year," Bertrand said.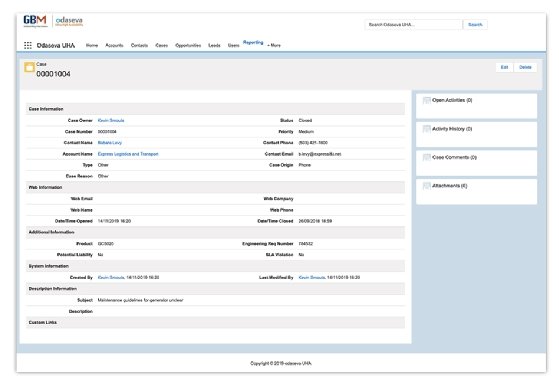 Odaseva also introduced some new capabilities to its platform this week. It is now integrated with Salesforce Marketing Cloud, which allows users to back up emails, leads, contact information and marketing campaign files stored in Marketing Cloud. Before this integration, customers would have to develop a backup mechanism for Marketing Cloud themselves, which would include complex processes of extracting the data and replicating it.
Odaseva also extended its compliance automation applications to cover more than GDPR. Odaseva has data privacy applications that automatically perform anonymization, right of access, right of erasure and other privacy tasks in order to keep compliant with GDPR. Automated compliance now covers CCPA, HIPAA and a number of privacy regulations in non-U.S. countries such as PIPA (Japan), PIPEDA (Canada) and POPIA (South Africa).
The Salesforce Marketing Cloud integration and compliance automation extensions are available immediately.
Bin said Odaseva will focus on DevOps next. Salesforce Full Sandbox environments can be natively refreshed every 29 days. To help customers accelerate development, Bin said Odaseva will come up with a way to work around that limit and enable more frequent refreshes in a future release.