pixel - Fotolia
Odaseva app replaces Salesforce data recovery service
Odaseva said its new DailyExport.io app fulfills the needs of customers who use Salesforce Weekly Export and the soon-to-be-shuttered Salesforce Data Recovery Service.
Odaseva, which launched to fill a gap in Salesforce's Data Recovery Service, is adding a product to protect Salesforce data after it retires the backup service on July 31, 2020.
Odaseva officially launched DailyExport.io today. The software creates backup copies of Salesforce data. It exports the same data and metadata as Salesforce Weekly Export, but does so automatically every 24 hours. It retains each copy for 30 days, allowing customers to restore to earlier points in time. It automatically encrypts data and stores it in a U.S.-based Odaseva data center. Customers can see the status of their backups on the application's UI and download the copies in a zipped format.
DailyExport.io is offered free on Salesforce AppExchange. Customers do not need Odaseva to use the product. Odaseva will continue to charge for its Data Governance for Salesforce application for enterprise-level backups of Salesforce data.
Salesforce Data Recovery Service is a "last resort" feature for recovering data from a specific point in time. It allows Salesforce customers to recover data that had been deleted or overwritten during an import. The service costs $10,000 and takes six to eight weeks to complete. When it is done, Salesforce sends the customer a backup copy of the data as .csv files, which the customer must import back into Salesforce. Metadata is not included.
Salesforce will no longer be offering Data Recovery after July 31, 2020, citing that it did not meet its quality standards.
Odaseva CEO Sovan Bin said the drawbacks of Salesforce Data Recovery Service led to the birth of Odaseva. Outside of complaints about the price, length of time and low reliability, the service was hidden. Salesforce separated recovery and restoration -- the company will get customers' data back if possible, but putting the data back and making customers' systems whole again is not part of Data Recovery Service. This wasn't entirely clear for customers without a fair amount of research.
"Only the customers who had a problem knew about [Salesforce Data Recovery Service]," Bin said.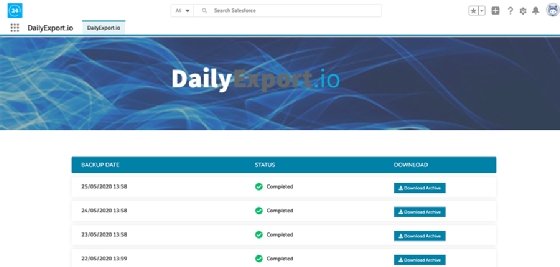 Bin said DailyExport.io can provide the basics of business continuity (BC) by giving customers a copy of data to restore from. Not having to wait two or three months for Salesforce Data Recovery Service or one week for Salesforce Weekly Export lets organizations get up and running again much faster. However, Bin recognizes it is not a complete BC tool -- that's why it's free. A large enterprise would need a way to automate large-scale restoration after the data has been recovered to meet its recovery time objectives and recovery point objectives (RTOs/RPOs). However, smaller businesses can reasonably use DailyExport.io to get backup copies of their data and then perform their own restorations with it.
Christophe Bertrand, senior analyst at Enterprise Strategy Group, agreed that DailyExport.io is too basic for enterprise needs. However, he said it's at least a step up from Weekly Export and gets businesses thinking about their backup, recovery and availability needs for their Salesforce accounts. For some businesses, a limited tool such as DailyExport.io may be enough to meet their RTOs and RPOs, but others will have to use third-party vendors such as OwnBackup, Spanning and Odaseva for full-feature protection.
Bertrand said the bigger issue is that Salesforce's recovery capabilities have always been inadequate. It's an excellent space for third parties to jump into if they have the development know-how, but Bertrand said Salesforce does not have a great API. Other large platforms such as Microsoft Office 365 and AWS have strong third-party vendor ecosystems offering a variety of tools because of good APIs.
Bertrand said Salesforce needs to shore up its data protection weaknesses because its platform is growing popular. He said Salesforce data is now often considered mission-critical, but Salesforce can't guarantee the data's availability. Customers who want to avoid downtime have to consider what level of availability Salesforce provides for them, and if that's enough for their most crucial data.
"Can you call it mission-critical when it's not highly available?" Bertrand asked.