Getty Images
150 TB IBM tapes hit the market
IBM's new enterprise tape drive brings 50 TB of native capacity and 150 TB compressed for archiving large amounts of data and is a sign of investment in an old storage medium.
IBM released a new version of its enterprise tape drive, giving customers twice the capacity over its previous model and showing how one of the oldest forms of storage is still evolving.
Unveiled last month, IBM TS1170 provides 50 TB of native capacity and 150 TB of capacity with compression in an IBM 3592 form factor cartridge, also known as TS11xx or TS. The tape cartridges can be used in IBM's TS4500 Tape Library and Spectra Logic's TFinity ExaScale, T950 and T950v libraries.
Doubling capacity shows a significant R&D investment by IBM, according to Christophe Bertrand, an analyst at TechTarget's Enterprise Strategy Group. The increase in capacity is aimed at large use cases such as long-term archiving, active archiving and cyber-resilience vaulting.
Clearly, tape as a medium is not going away anytime soon as storage capacity demands continue to expand.

Christophe BertrandAnalyst, Enterprise Strategy Group
"Clearly, tape as a medium is not going away anytime soon as storage capacity demands continue to expand," he said.
Not LTO, but not a competitor
IBM has been in the tape business since 1952 with its 726 tape cartridges. The vendor has continued to produce enterprise tapes up to today. In 2003, IBM introduced the 3592 model, which is the same form factor as the TS1170.
Along with HPE and Quantum, IBM is also part of the Linear Tape-Open (LTO) program, which provides an open standard across vendors. LTO has seen record shipments of almost 300 exabytes in the last two years.
IBM's new offering provides more capacity than LTO tapes -- the current LTO-9 stores 18 TB of native capacity. But IBM uses a slightly different form factor that requires enterprises to use it in a different way.
The TS11xx drive IBM makes is slightly deeper than LTO, but it can fit in the same systems, according to Matt Ninesling, director of hardware engineering at Spectra Logic, a storage company located in Boulder, Colo., that specializes in bulk storage using tape. The company uses both enterprise tape drives from IBM and LTO for its customers.
"[Spectra Logic] uses TeraPacks in its libraries -- plastic trays that hold either 10 LTO tapes or nine TS tapes, as they are physically larger," Ninesling said.
Regardless, Ninesling said companies would not use IBM and LTO drives interchangeably. Instead, customers in industries such as oil and gas, banking, and high-performance computing that generate massive amounts of data that doesn't need to be readily accessible would likely be interested in IBM's new drives as an upgrade.
Sole source without issue
Currently, there are only two tape formats both used in enterprise, the LTO and IBM's proprietary 3592, according to Rich Gadomski, head of tape evangelism at Fujifilm, the exclusive manufacturer for the IBM 3592 product.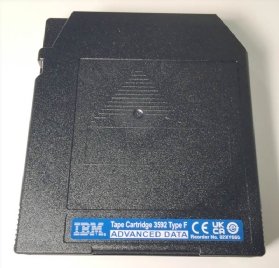 Customers concerned about a single source of the IBM 3592 enterprise tape drive, which has been around for 20 years, needn't be concerned, experts said. IBM has been the sole source of enterprise tape drives for the last few generations, and that has never been a reason not to use it, Spectra Logic's Ninesling said.
"There is a huge customer base, a lot of history and different use cases for [enterprise tape]," he said. "I don't believe there is any hesitancy based on IBM being the sole supplier."
IBM is part of a tape ecosystem with seven providers, two LTO media manufacturers and a global system of integrators, according to Shawn Brume, IBM Storage tape evangelist and strategist. This minimizes risks of a sole source of the enterprise tapes.
Bertrand agreed that customers shouldn't be concerned about the lack of multiple sources for the IBM enterprise tape.
"This has been IBM's format for many years, and customers also have the option of using LTO vendors instead," he added.
Adam Armstrong is a TechTarget Editorial news writer covering file and block storage hardware and private clouds. He previously worked at StorageReview.com.