peshkova - Fotolia
Organizations try to predict the effect of 5G infrastructure
With more 5G and IoT devices emerging, admins must prepare their data centers to support low-latency apps and edge computing with the right network and processing hardware.
Though consumer use cases for 5G technology often get top billing, organizations must prepare for the business and IT side of 5G infrastructure. Gartner predicts that in 2023, the automotive industry will become the largest market opportunity for 5G internet of things offerings, representing 53% of the overall 5G IoT endpoint opportunity in that year.
Numbers like these understandably have IT decision-makers concerned about how to prepare for this wave of technological change -- and what 5G infrastructure means for their on-premises data centers.
The importance of 5G for data center operators is threefold, said Michael Peeters, program director connectivity at Imec, a nonprofit research and development center for digital technologies based in Europe.
First, the initial use cases for 5G focus on enhancing mobile wireless broadband and expanding traffic growth to and from data centers. One goal of 5G is to remedy the latency and bandwidth bottlenecks that exist with 4G, but that puts pressure on the data center to not become the processing bottleneck.
Second, the 5G infrastructure is designed to align with modern virtualization approaches and service-based segmentation. The architecture's effect on IT is still unknown.
"As such, it is expected that most of the components will run in either central or edge data centers on dedicated hardware," Peeters said.
Third, between cloud and on-premises approaches, the edge data center can be a part of either setup. 5G use cases focus on low latencies and strict data and control separation and slicing for industrial application expect these edge data centers to be part of the infrastructure, Peeters said.
"Data center operators as such will need to have an answer to the customer expectations," he said.
Mobile broadband will eventually be for everyone, according to Peeters, but the transition won't be instantaneous, as 4G still has a lot wind left in its sails. Wide-area low-power sensing and monitoring, known as massive machine type communication (mMTC), is of more interest to an organization, Peeters said.
"The beneficiaries of [mMTC] will be mostly logistics, asset tracking solutions, smart cities and smart agriculture," Peeters said.
Initial mMTC deployments in 4G with narrow-band internet of things are promising, but the gains are beneficial on an industrial and organizational level, and less visible to the average consumer, he said.
According to Peeters, low latency and reliability are 5G technology axes that are "squarely aimed at making industrial plants more efficient in automation and more flexible," he said. This will benefit regions with a high density of manufacturing plants and industry, such as Germany.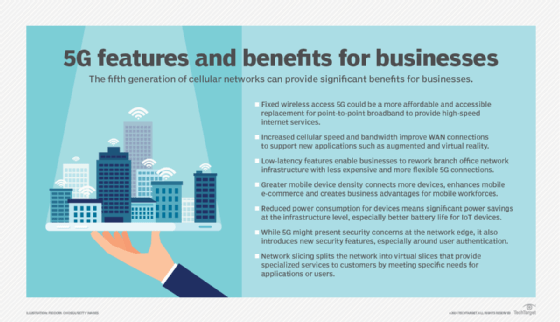 Supporting 5G infrastructure and connectivity
The increase in numbers of IoT devices, many connected via 5G, will require more data center computing power.
Data center operators must continue "what they should already be doing, which is improving power density, efficiency and making private and public cloud exchanges available in their data centers," said Justin Le Lacheur, director of product strategy at Sungard AS, a provider of IT production and recovery services.
This may be evolutionary rather than revolutionary.
It's not expected that 5G will double the rate of data center absorption, but rather keep the demand constant.

Justin Le LacheurDirector of product strategy, Sungard AS
"It's not expected that 5G will double the rate of data center absorption, but rather keep the demand constant," he said.
Le Lacheur compared 5G to the latest Wi-Fi standard, Wi-Fi 6. In fact, most devices do not require the type of speeds 5G infrastructure affords.
"Both are about improving the customer experience with more speed, but they are just as concerned with the sheer number of devices they need to support," he said.
Infrastructure density will be the major effect of 5G, said Jason Carolan, chief innovation officer at Flexential, a provider of data center colocation and hybrid IT offerings.
In one possible vision for 5G, high-bandwidth cables to 5G towers supplement radio connections, while other implementations could simply rely on the tremendous bandwidth available through 5G-to-5G radio interchange.
The challenge for admins is that, with more devices on the network and more throughput, "upgrading your network technology to make sure [the network] can support [all devices] is key," Carolan said. Companies will need to invest in the latest and greatest optical technology to keep up.
Trying to predict the future of infrastructure
How exactly network support and high-bandwidth 5G plays out remains unclear, said Brian Partridge, research vice president at 451 Research.
"If you are just a knowledge-work company with a carpeted campus environment, you may not need to do anything," he said.
The question that must be answered, according to Partridge, is "where is the edge -- is it in my back room or 10 kilometers away at a converted AT&T central office?"
For now, the data center industry can't provide that answer.
Even with these questions, that doesn't mean IT decision-makers should ignore the issue of 5G. Le Lacheur reiterated that 5G infrastructure and edge deployments absolutely concern the C-Suite, product management and strategy teams within an organization.
Data center admins should have a clear roadmap and model on how the increased upstream and downstream data traffic will affect their operations, "understanding that there will be new use cases such as AI and [augmented reality/virtual reality] that will have different characteristics," Peeters said.
Admins should also be thinking about the drive to decentralize and distribute applications between a central data center and edge micro- or nano data centers, which will be a key differentiator in the future.
Having a clear collaboration strategy is important. A further risk is the "inhomogeneity" of the 5G rollout, which will result in widely varying traffic profiles and needs from different customers, Peeters said.

Above all, he emphasized, "the distribution of functionality toward the edge ... could significantly impact operational complexity and cost."
Dig Deeper on Data center ops, monitoring and management